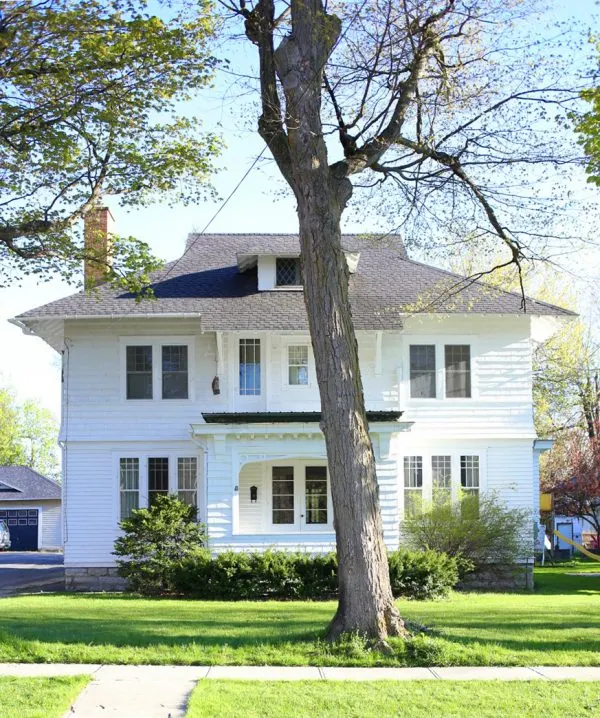 To say that this post today has been a long time in coming would be a complete understatement. On so many levels. To sit down to share these photos and this experience with you is nearly impossible to capture in words. It feels pretty monumental, if I'm perfectly honest. So I'm just going to say it as simply as possible. WE OWN A HOUSE! All caps and probably far more exclamation points are absolutely required. On Monday morning, we woke up early, danced a little jig over our morning coffee, visited the bank for a big cashier's check and went off to our closing with more than a few butterflies in both of our stomachs. By noon we were the very emotional, very proud owners of one very old, very beautiful home. Today I want to share the first of many photos to come with you, complete with the soon-to-be evicted forty year old blue carpet. Later this afternoon (probably around 2 or 3pm east coast time) I am going to do a live tour on Snapchat if you want to join in for that! You can follow me there with username cydconverse if you want to get a feel of the space and the current condition with an actual walk-through. In the meantime, click through for loads of photos so you can see what we're working with! We will be making updates for years to come, I'm sure, and honestly, I could not be more thrilled to own a whole lot of ugly carpet and one awesomely dated kitchen, last renovated in 1960. This is actually my dream house on every level and I am overcome with a lot of sappy emotions knowing our family will be living here soon.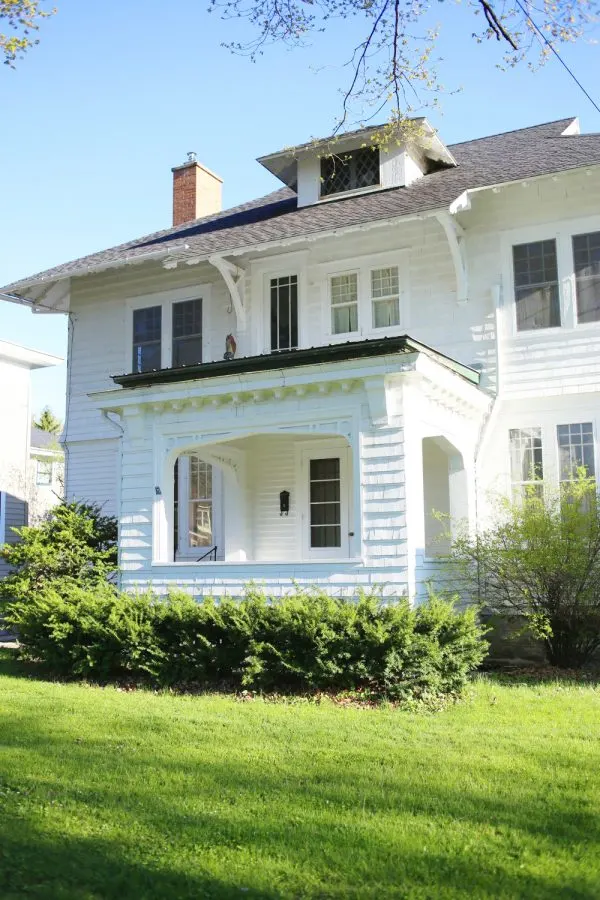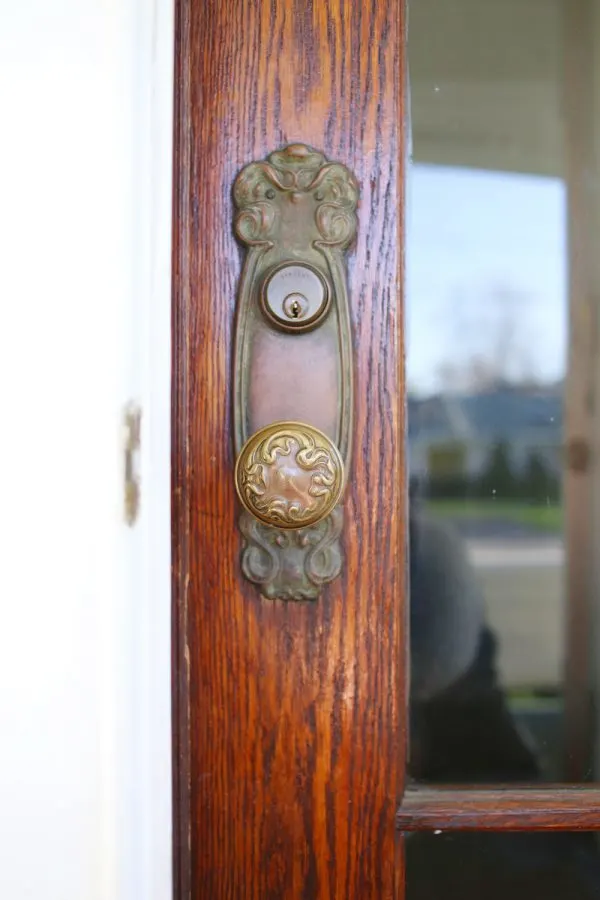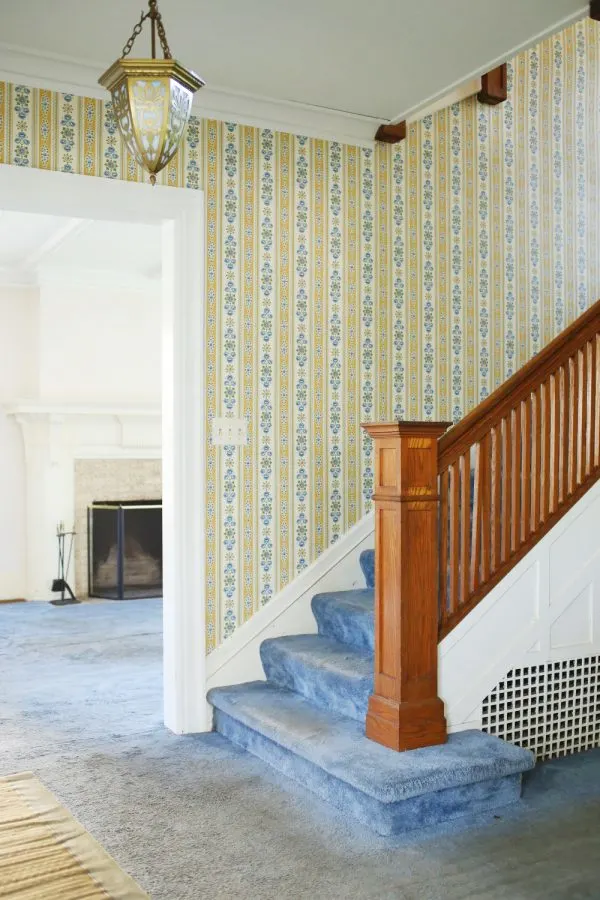 Our house is a 1910 Craftsman style home with a center hall floor plan layout that's a bit more true to a Colonial, but the combination is really quite beautiful, honestly. You walk onto the little front porch and enter through a set of gorgeous double wood doors and into the entry hall. When we saw the house for the second time, my parents joined us and I believe my mother's words were something along the lines of, "You should buy this house just for the staircase." And then we did. Ok, not seriously, but yes. The gorgeous oak railings and wide open landing made us fall in love right away. Blue carpet? What blue carpet? (And yes! The hardwood floors are still under the carpet, we have fingers crossed they're in great shape!)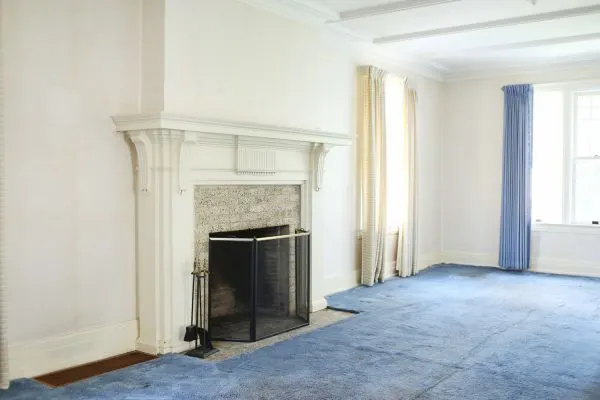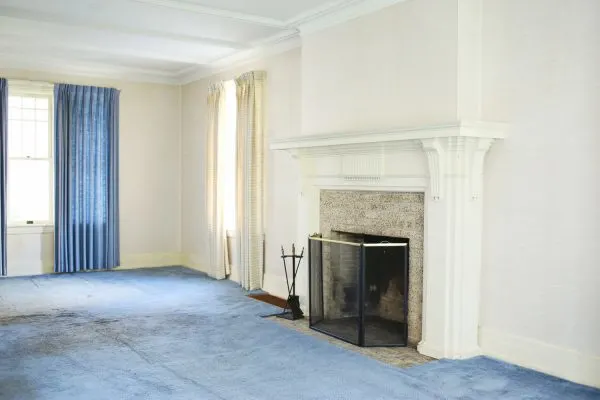 To the left of the stairs, when you walk in the front door, is the living room which runs the whole depth of the house with a gorgeous fireplace centered on one wall. Originally all of this woodwork would have been stained in a finish like the stair railings but for the most part we're going to keep the things painted that have been painted, we'll just brighten everything up with a fresh coat of paint. The exception to that in this room is the mantle. I am going to give stripping it a go and see if I can't bring back the wood finish, because I think it would make an amazing showpiece and really look amazing with all the painted white trim. To be clear, if things weren't already painted, I'd probably leave everything stained because I'm kind of an architectural purist in that way, but I do personally actually prefer painted trim when it comes to crown moulding, base trim and window casings. So with that said, I am going to go with what the previous owners did, but work to make the really rockstar architectural details pop by stripping some of the paint here and there throughout the house so we can kind of get the best of both worlds going on.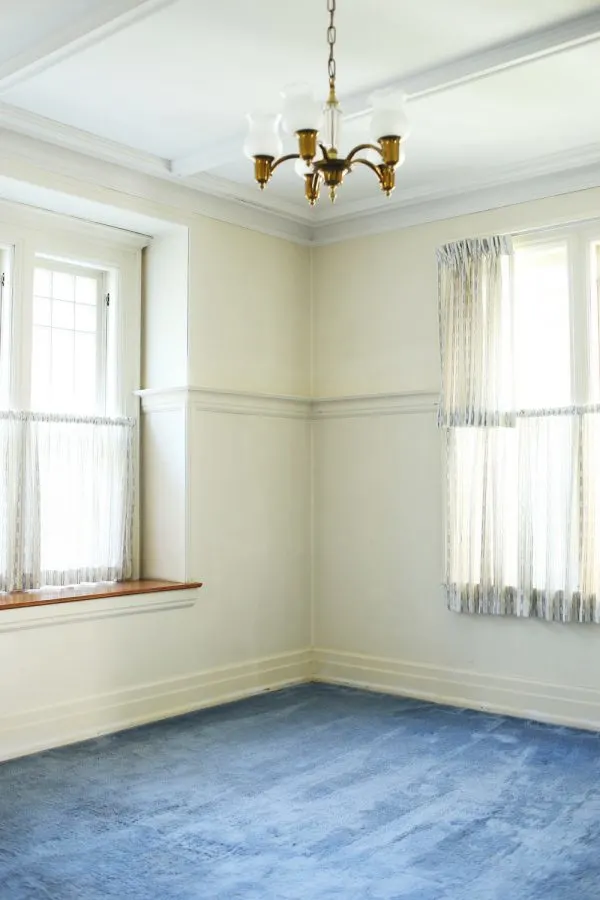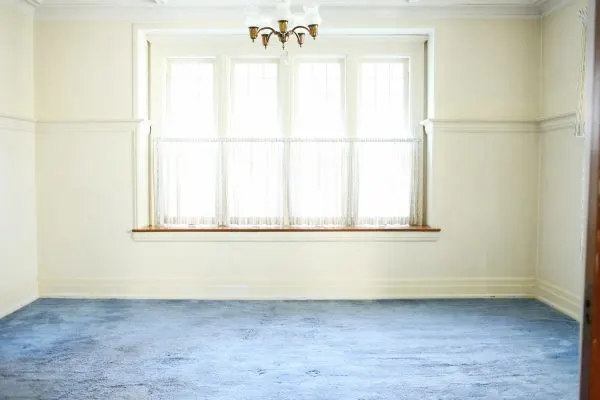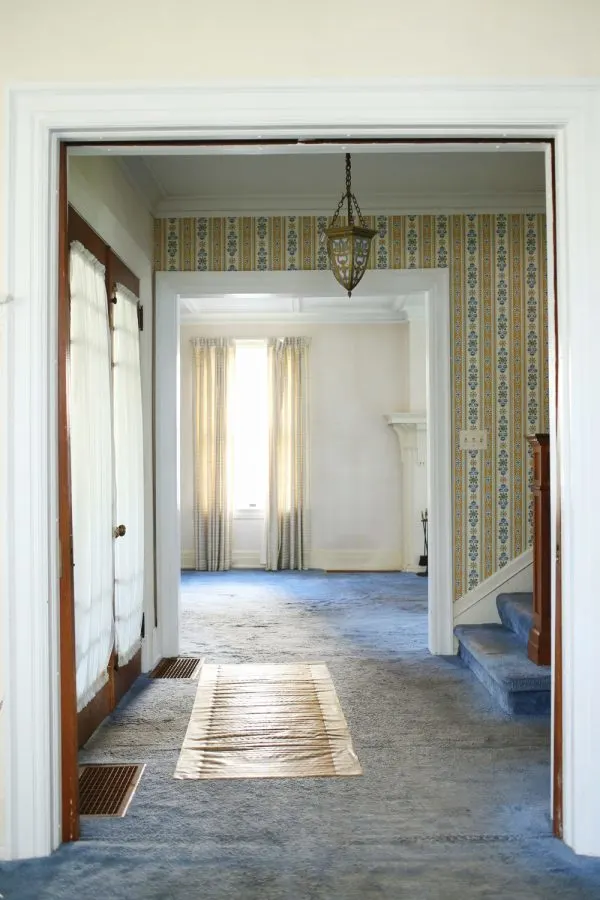 To the right when you walk in the front door is the dining room. It's a really good sized room, which will easily hold the huge dining room table of my dreams for big family dinners. This room is going to look so amazing once the carpet is up and the walls and trim are painted fresh. I'm planning to keep most of the original fixtures in the house, but this light is not one of them so I am going to update that eventually. The picture rail around the room is one of my favorite parts. You walk through the dining room to get to the kitchen, accessed by a great old swinging door. If you turn around in the dining room to look back, you have the view above into the living room. Again. I see none of this blue carpet of which you speak. (Oh and that pendant light in the entry hall? 1000% staying! It's amazing.)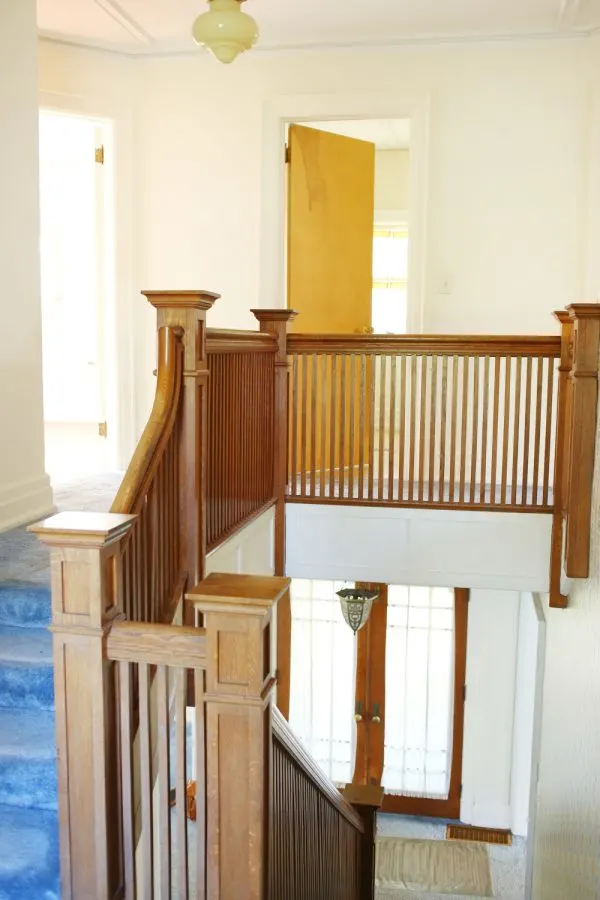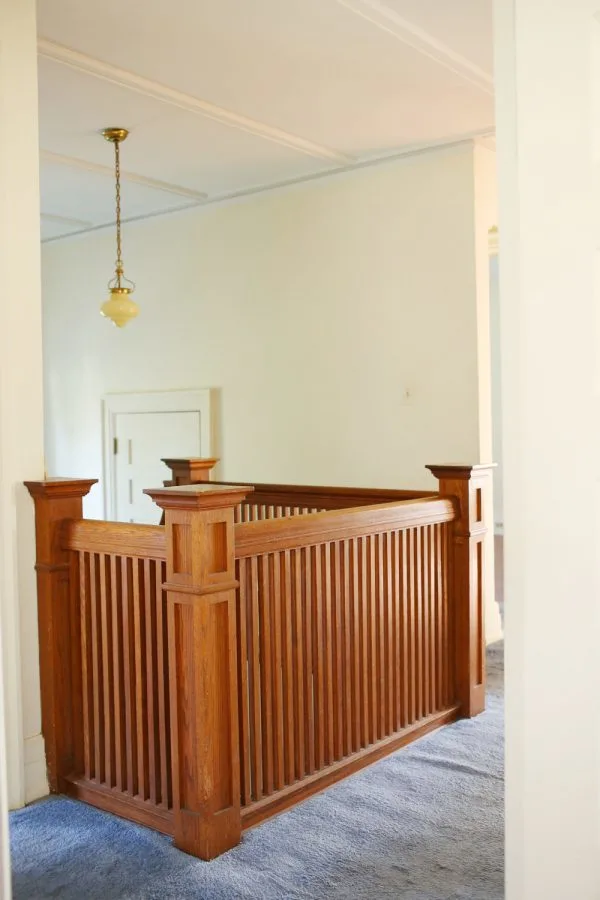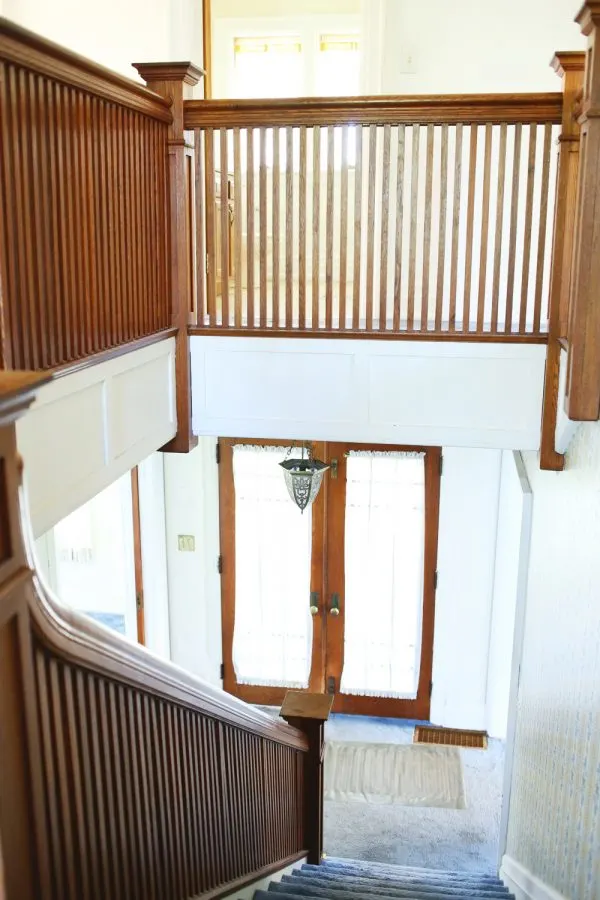 So, about those stairs. This would be the part where it starts to make more sense when my mother advised us to buy the house for the stairs alone. Guys, they are seriously beautiful. We're talking like something out of a movie beautiful. If you can't see it with the wallpaper accent wall and the carpet and the old paint finish, give me a few weeks. Even just getting fresh paint on the walls and that carpet up is going to transform this house. I'm jumpy just thinking about it!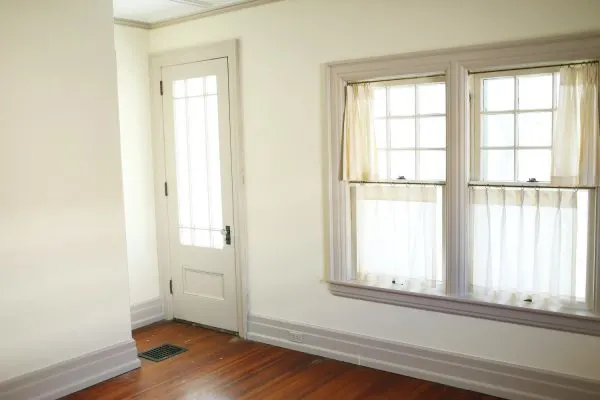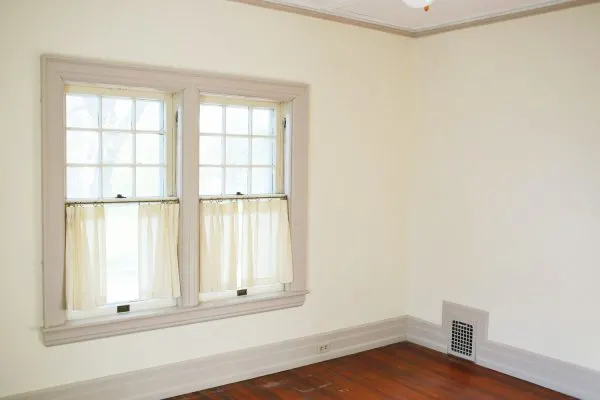 Upstairs there are four bedrooms, none of which are particularly large, but all of which boast big windows, tall ceilings, beautiful trim work and gorgeous hardwood floors in need of some TLC. At the top of the stairs, the lone full bathroom is directly across from you and then there are two bedrooms to either side. Downstairs in addition the living room, dining room and kitchen, there is also a small office that opens directly onto the back porch and the big backyard, with a half bath tucked into the corner. I look forward to logging a lot of hours in that office! I am purposefully skipping photos of the office, kitchen and bathrooms because those spaces won't be changing anytime soon. The bathroom and kitchen are obviously much larger expenses that will require planning and saving, and the office just isn't topping the priority list right now when we're under a time crunch to get the rest of the house feeling as comfortable as possible before we move in. So because those rooms aren't changing anytime soon, I have plenty of time to properly photograph and share them with you so today I decided to focus on the areas of the house that will be seeing some phase I changes pretty much immediately.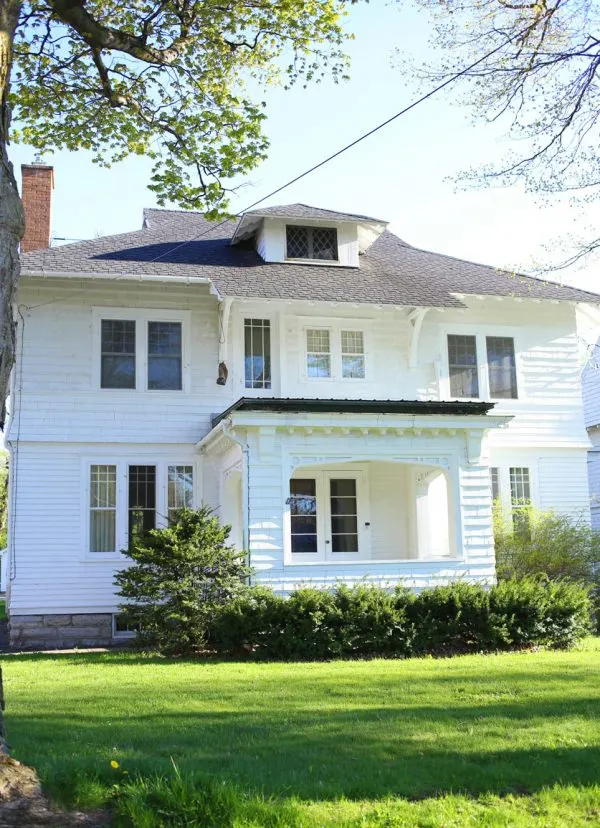 And there you have it, friends! The first look at our very old new house. From the last couple of reader surveys, I know that a LOT of you are home owners, so I am hoping that I'll be able to provide you with a lot of really great home renovation ideas, design inspiration, DIY tips and more as we go through the process of restoring and renovating our home. Please let me know what you're most interested in! And if you aren't a homeowner yet but hope to be soon, please let me know if you'd like me to share more about the house hunting and/or buying process if it might be helpful to you. I'm here to serve! (And also, I know firsthand how impossible the dream of home ownership can feel so I'd love to help demystify it if possible!) Over the next few weeks we'll be stripping wallpaper, pulling up the carpet (that happens tomorrow actually), painting as much as possible and just generally trying to freshen things up and make it as comfortable as we can before we take up residence. It's going to be a whirlwind. I'm probably going to be really stressed out at some point. And I'm probably going to cry big, huge tears of gratitude every day for the rest of my life. It goes with the territory! Stay tuned, friends. I'm confident that a lot of really really good things are going to happen between these walls.


[Photos by Cyd Converse for The Sweetest Occasion.]