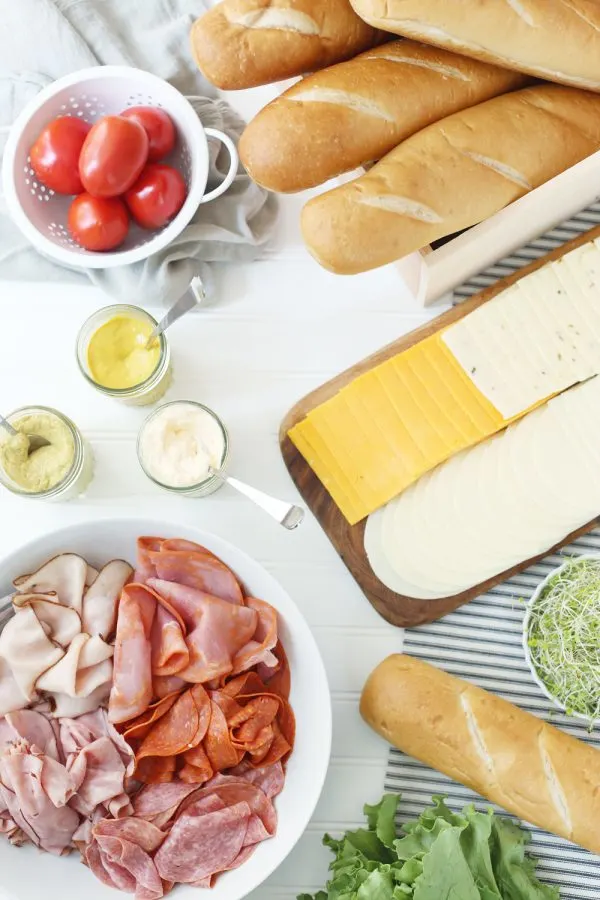 Bob's birthday was yesterday so over the weekend we decided to host an impromptu gathering. I love hosting a birthday party, but we've been so busy lately that I hadn't had a ton of time to organize anything too far in advance so a last minute party it was! On the menu? A make your own sub bar! Honestly, when it comes to last minute entertaining I find a menu featuring a main dish that is interactive in some way is the perfect way to go. It provides food and entertainment in one swoop, plus you don't have to spend hours prepping food in advance. Presentation is everything when it comes to this! (Which is why I always preach about having a stash of mismatched white serving pieces and lots of good cutting boards to use at a moment's notice.) Today I've got a few tips for you for creating a make your own sub bar that your friends and family will love. Football season is on the way, friends, and this one would be a hit on game day, too!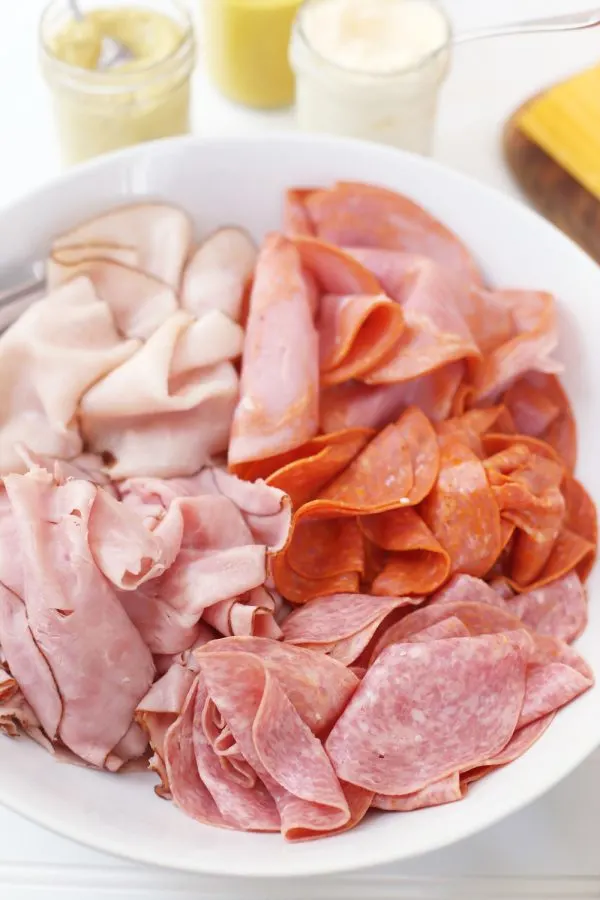 Tip 1
Variety is what makes a spread like this impressive. As a general rule of thumb, you'll want three to five kinds of meats and three to five kinds of cheese. In this spread I have turkey, ham, capicola, salami and pepperoni on the meat side of things. For cheeses I went with provolone, mozzarella, pepper jack and cheddar. I also had white sub rolls and wheat sub rolls so everyone could pick their favorite. People get excited by choices so give them plenty! Depending on the size of your crowd, a half pound of each meat should be plenty, scaled up or down accordingly.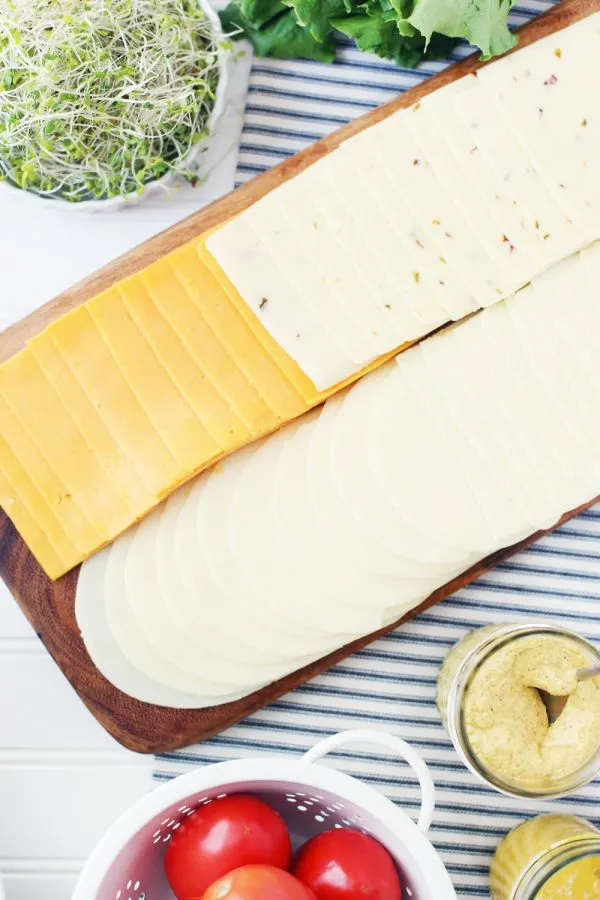 Tip 2
For condiments, I actually think you can keep it simple. Mayonnaise, of course, and a couple of kinds of mustard should do the trick. If you're feeling frisky, you could add Russian and/or hummus to the mix. For presentation purposes I like to transfer condiments from their original bottles to little glass jam jars. Doing so makes things look a bit more special and elevated, which to me is what entertaining is about! Make it easy on yourself, but make your guests feel special. Plastic mustard bottles don't make anyone feel special.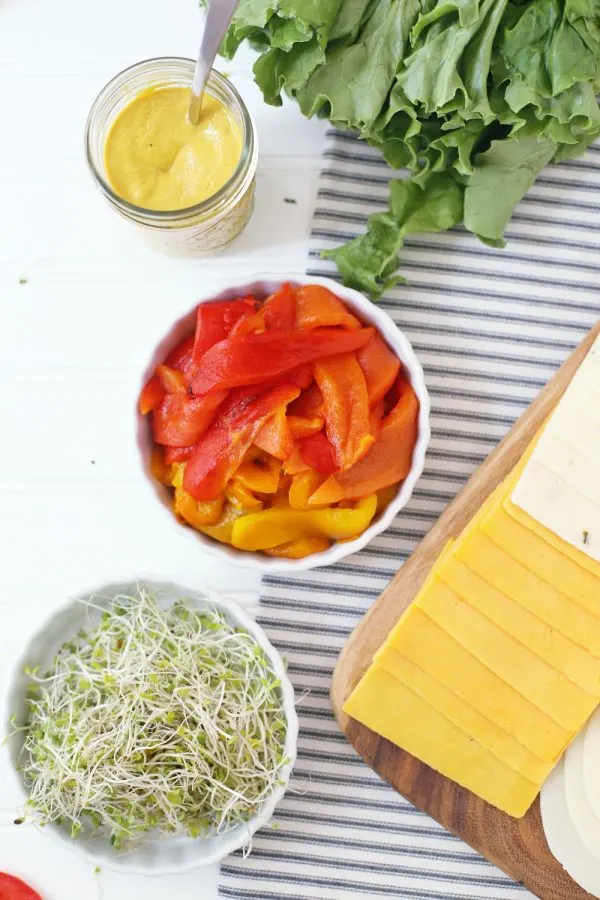 Tip 3
For toppings, make sure to do the usuals like lettuce, tomato and onion, but throw in a couple of extra things to take things up a notch. We're huge lovers of sprouts around here so sprouts were a must for our spread, plus I roasted a few red, orange and yellow peppers and had fresh roasted peppers in the mix. They were a huge hit! (I make mine on the grill, which I shared on Snapchat a week or so ago. Let me know if I should do a blog post, too!)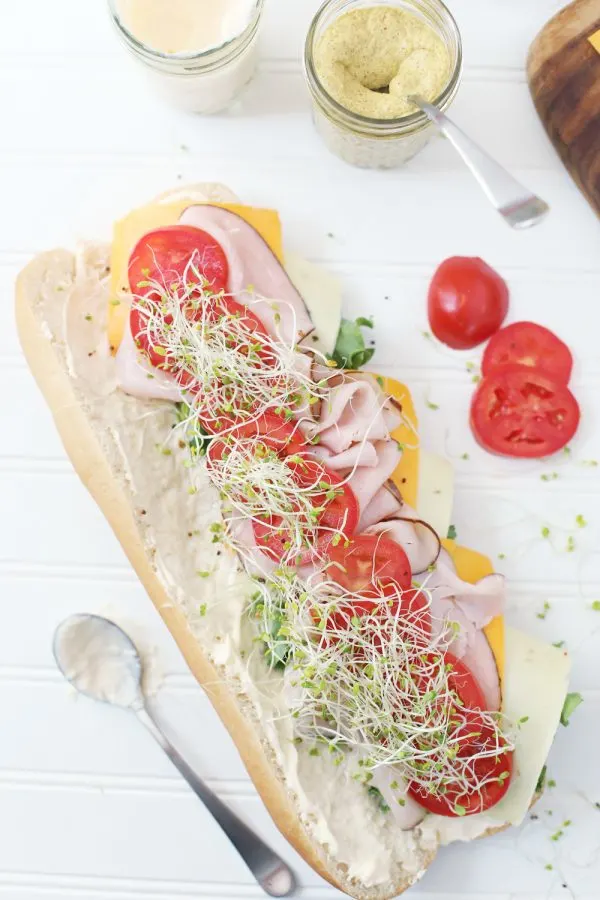 And that's it, friends! It's super simple, as promised. Just plate things so they look pretty and you can have everything ready with plenty of time to sneak in a glass of wine before everyone shows up. Nothing to keep the right temperature. No watching the stove or the oven. AKA my very favorite type of entertaining.

[Photos by Cyd Converse for The Sweetest Occasion.]