This post was sponsored by Dr. Oetker Virtuoso Pizza. Thank you for supporting
the sponsors that help make The Sweetest Occasion possible!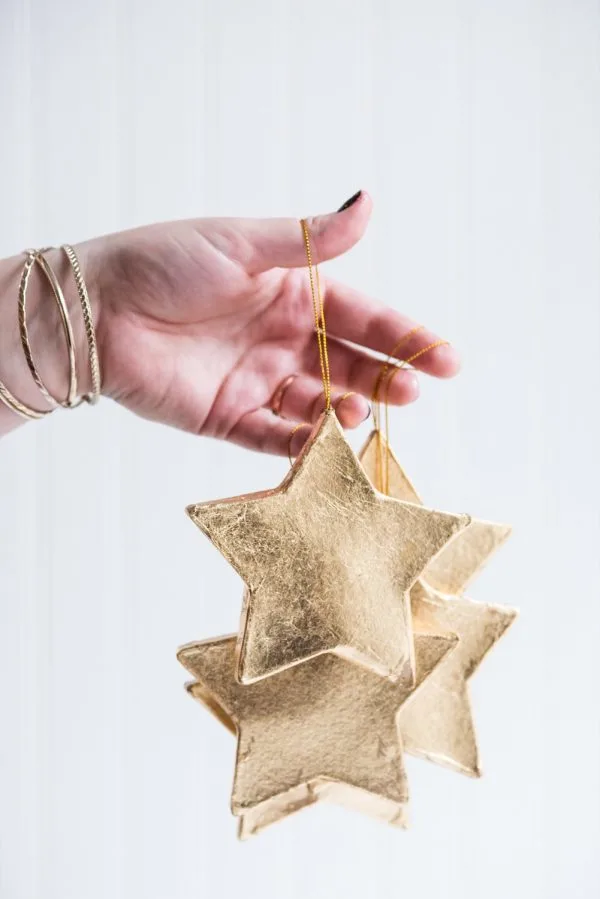 Decorating the tree is undoubtedly one of my favorite parts of the holiday season each year. As a kid I loved helping my mom unwrap all the ornaments while my dad strung the lights. Oftentimes my grandparents would come over and hang out while we were working away, and to this day there is just something about the tree trimming ritual that I love. Each year my mom would sit down with us in the weeks leading up to Christmas and we'd craft homemade ornaments for the tree. They were usually made from things like walnuts, pipe cleaners and glitter, and they were always some of my favorite ornaments to pull out of the boxes of decorations. As an adult I've kept that tradition alive, making a few new homemade ornaments each year, and this year I teamed up with my good friends at Dr. Oetker Virtuoso Pizza (formerly Dr. Oetker Ristorante Pizza) to make these super pretty gold leaf star ornaments! Invite the grandparents over, pop your favorite gourmet frozen pizza in the oven, make a few ornaments and deck the halls. Hands down the best way to spend an evening that I can imagine.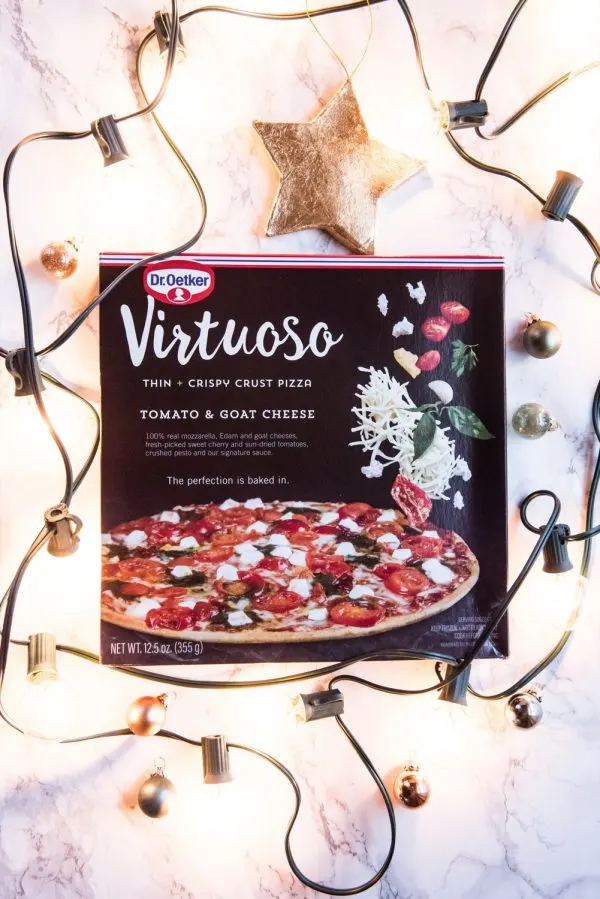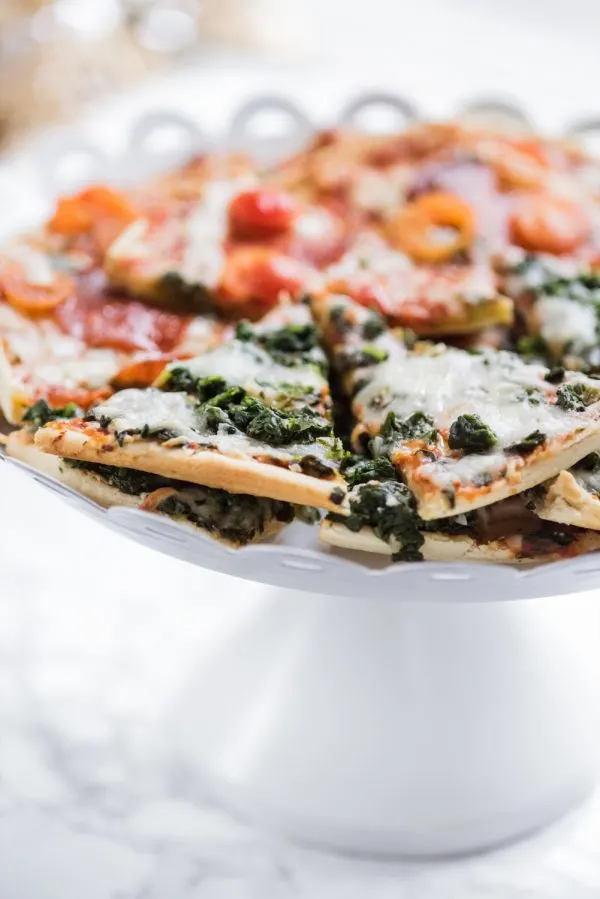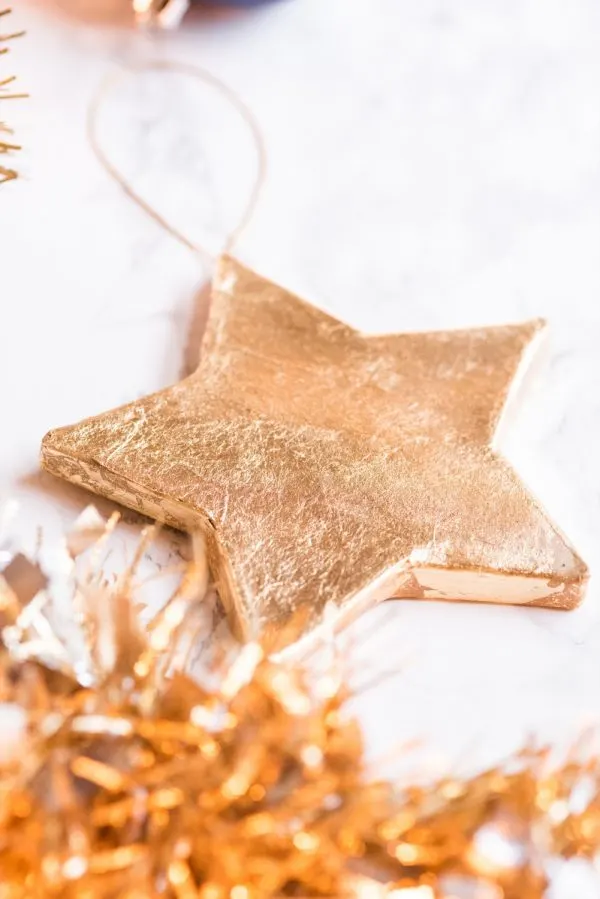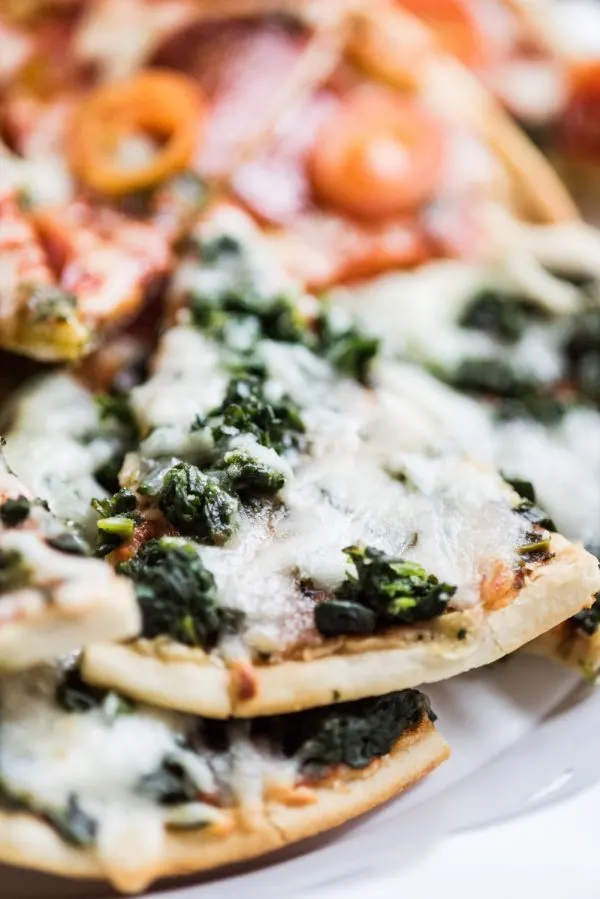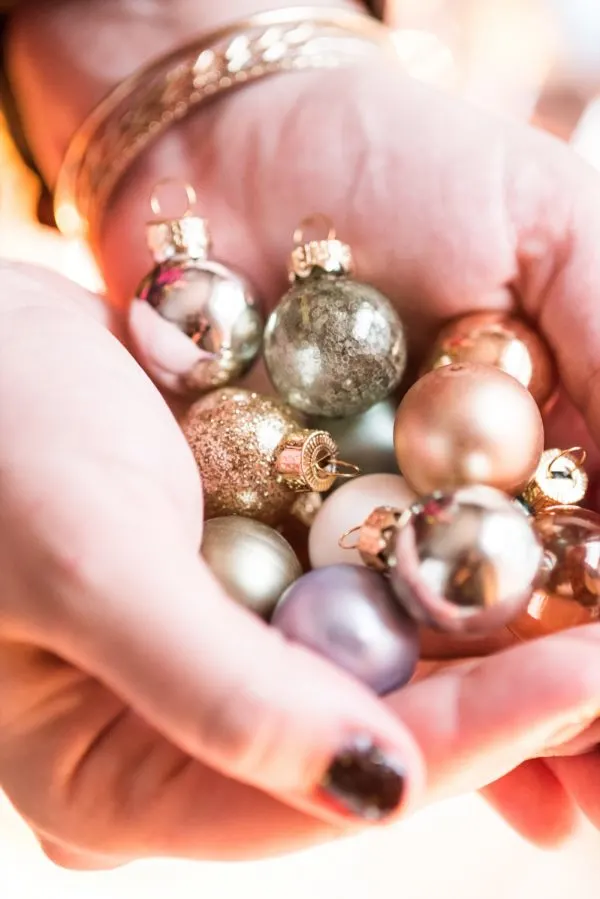 Supplies
Plain papier-mâché ornaments
Gold leaf sheets
Foam brushes
Gold leaf sizing/adhesive
Golf leaf sealer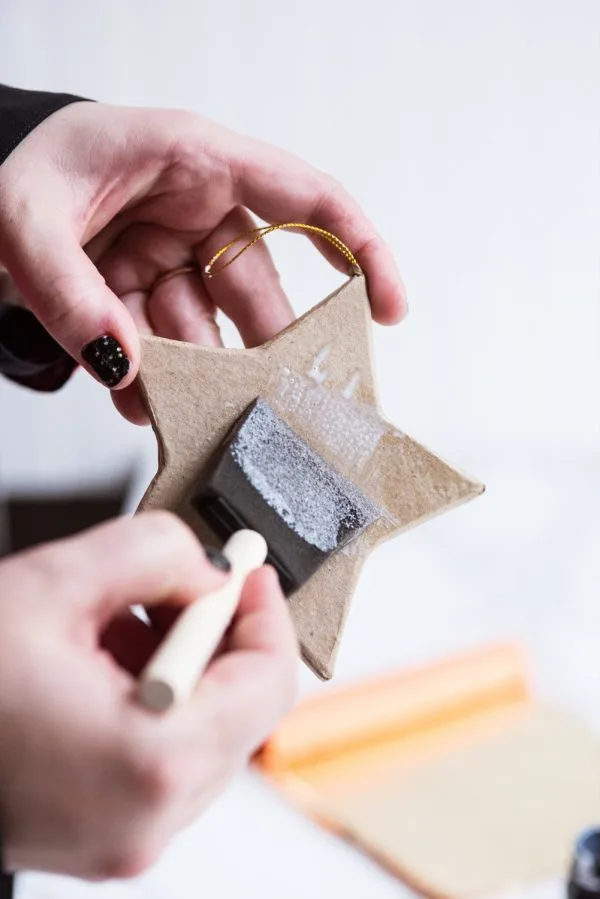 Begin by covering all or most of the surface of your ornaments with a thin layer of gold leaf sizing using a clean foam craft brush. This is the adhesive that holds the gold leaf to the papier-mâché. The adhesive is very thin and watery, so don't necessarily look for it to be an opaque layer. Then allow the ornaments to sit for 10 – 15 minutes or until the surface is tacky to the touch and the adhesive is completely transparent. (Refer to the manufacturer's instructions for best results with whatever brand of adhesive you decide to use.) For reference, I applied adhesive to the front and sides of my ornaments, but skipped the back although you could definitely do all sides if you prefer.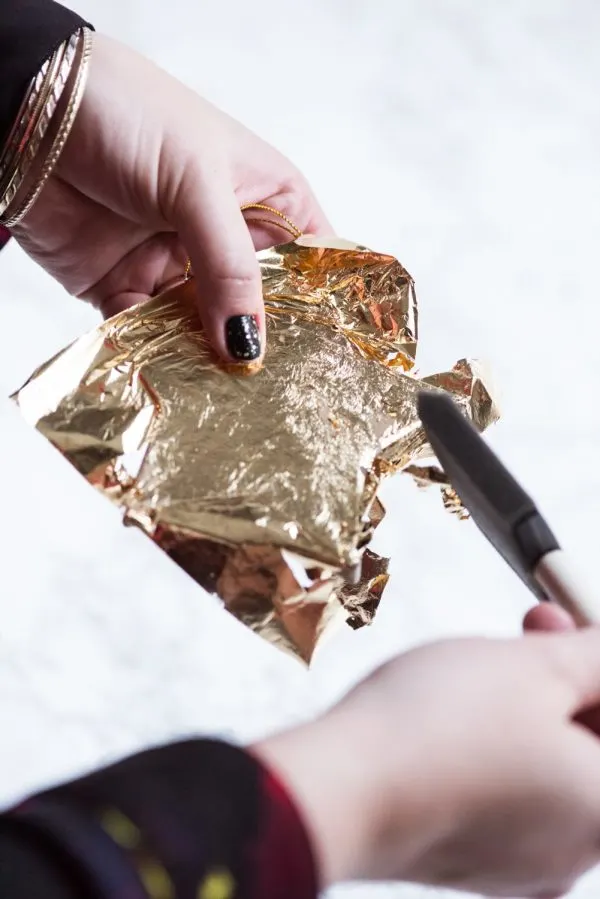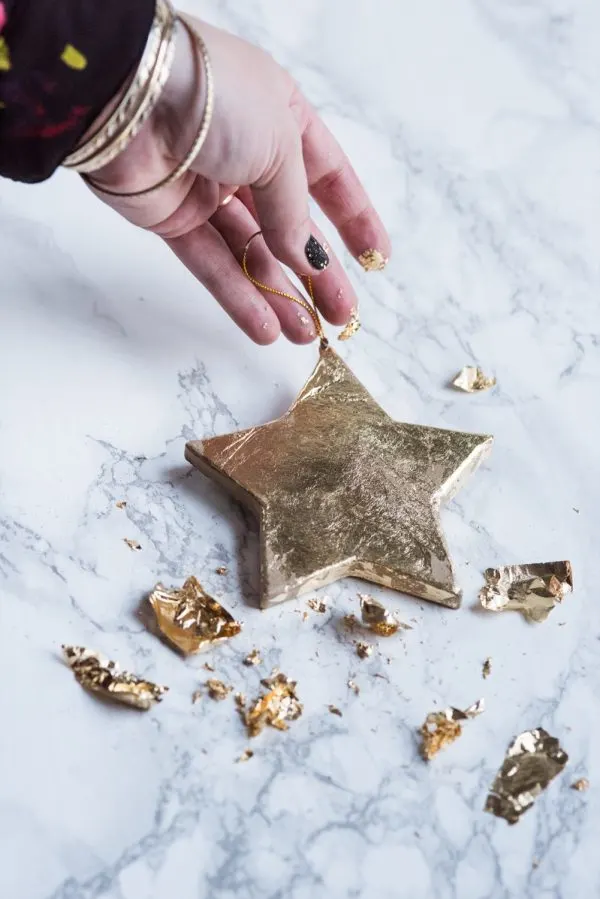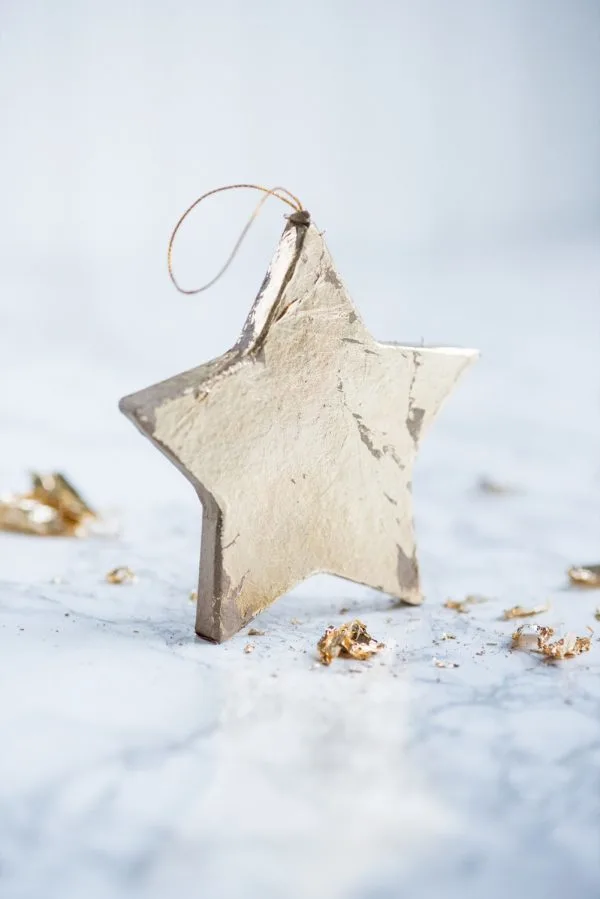 Once the adhesive is set up and tacky, gently lay a sheet of gold leaf over the surface of your ornament. Use a clean, dry foam brush to smooth the gold leaf over the star, burnishing off any excess. The gold leaf won't have 100% perfect coverage, but that's ok! That's the beauty of gold leaf and exactly why we're using it versus painting our ornaments. Once you've achieved the coverage you like, apply a very thin layer of gold leaf sealer over top using a third foam brush. Repeat the process for each ornament and allow them to dry completely before hanging.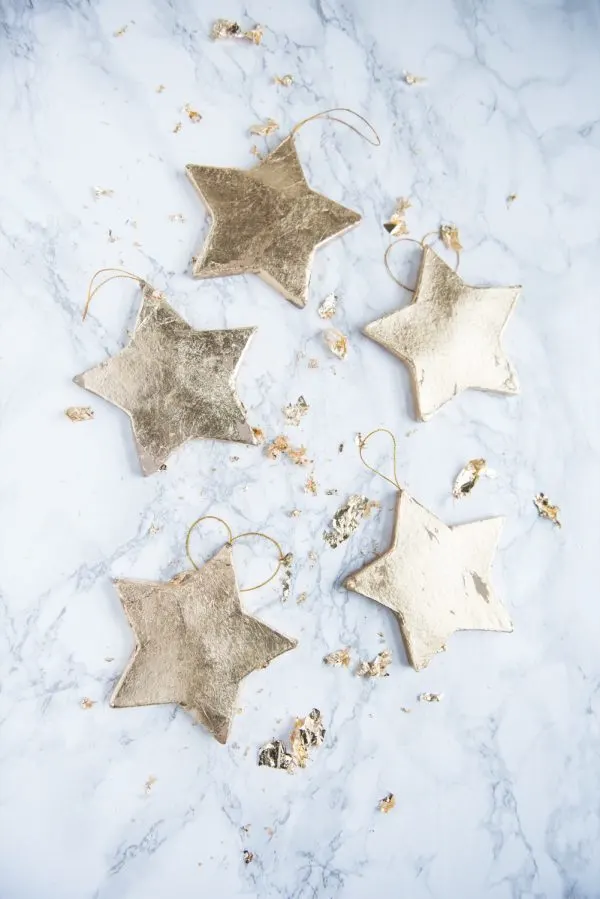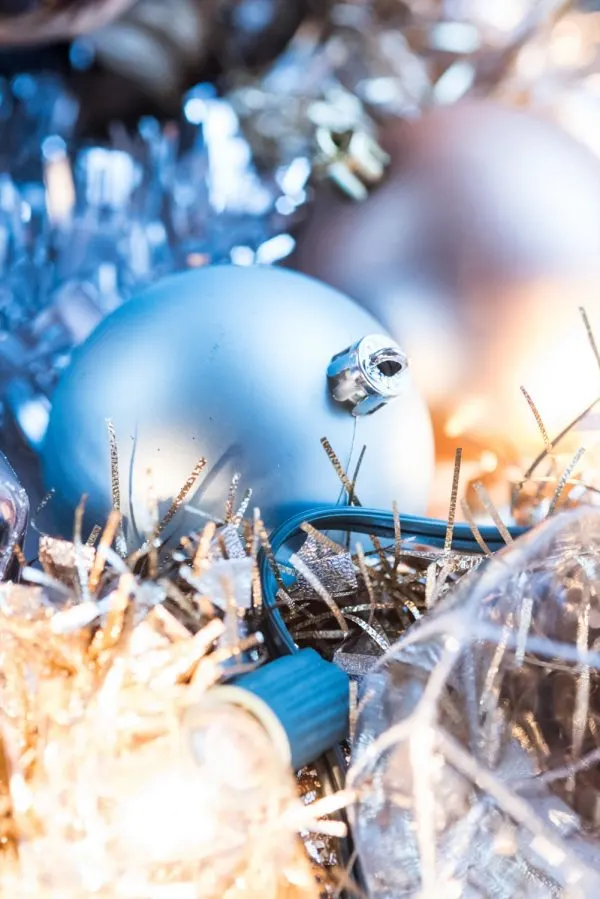 Being our first Christmas in our house, this year we decided to get two trees, which we cut down at a local tree farm. Luckily for me, that meant twice the tree decorating joy! I baked up a few of our favorite varieties of Virtuoso (they bake to the perfect thin, crispy crust in about 12 minutes at 425°) and had an easy dinner while we listened to Christmas music and sorted through ornaments, garland and lights. (The Signature Spinach and Pepperoni Pesto flavors have been in high rotation around here lately.) We did one tree all in gold, blue and silver and covered it with toddler-friendly non-breakable ornaments, like these gold leaf stars! The second tree (which is on the big wide landing halfway up our staircase) holds our breakable and keepsake ornaments, because it's in an area where the baby is never hanging out unattended. The combination of the two is making me so happy!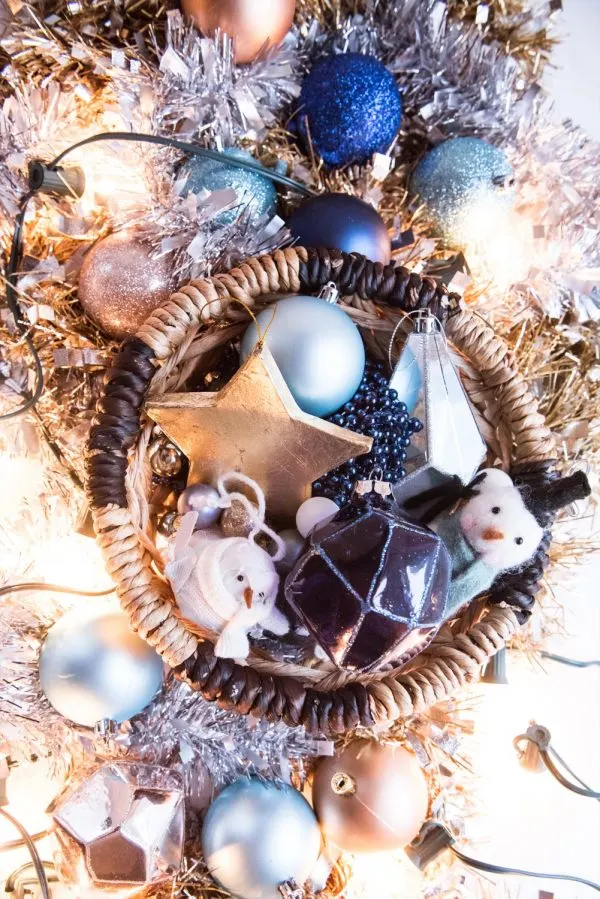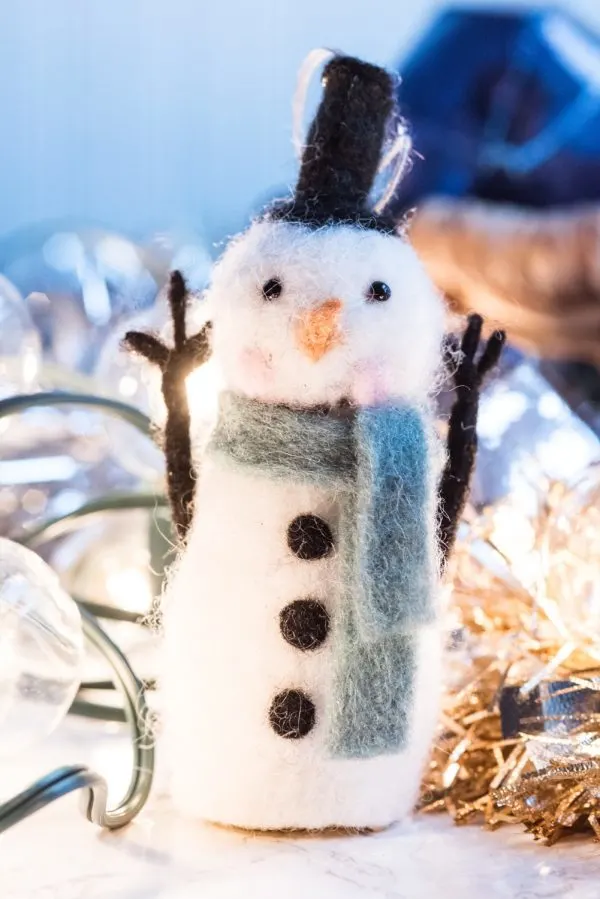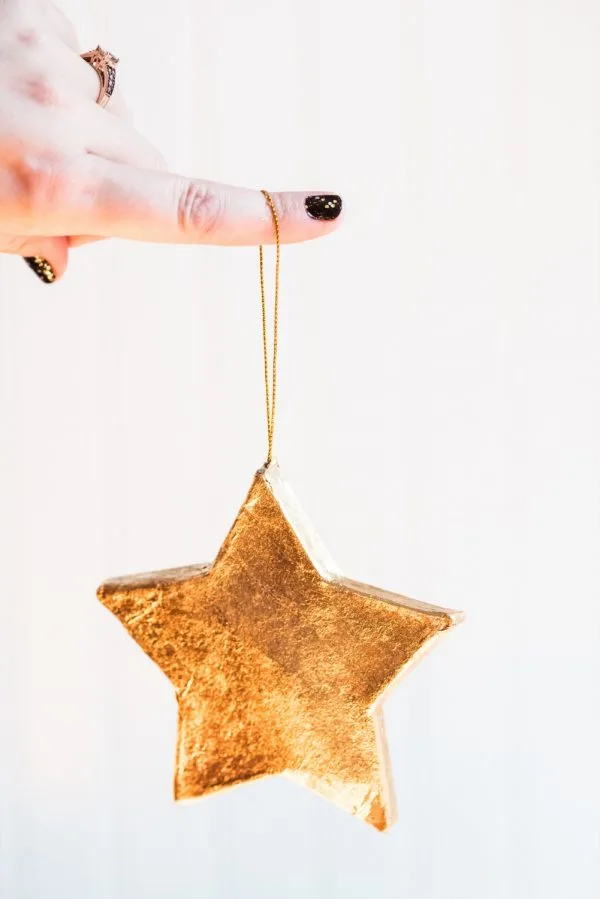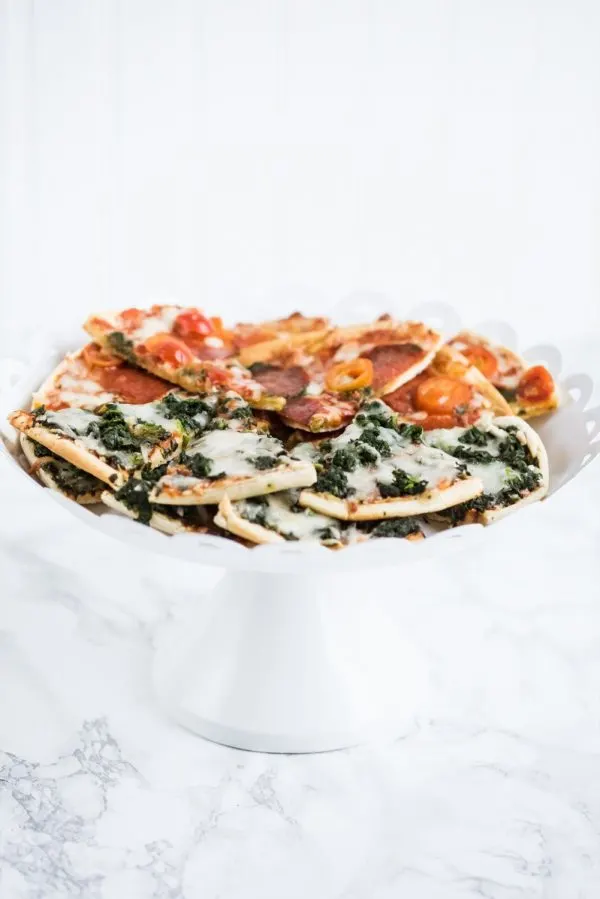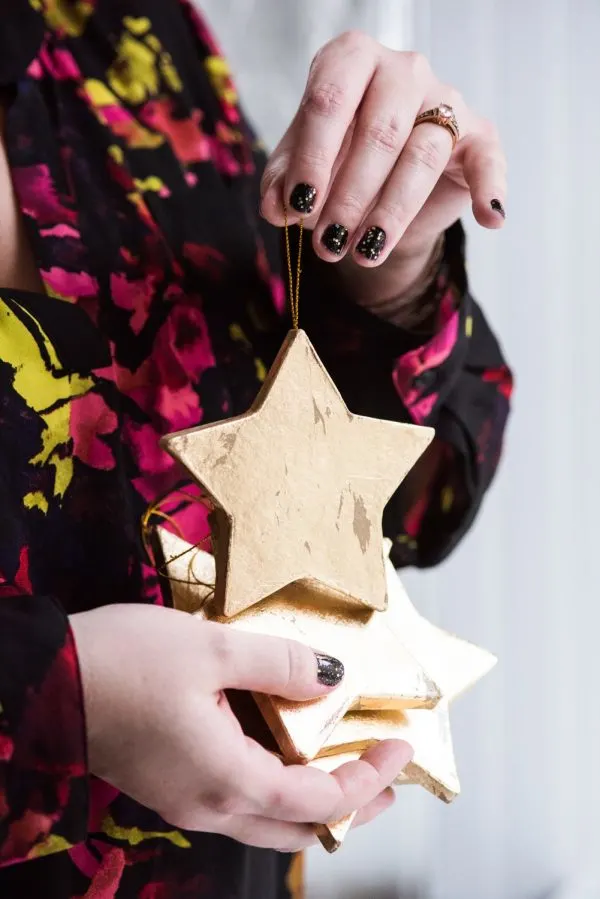 To host your own little tree trimming or ornament crafting party, pop a few Virtuoso pizzas in the oven. They offer nine gourmet flavor pairings all with that signature thin crust that I love so much. You can track down your favorite variety by checking out the store locator to find where Virtuoso is sold near you, or put in a request with the manager at your favorite store! The pizzas (now showcasing a hip new name and a cool new box) feature seriously delicious, fresh ingredients that sincerely elevate the frozen pizza game. Once your pizza is baked up, slice it and set it out on a tray or platter with a stack of cute paper plates and call it done! If you want to go one step further, serve it up with a tasty salad pairing, simple enough for pulling together quickly, even on a weeknight.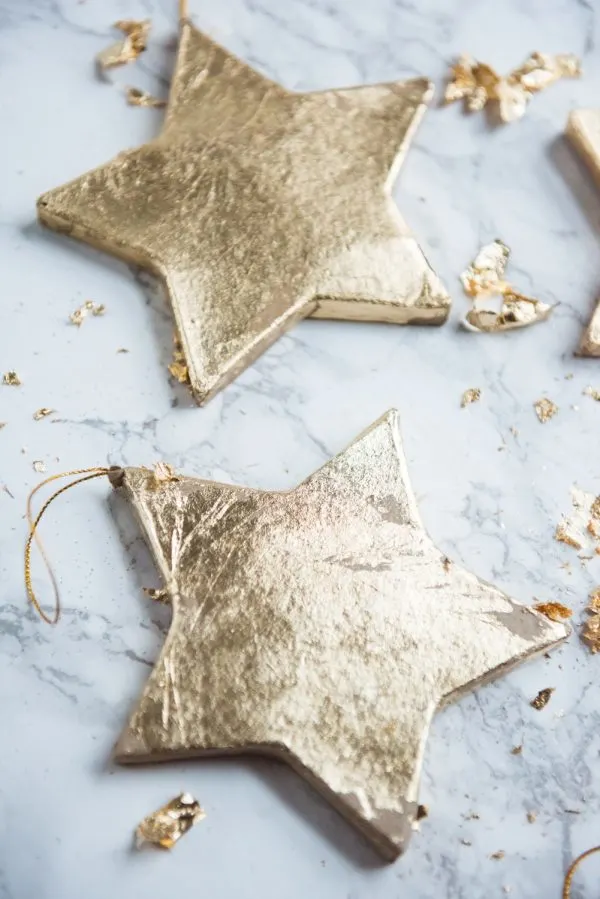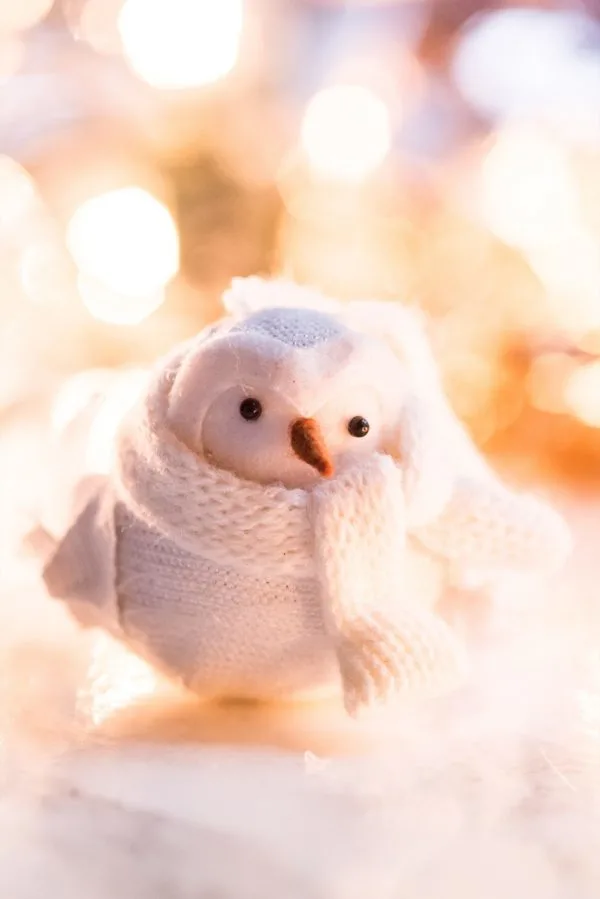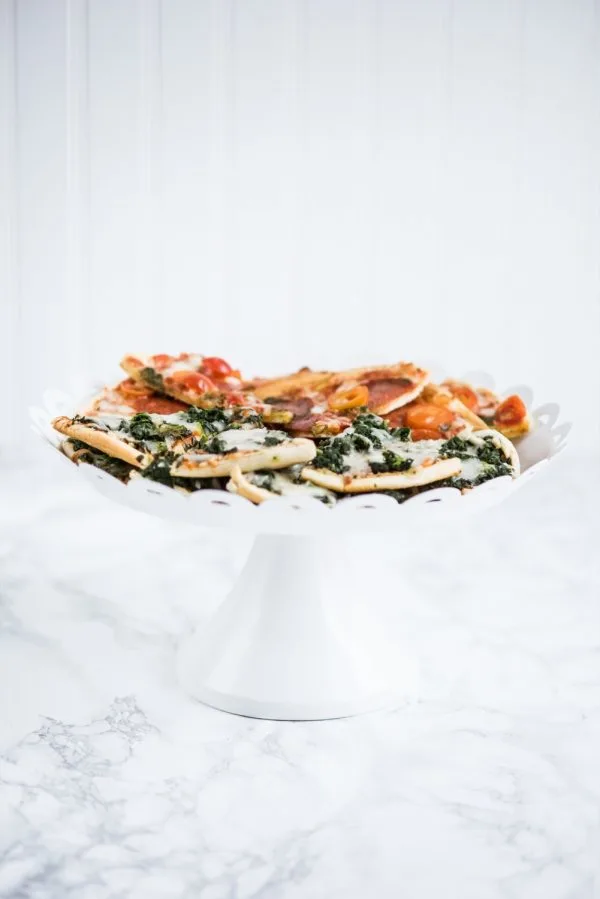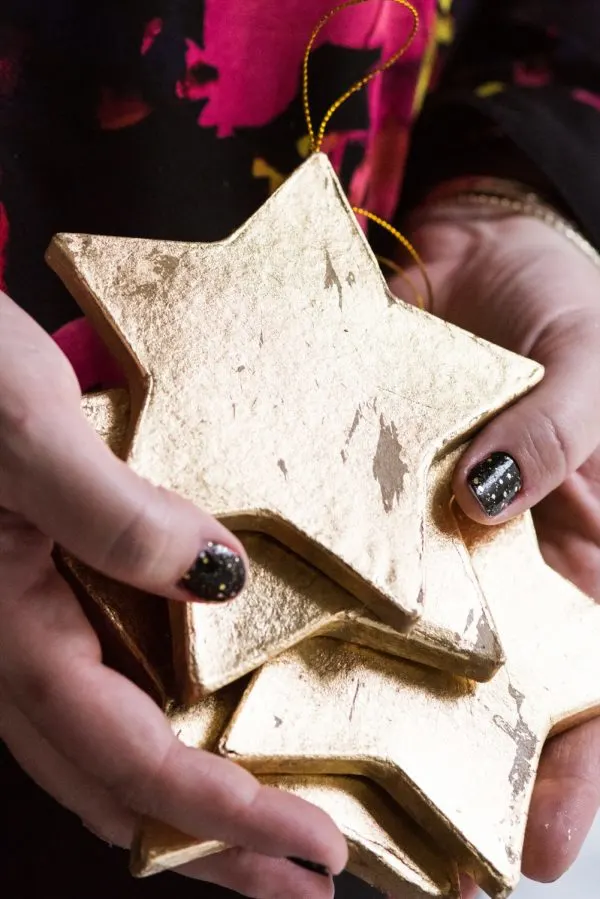 Don't forget that for more recipes, tips and entertaining ideas, you can follow Virtuoso on Facebook! You can also give me a follow over on Instagram where I'm sharing loads of holiday DIY ideas, Christmas decorating ideas and more all season long. If you give these ornaments or any of my other craft projects or recipes a try, share it with me there using the hashtag #thesweetestholidays so I can see how you're making the season merry and bright!

[Art direction + styling by Cyd Converse | Photos by Alice G. Patterson for The Sweetest Occasion.]
This post was sponsored by Dr. Oetker USA LLC. I received compensation for this post, but all opinions are my own. Read more about our editorial policies.