This post was sponsored by TAZO®. Thank you for supporting
the sponsors that help make The Sweetest Occasion possible!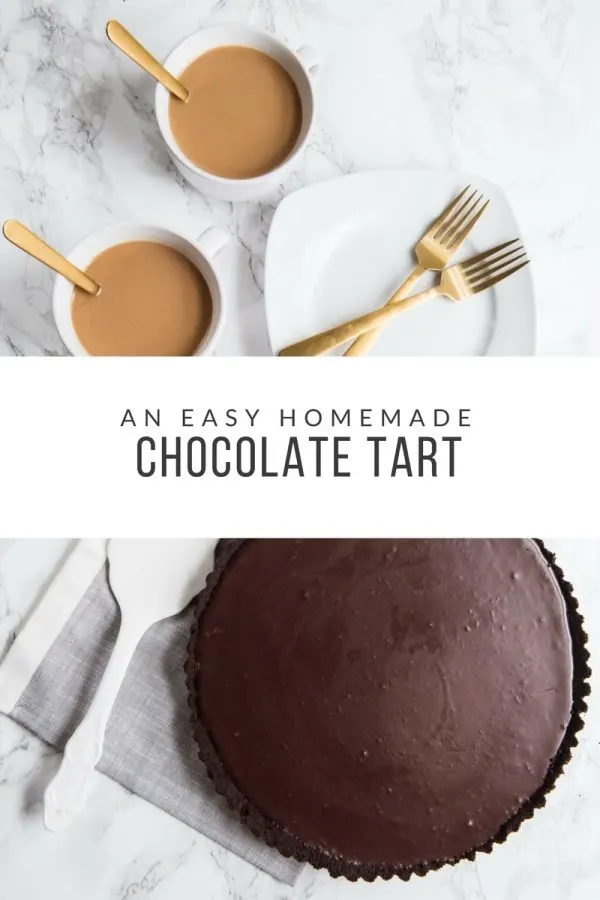 Ok, friends, let's cut right to the chase. When TAZO® reached out to see if I'd be game for coming up with the perfect holiday recipe to pair with their TAZO Chai Vanilla Caramel Latte, I was hyped! I was instantly inspired by a warm, cozy winter afternoon spent watching favorite Christmas movies and wrapping presents with your sister or best friend. Topping off the day? A big mug of creamy chai and a slice of this insanely delicious chocolate tart. It's these quiet little moments of decadence in the midst of a busy holiday season that make me love this time of year. When you're wearing yoga pants and an oversized sweater fussing over the perfect ribbons and bows. When you're watching The Holiday for the 99th time and fall in love all over again like the very first time. When you're enjoying girl talk over Christmas music with the light of the tree in the background. The very very best times of all. You can make this tart the night before or in the morning, invite your favorite lady or two over for the day and serve up the perfect treat with virtually no fuss. We're talking just a few ingredients like chocolate and cream, and a stash of TAZO Vanilla Caramel Chai Latte K-Cup® packs and you're good to go.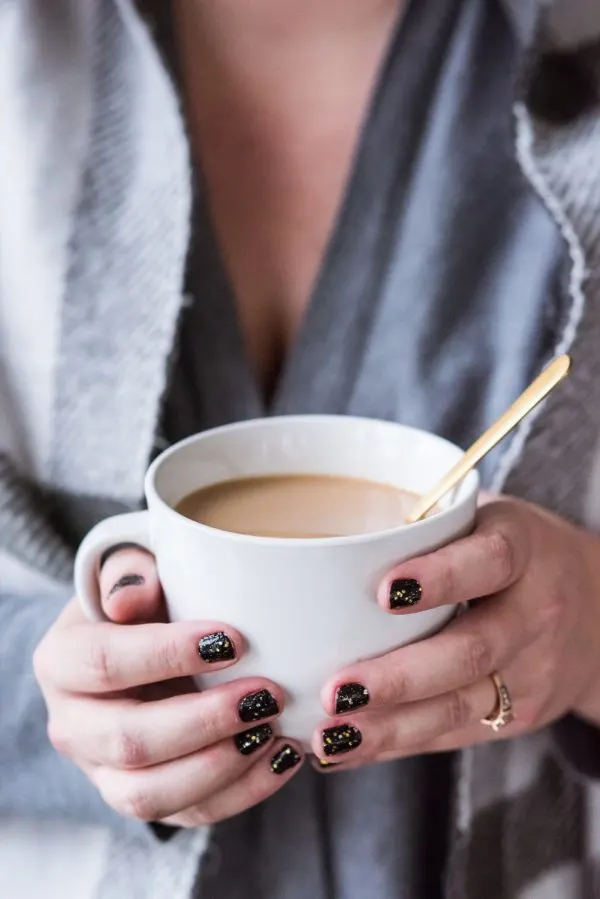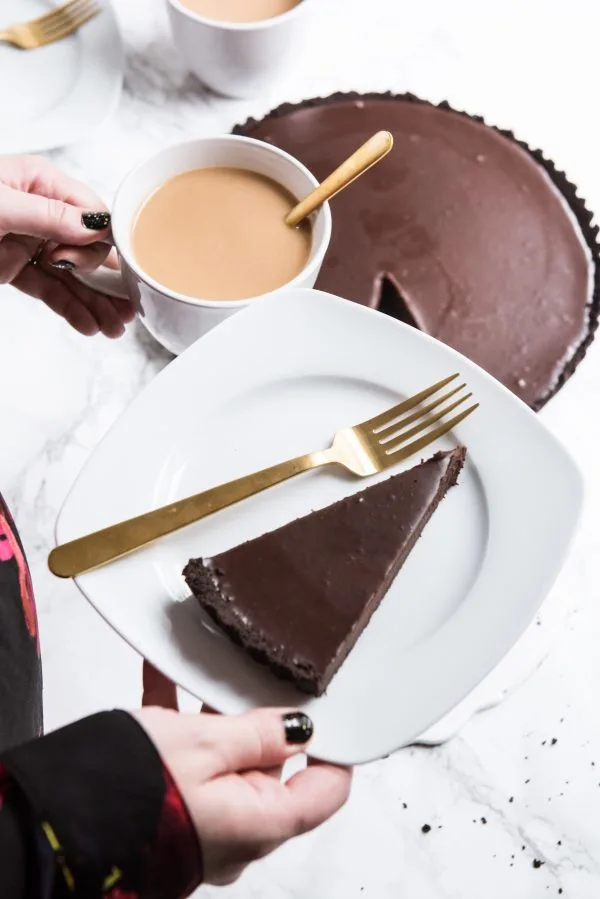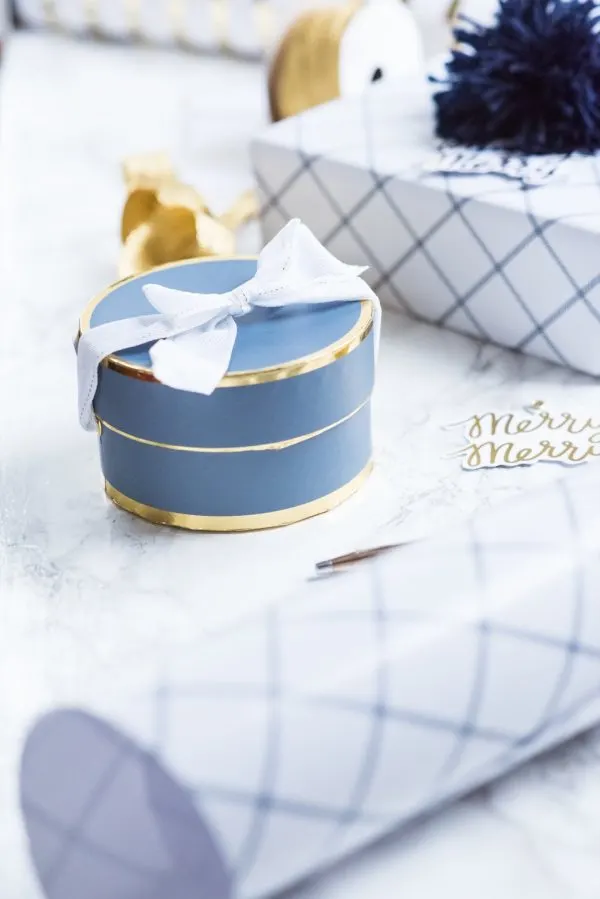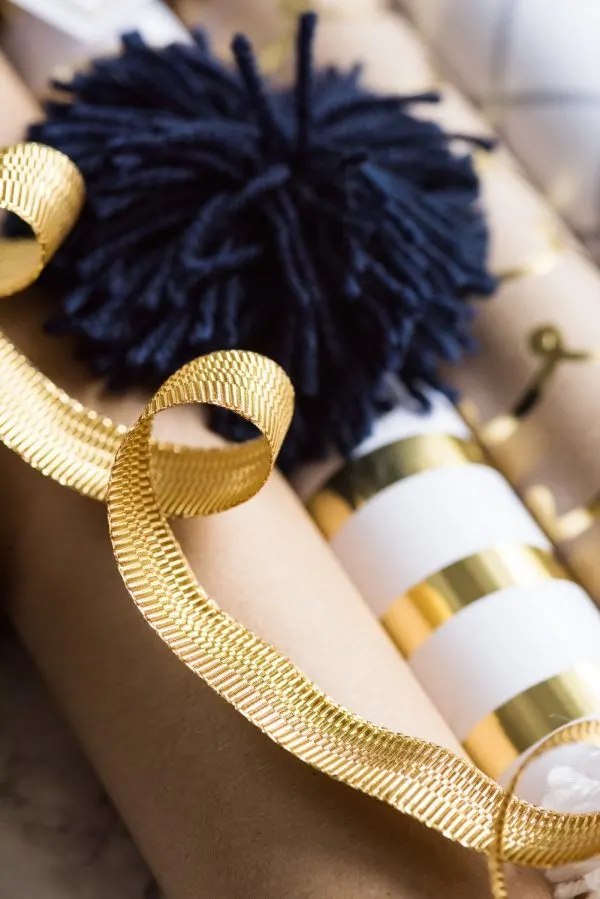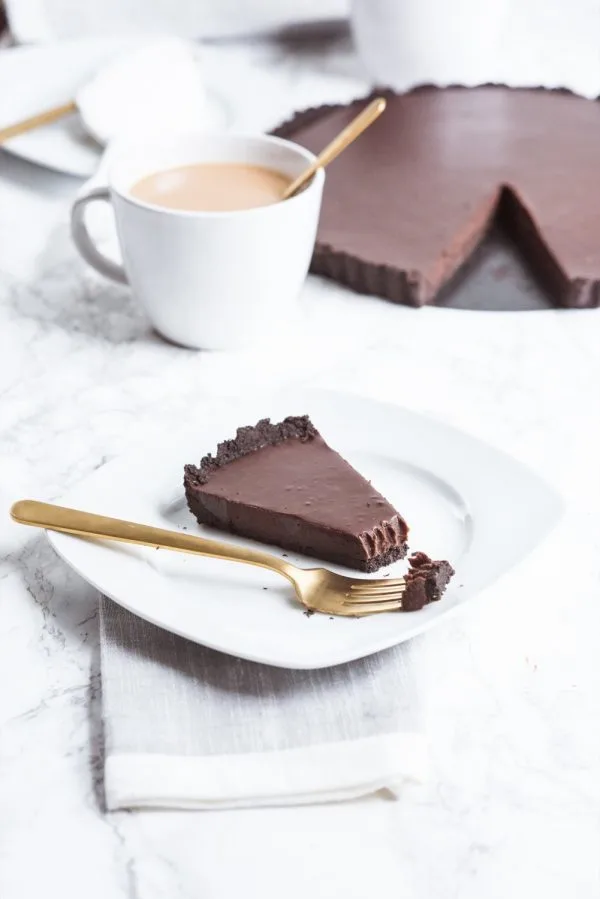 Chocolate Tart
Makes one 12″ tart or approximately 16 servings
For the Crust:
30 chocolate sandwich cookies
5 tablespoons unsalted butter
Place cookies in a food processor and pulse to a fine, crumbly consistency. Melt the butter then combine with the cookie crumbs in a mixing bowl using your hands or a rubber spatula until the butter is well distributed. Press into a tart pan and bake at 350° for 8 – 10 minutes. Remove from the oven and allow to cool completely before pouring the filling over top.
For the Filling:
2 cups bittersweet chocolate chips
2 cups milk chocolate chips
2 cups heavy cream
½ stick of butter, cut into chunks
Place bittersweet and milk chocolate chips in a heat-safe mixing bowl. In the meantime, pour the heavy cream into a saucepan and then add the butter, heating slowly over medium heat until it comes to a gentle boil and the butter is totally melted. Be careful not to scald the cream or to allow the mixture to boil over! Remove from the heat and pour over the chocolate chips. Let sit for 2 minutes. Use a rubber spatula to stir together the cream and chocolate until smooth and consistent in color. Pour into the prepared crust and refrigerate overnight or at least 4 – 6 hours before slicing and serving.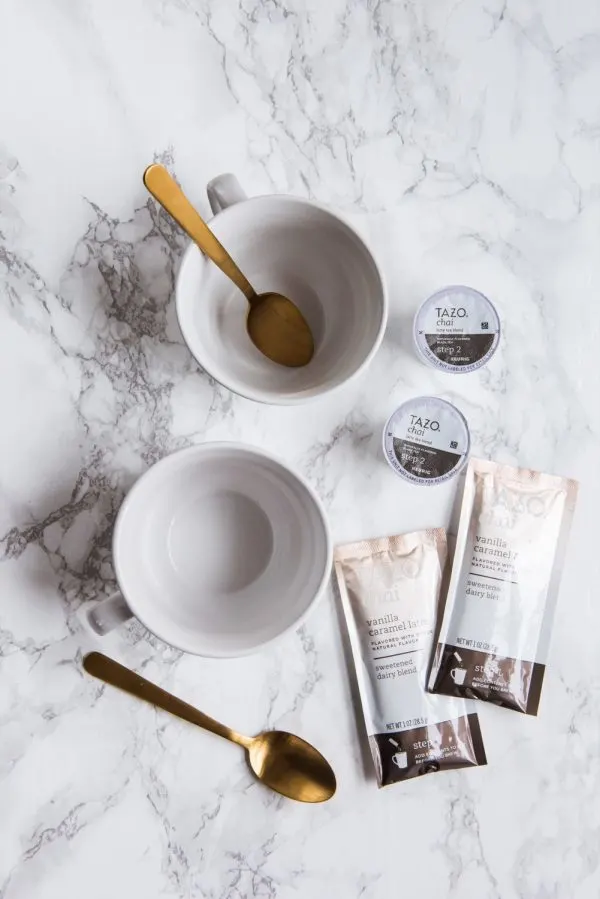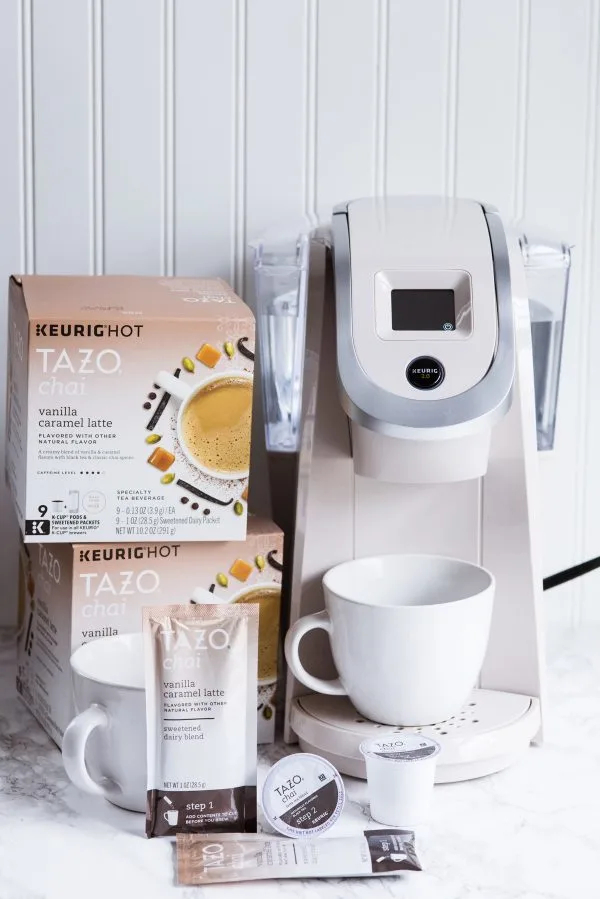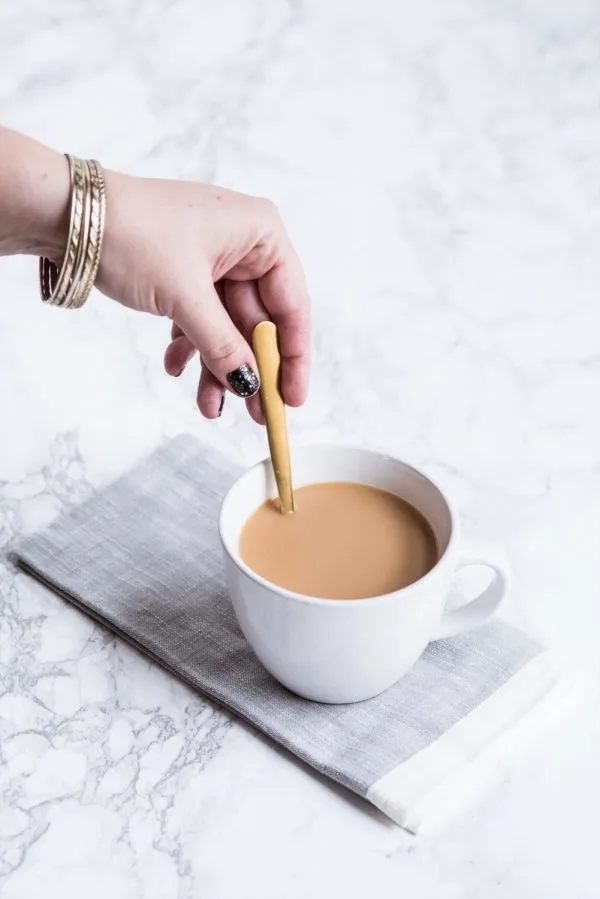 TAZO® Vanilla Caramel Chai Latte K-Cup® Packs are expertly blended to make brewing the perfect cup of chai latte at home as simple as can be. With the flavors of classic chai, lush black tea, and fragrant vanilla caramel, it's a rich and creamy escape from the ordinary, all without leaving home. Pour the sweetened dairy pack into your favorite mug, brew a latte tea pod and stir well. I was honestly blown away with how incredibly delicious the flavors were! With rich aromas reminiscent of walking into your favorite coffee shop, this stuff is the real deal, friends. Paired with this chocolate tart recipe and you've got a serious contender for your new favorite go-to way to treat yourself. The full line-up of TAZO Chai products are available at local grocery stores so you can indulge whenever you need a pick-me-up this winter!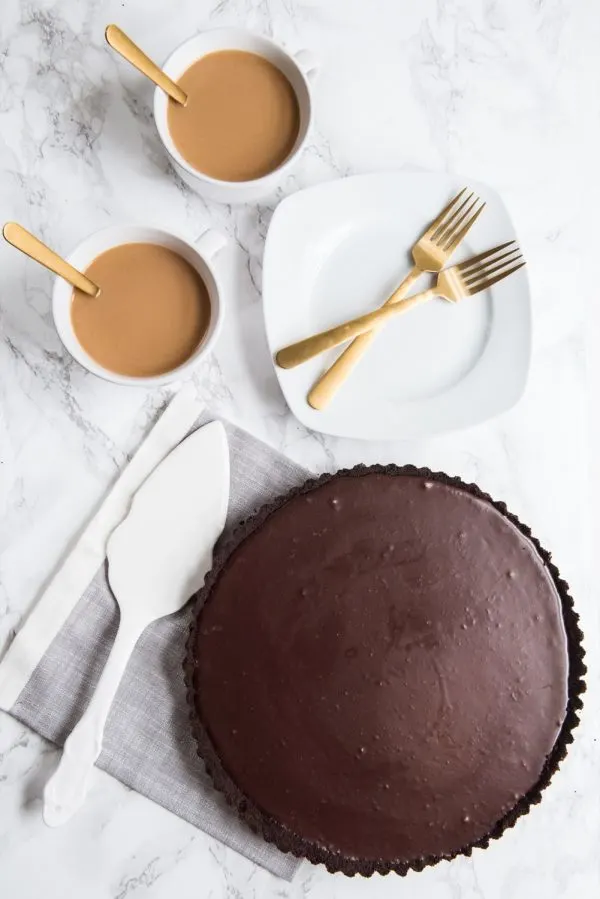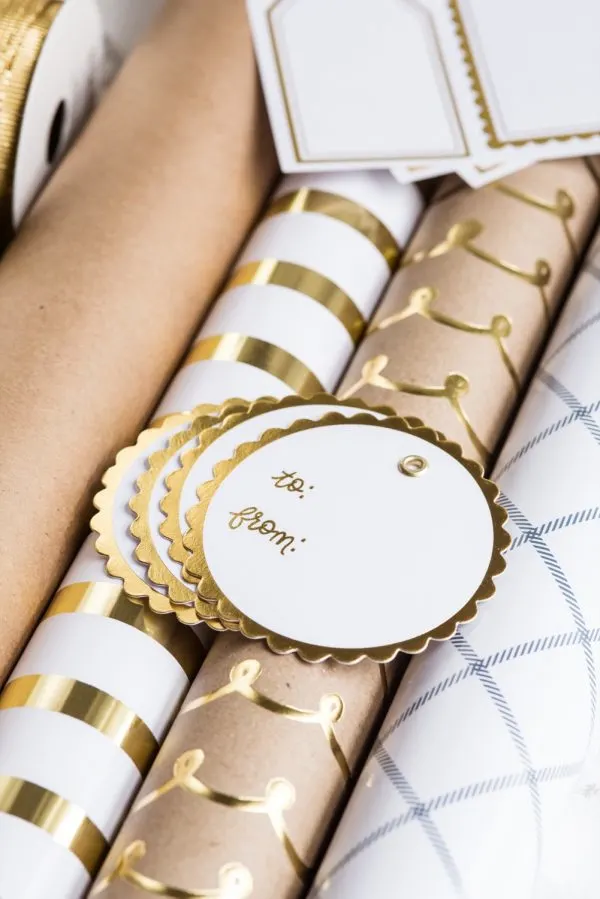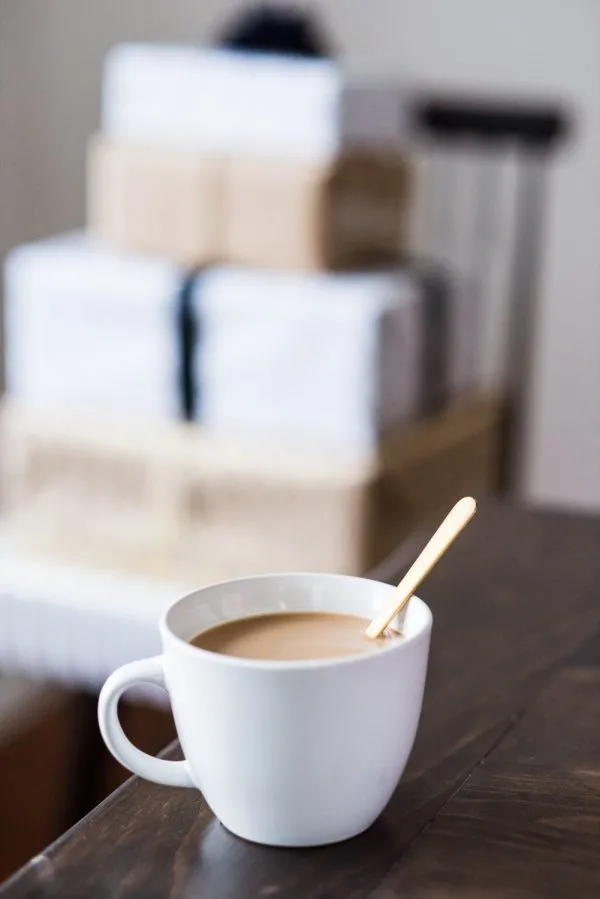 For me the holidays are all about slowing down a bit and savoring time with loved ones. In my world, professionally this time of year is go-go-go and it definitely makes finding the ability to slow down feel nearly impossible at times. This, to me, is the perfect way to do just that. It's just simple, good and relaxing, exactly as the holidays should be if you ask me. Add a twinkling Christmas tree and there is, in short, no other way I'd rather pass the time.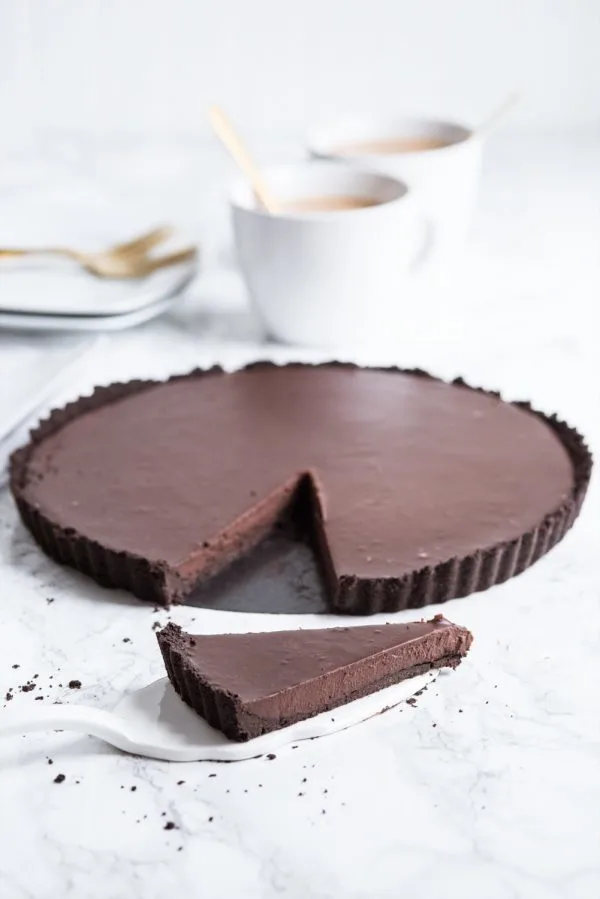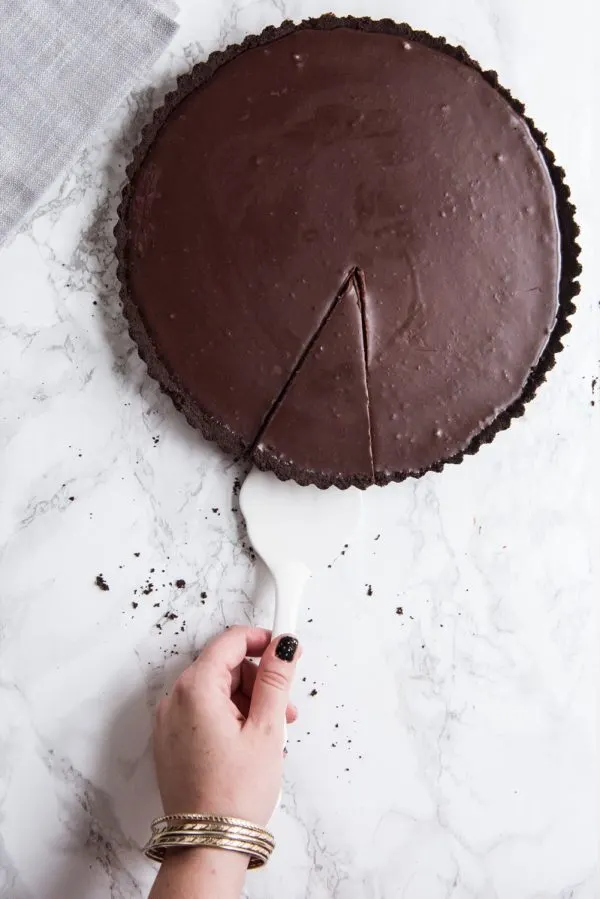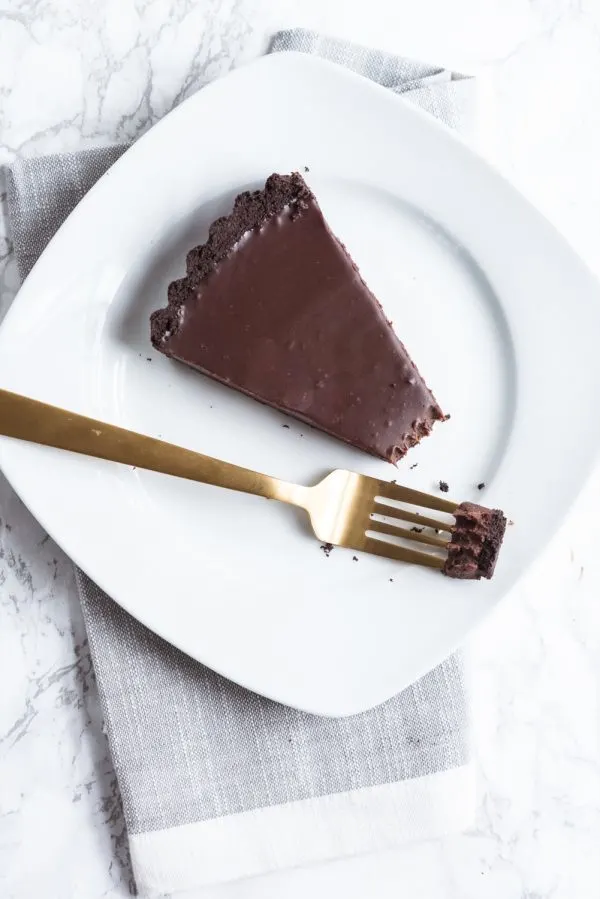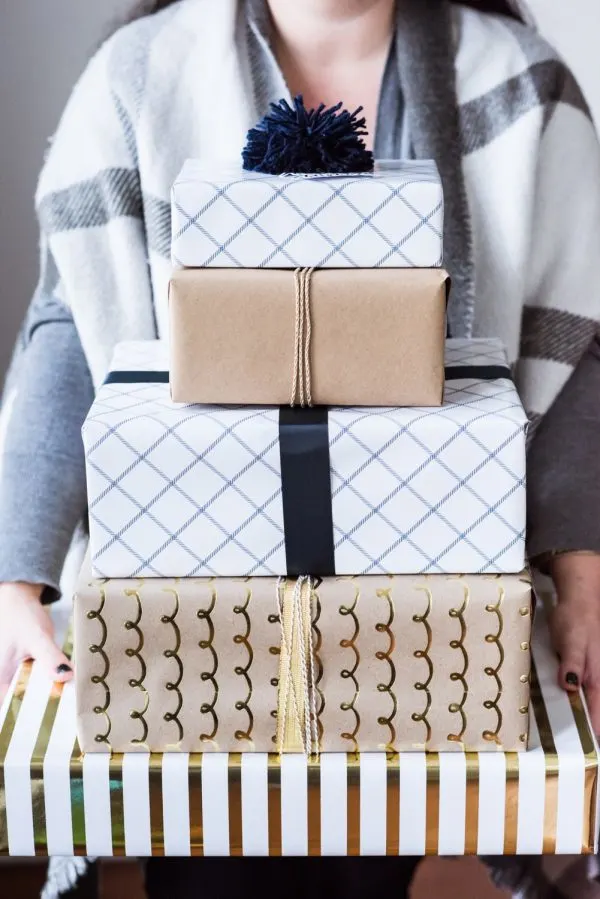 [Recipe, styling + art direction by Cyd Converse | Photos by Alice G. Patterson for The Sweetest Occasion.]
This post was sponsored by TAZO®. I received compensation in exchange for creating this content, but all opinions are my own. Read more about our editorial policies.