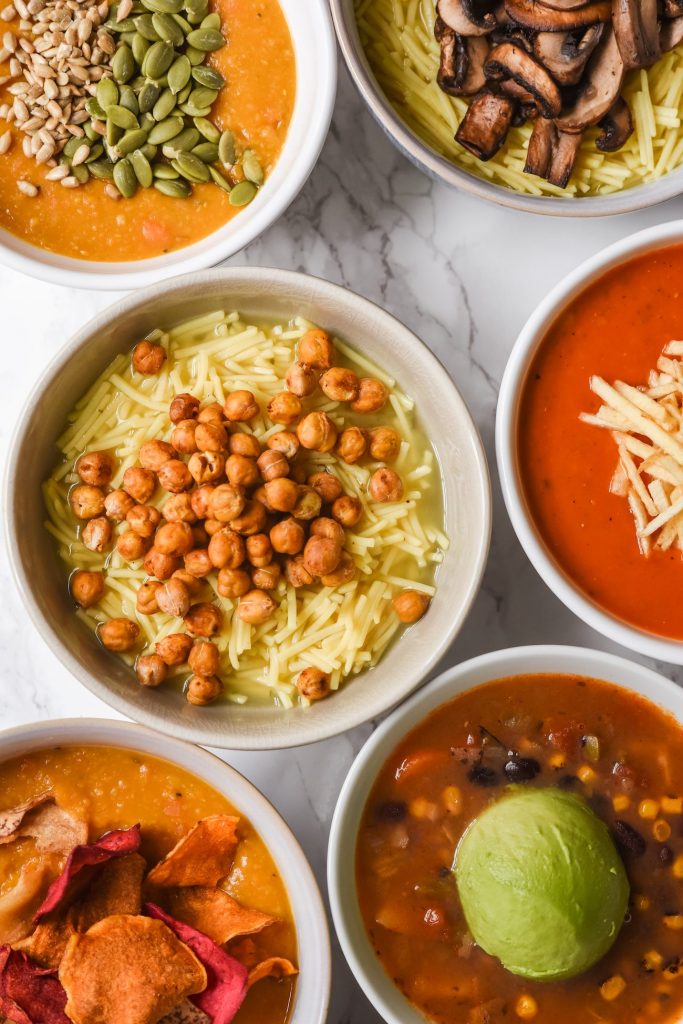 After a seriously prolonged heat wave that felt more like summer than summer did, it finally transitioned into soup and sweater weather over the last few days. This morning the air has that special crispness that only fall can bring and my big ol mug of coffee was even more welcome than usual. As recently as last Wednesday, I had the AC cranking and this morning I had to kick on the heat to warm things up a bit. Have I mentioned how wonky our weather can be here in Upstate New York? Ha! At any rate, let's talk soup! In particular, nine seriously scrumptious ideas for topping your soup to take it from so-so to insanely delicious. This would be a really fun idea for a party, too! Serve up a few different soups and a bunch of toppings and let friends and mix and match their favorite flavor combinations. Or just take your weeknight dinner to the next level the quick and easy way with a really over the top bowl of soup. Either way, you're winning in either scenario.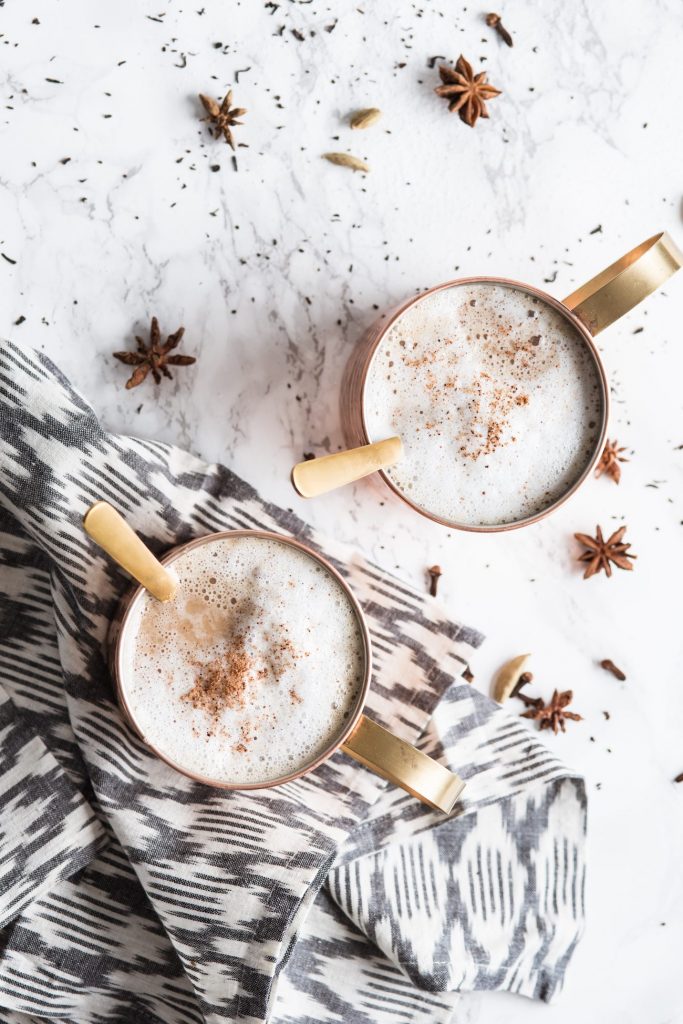 In the little village nestled in a valley where I went to college, there was a coffee shop where we used to flock on crisp fall nights for big cups of steamy, creamy chai tea latte. In truth it was probably the first "real" coffee shop I ever frequented and it smelled of good coffee beans and freshly made espresso in a way that makes me nostalgic just thinking of the place. Not a fall season has gone by since where I haven't longed to be there with a big mug in hand. Today I'm once again teaming up with the folks at Truvia, this time to bring you the most delicious homemade chai tea latte recipe you're ever going to try. After a few years of attempting it, I think I've finally settled on the right mix of spices and tea and milk to make a seriously solid cup of chai. Because it's sweetened with Truvia Natural Sweetener it also has delightfully less sugar and fewer calories than the chai you pick up at the drive-thru and is far more delicious.
You wouldn't know it based on the sunshine and 80 degree days we've been experiencing, but in my mind it's officially sweater weather season! Fall in Upstate New York is a serious thing of beauty. On the weekends it means apple picking and trips to our local cider mill where their apple cider donuts are famed for all the right reasons. During the week it means crisp cool mornings and extra large cups of coffee while I'm checking my morning email. Also, it means adding pumpkin to anything reasonable like donuts, cocktails and cheesecake parfaits. Or in today's case, oatmeal energy bites! These are one of my favorite quick and easy little breakfasts these days. A couple of these, a piece of fruit and coffee makes the perfect start to the day. They're also a great dessert, a great mid-day snack and loaded with protein and good-for-you ingredients. I make them year round without the pumpkin, but this pumpkin spice version is perfect for fall. Give them a try, I think you'll love these!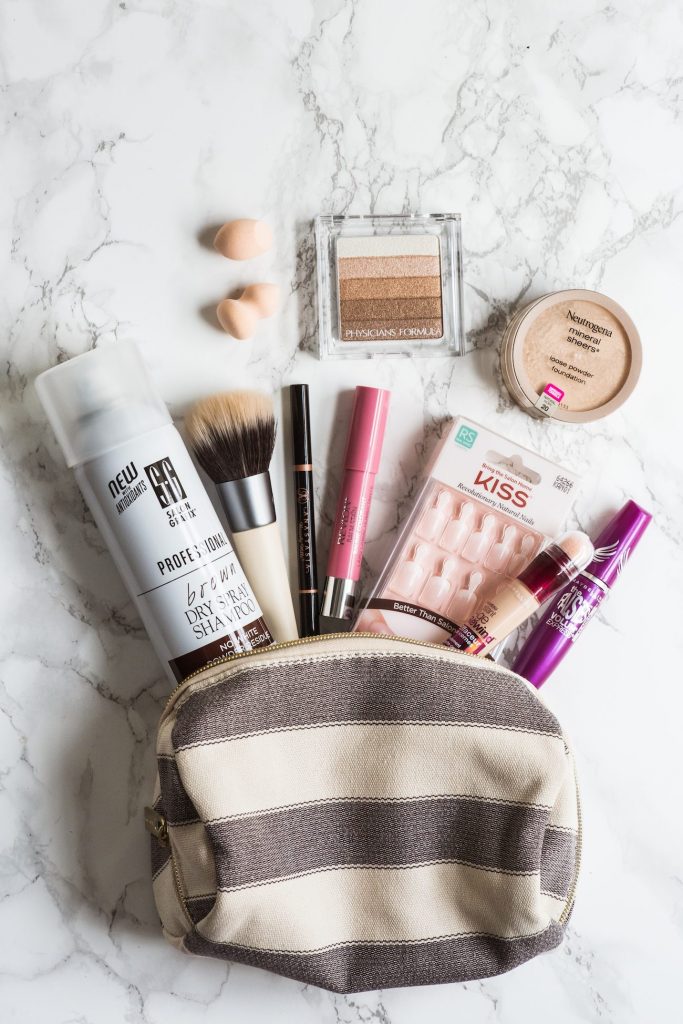 A couple of winters ago I shared my extensive collection of favorite winter skincare products, which is kind of what inspired this post. Over the last couple of years I've settled into some favorite everyday beauty products, the kind I purchase over and over again or even stock up on during sales. In the past I always flirted from mascara to mascara and product to product, but recently I've been pretty loyal. I personally love seeing what makeup products other people are loving. Watching YouTube videos scoping out what people are digging? I'm totally into all of that. That said, I admittedly keep it pretty basic. I'm not big into creating "looks" mostly because I think I lack any makeup application skills that involve eyeliner and/or eyeshadow and/or contouring. I have a few little tricks I can bust out for dressier occasions, but for the most part I honestly like having my makeup done professionally when I'm going to more formal occasions or even weddings. A lot of days it's me, in yoga pants, no makeup, trying to keep a baby from base jumping off the dining room table while I'm working so having a small arsenal of simple but mighty products is where it's at for me these days. Even better, most of these are super affordable drugstore products! My skincare regime tends to be a bit more high end, but for makeup I've found a great combination of items that just get the job done for me. Click through for all the details!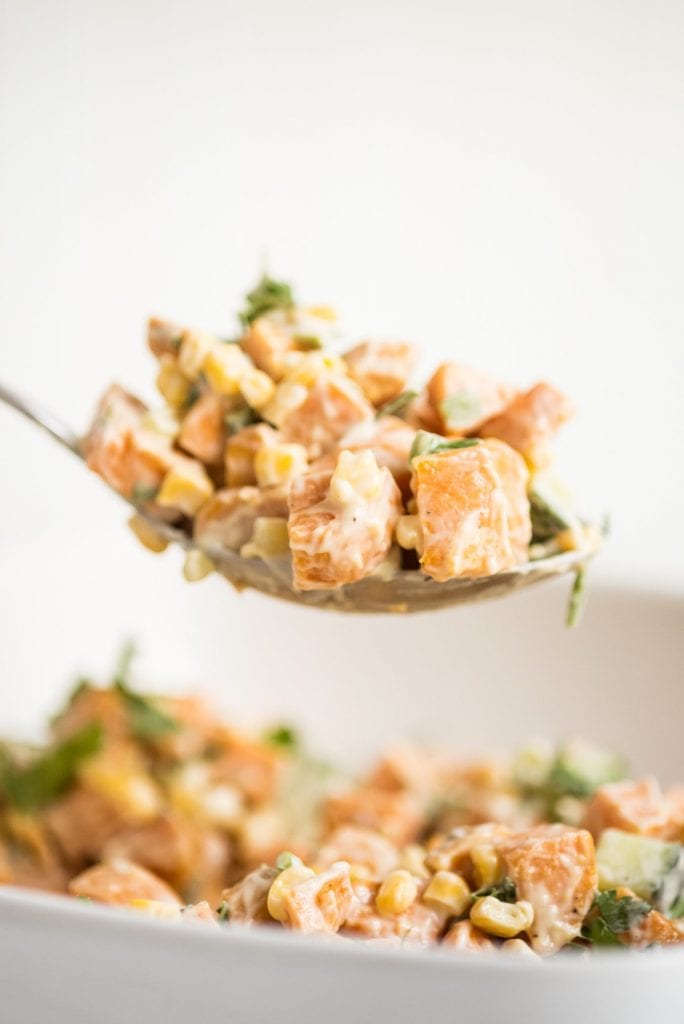 Hi, friends! I hope everyone here in the States had a great Labor Day weekend. We spent our second weekend in a row camping with family and friends and now we're slowly working on getting back into the groove over here. The kids are all back to school this week and on Thursday we have our first photo shoot to start shooting some great fall content and get back to the usual posting schedule. I've been taking a lot more time off over the last few weeks and it was a really great way to reenergize and slow down. Today I'm sharing one final summer recipe, a roasted sweet potato salad that you'll want to make all year long. It's really simple with just a handful of ingredients and the flavors are just so great. To take it to the next level, use leftover grilled corn instead of boiling it and your family will be begging for seconds.
The Sweetest Occasion on Instagram
Catch up on the Latest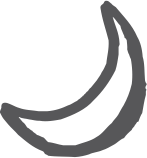 Back to Top