Have I ever told you about my aquamarine dilemma? By now we all know I am completely confuzzled by this notion of a color palette, but I'm not sure I've ever elaborated on my obsession with aquamarine. Perhaps I shall back it up a moment and share…
Aquamarine hues and all associated shades of soft ocean blues and rich teals undoubtedly represent my favorite color family. I am immediately drawn to soft aquas in home decor, clothing, accessories and shoes. One would assume, as my mother did, that it was a no brainer that my wedding color palette would be heavy on aquamarine. On the contrary, I have been somewhat forcing myself away from aqua for the simple fact that it has been my favorite color and will continue to be my favorite color long before it was trendy. Many years prior to the advent of the Tiffany Blue wedding, I was in love with all heavenly shades of blue, blue/green, green/blue etc. etc.
In my quest for a timeless, classic, and chic wedding, the thought of anything overly trendy makes me shudder. The ladies of today opting for bright, bold palettes incorporated with bold damask patterns and [in my humble opinion] overly retro hairstyles have made decisions resulting in gorgeous and personal weddings. Yet I know this is not for me as I would be remiss were I to look back and be able to pinpoint mine as a wedding befitting only the year 2009. I am a realist and recognize that some elements will end up dated, and as Krista has pointed out before, incorporating such things will do nothing to diminish the happy memories of our day. With that said, I definitely find myself more akin to the approach of Sarah of Classic Bride – keep it sweet, simple and timeless. Yet the harder I push myself away from aqua, the more I seem to gravitate toward it every time I see a photo that captures my eye in a magazine or one of the many bridal blogs I faithfully stalk every morning over coffee. (Oh hell, let's face it, and every afternoon and evening, too!)
In recent months I've checked the aqua obsession as related to all things wedding. It was shelved neatly and without regret and I was moving forward. And then, I saw this absolutely breathtaking inspiration board late last week on Snippet and Ink. Oh, dear Kathryn, how you puzzle me so! Now, naturally, I want a wedding that is layered in beautiful shades of champagne and ivory with beautiful notes of aqua and blue playing throughout it all. *sigh* So pretty, right?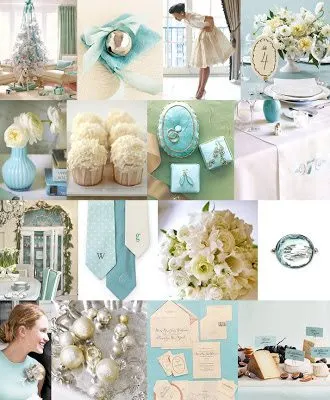 I saw this inspiration board and was immediately inspired when crafting my creation for the holiday card swap. I love the outcome and can't wait to share later in the week after the USPS has safely delivered [we hope] them across the country.
At the end of the day, I recognize I have much much bigger fish to fry than the issue of colors (!) for my wedding day. I get it. I know it's no big deal. The problem is, my imagination gets the best of me and the designer in me gets a-twitchin' and the wheels get a-whirring and the next thing I know, I'm wishing I could have an entire week for my wedding so I could try out all of my ideas…and no, this has nothing to do with what the WIC is telling me to do or telling me I should want and everything to do with my obsession with design and planning and crafting and scheming and dreaming. It is simply a matter of how I'm programmed. I've been this way since birth. Ask my poor father who used to have to, on a near weekly basis, translate my construction paper and Crayola floor plans into the bedroom furniture arrangement of my dreams. (Sorry, Daddy!)
At any rate, we can rest assured that our wedding will include an abundance of beautiful shades of ivory and champagne. And from there, I've got nothing. Or everything, depending on how you look at things. Or at least, I want to try it all. At least once. Just because.