I love flowers. I always have. I grew up frolicking about my grandmother's gardens in bare feet chasing butterflies. Flowers are just a huge part of my childhood memories, they are something that can always make me smile and I do truly believe a wedding is not complete without them. So, with that said, it might come as a bit of a surprise that I plan to cheap out and go all DIY with our flowers, because love flowers though I may, I just can't justify spending thousands of dollars on something so very disposable and short-lived. I am traveling home this weekend for a hair trial, a much needed eyebrow waxing and an appointment with our DJ, so I'm thinking I might carve out a bit of time to grab some bundles of flowers and do a trial bouquet run with my mother.
White/ivory roses have always been my favorite flower so it was only a given that they'd make an appearance in our wedding and, at least for me, going with all white and/or ivory flowers was also always a given. This may be the only decision about the wedding that has never wavered. I've been cataloging bouquet inspiration since day one, but lately I've tried to zone in on simple all rose bouquets that I feel I could easily replicate. My plan is to go with slightly smaller bouquets for my bridesmaids and possibly a different ribbon color for them than for me, but altogether it will be simple, pretty and wonderfully fragrant as roses always are. I'm thinking I'll try to tackle something like this over the weekend…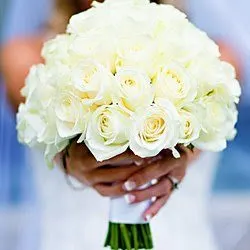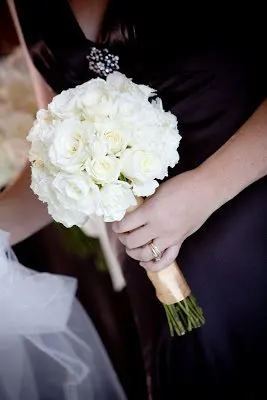 Are you planning to DIY your bouquet(s)? Have you done a trial and if so, any tips?