It has happened again. Something has come along that caught me by surprise, made me say "oooo, pretty!" and has me totally reconsidering our color palette. Yes. Again. If you recall, when we last visited my color dilemma, we were contemplating this pretty inspiration board…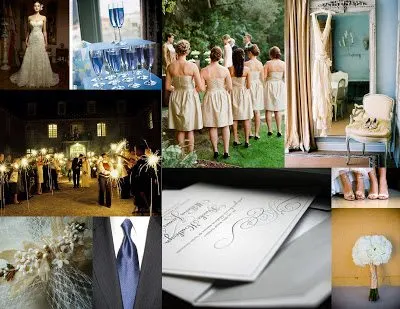 Champagne, charcoal and ivory with smudges of blue here and there, remember? Well then today I saw this color palette on the Southern Weddings Magazine blog and it was all I could do not to jump out of my seat with excitement. How amazingly sophisticated and timeless is the pairing of black with white and camel (aka champagne)?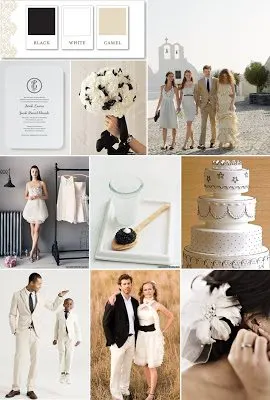 Do you see where I'm going with this? I'm thinking about swapping out the guys' charcoal suits for something classic black and pairing the girls' champagne dresses with chic black shoes, which would help with my continued dilemma regarding affordable gold/champagne shoes as it's infinitely easier to track down great black shoes. My blue accents have only appeared so far in paper and stationery so I think I would keep it that way and keep everything else neutrals, maybe keeping charcoal or another shade of gray in the mix to keep it fun. I've been planning on white flowers the entire time, possibly wrapped in champagne ribbon, and pretty shimmery necklaces for the bridesmaids. Sooo…basically, we'd be looking at something like this…
Ok, ok. So I guess it's not that much different aside from the addition of black and a slight scaling back on the appearance of charcoal and blue. At any rate, it feels different to me…it feels more flexible and a touch more classic and I am all about keeping to a palette that is classic, elegant and not too overworked…the irony, of course, being that I can't stop overthinking the entire issue. So, what do you think? Black or no black? For the love of weddings, help me make a decision so I can seriously quit debating color!