As writers and lovers of literature, M and I are excited to be writing our own wedding ceremony to be officiated by my stepfather's sister. While my stepaunt is a minister, I'll be perfectly honest in admitting I don't know much about her faith as we're planning a ceremony that is largely secular. At this point in my life I most closely identify with being agnostic while M could best be described as vaguely spiritual more so than religious. Simply put, religion does not and never has played a role in our relationship so despite having both been raised Roman Catholic, we knew a church wedding wasn't for us. What's most important to us is creating a ceremony that is reflective of our relationship, our personalities and includes as many personal touches as possible.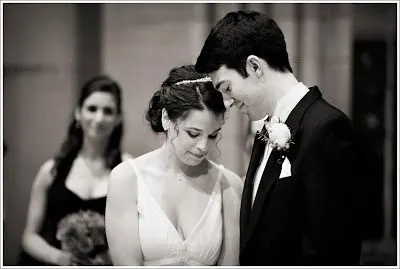 We decided early on to include a couple of readings and asked my grandmother, a published author who has been married to my grandfather for nearly 60 years, to write one of them. We've given her essentially no guidelines and are trusting that she'll write something insightful and touching and hoping that M's grandmother, with whom he is very close, will be the one to read the words penned by my grandmother. We have also fallen in love with this quote from Captain Corelli's Mandolin that we hope to have a close friend read during our ceremony –
Love is a temporary madness. It erupts like an earthquake and then subsides. And when it subsides you have to make a decision. You have to work out whether your roots have become so entwined together that it is inconceivable that you should ever part. Because this is what love is. Love is not breathlessness, it is not excitement, it is not the promulgation of promises of eternal passion. That is just being in love which any of us can convince ourselves we are. Love itself is what is left over when being in love has burned away, and this is both an art and a fortunate accident. Your mother and I had it, we had roots that grew towards each other underground, and when all the pretty blossom had fallen from our branches we found that we were one tree and not two.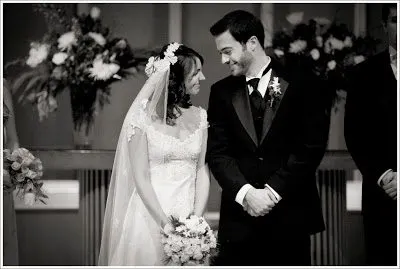 Along with our two readings, we are planning to write our own vows and are considering the inclusion of a handfasting ceremony as we really like the symbolism of being bound together in life from that point forward. My aunt and uncle, who are also my godparents, have been married for 30 years and we're considering asking them to perform the actual hand binding in recognition of their succesful marriage and our intent to look to them as role models in maintaining a loving and supporting partnership despite life's many obstacles. Finally, I really love the idea of having our rings passed from guest to guest, asking them say a small blessing or in some way impart positive energy in whatever way rings true for them, although I'm a bit skeptical at the prospect of having our rings floating about. As we continue researching and planning, we intend to pick up a copy of The Wedding Ceremony Planner in the near future, a book that has inpsired many a personalized wedding ceremon in the blogosphere.
Is anyone else planning to write your own ceremony? What traditions and sources have inspired you?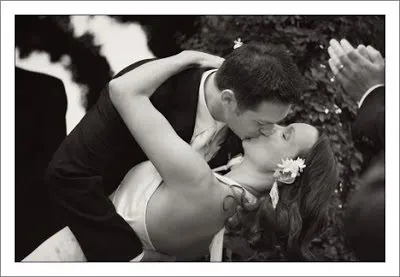 All photos by one of my favorite Upstate NY photographers, Megan Dailor.