I am excited today to share that Ami and I have finished tallying the numbers and we are officially ready to announce the winners of the first Inspired Creations Contest! Earlier in the week we announced the top 10 finalists on Elizabeth Anne Designs and then recruited a few our fellow bloggers (three of the most inspiring bloggers going, if you ask me) to help us decide on our grand prize winners. A huge thank you to our guest judges, Kathryn of Snippet & Ink, Maria from Ritzy Bee and Jen of Green Wedding Shoes, for lending a hand!
Without further ado….the winners! (All photos link to the original posts.)

3rd Place – Rustic Campsite Wedding Inspiration
From the get go I practically shouted my love for this quirky, modern retro camping-themed inspiration shoot from the rooftops. A wedding? At a campsite? With blue-speckled tin dinnerware? It doesn't get much better. Well, throw in some s'mores and a gorgeous cake perched atop a charcoal grill and I guess it just did. In the July heat, I am loving this submission all over again this week. Who's up for camping this weekend?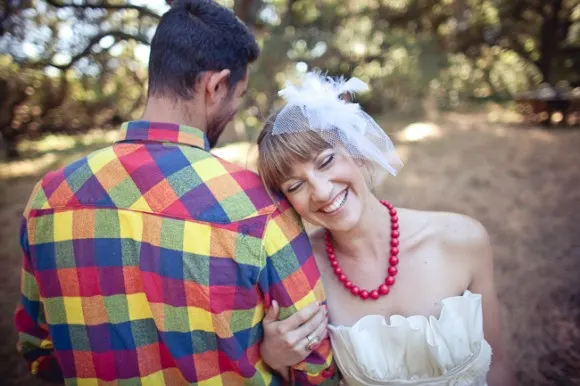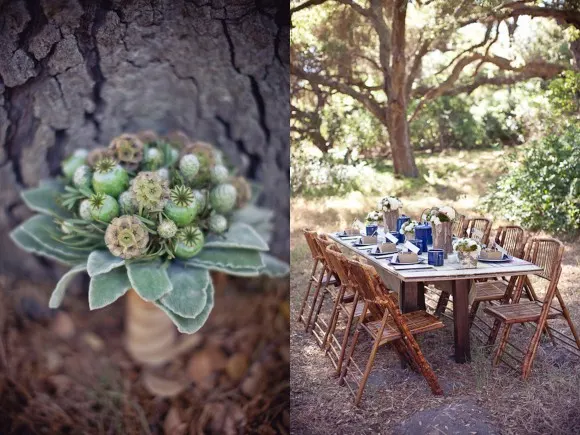 Vendors:
Concept & Design – Jesi Haack Weddings
Photography – Gabriel Ryan Photographers
Floral Design – JL Designs
Cake – Sweet and Saucy Shop
Paper Goods – Paper and Thread
Dress – Mary Me Bridal
Chairs – Signature Party Rentals
Hair & Makeup – Flourish
2nd Place – Urban Rooftop Picnic
Speaking of shouting from the rooftops, this rooftop picnic with breathtaking views of the Dallas skyline was refreshingly fun. I loved the fresh lemon yellow, crisp white and kraft paper color palette paired with the simple summer details. And, of course, the calligraphy fanatic in me couldn't get enough of the inspired calligraphy accents that popped up throughout the design. This is rolling hillside meets chic urban downtown locale at its best.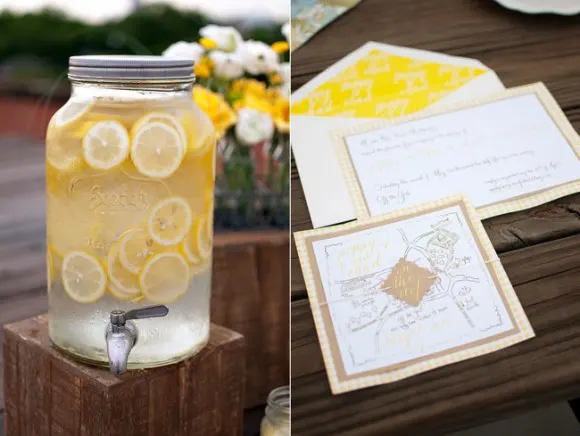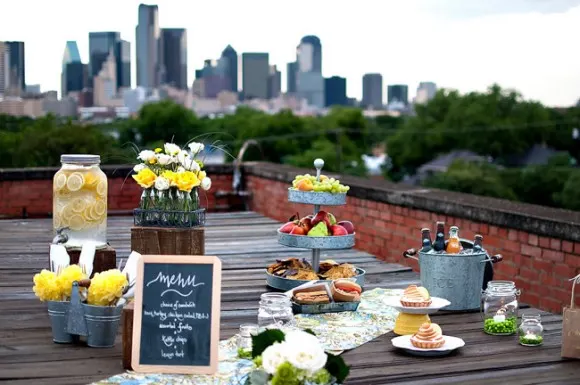 Vendors:
Photography – Catie Ronquillo Photography
Planning – After Yes Weddings
Stationery and Calligraphy – Nicole Black, The Left-Handed Calligrapher
Hair and Makeup – Emily Hudspeth
Location – Off The Grid
Floral – Earth Blooms Florist
Linens – Event Linen Solution
Accessories – Ink and Button
Gown – 'Dahlia' by Stephanie James Couture, from The White Gown Showroom
Bridesmaids dress – Alyn Paige
Models – Ashley Vasicek, Jessica Baker, and Jacob Reding
1st Place – Dandelion Wine
The book-loving, literature buff in me loved this Dandelion Wine inspired design from the second I laid eyes on the gorgeous images from Sara Gray Photography. The color palette, the budget-friendly DIY ideas and the sweet personal details won me over so it's understandable why this entry stands tall as our grand prize winner. It's unique, modern and rang in well under the $500 budget – it was a favorite with readers, vendors and bloggers alike. Congratulations, ladies! You stunned us with your creativity and it's an honor to crown you the winners of the first Inspired Creations Contest!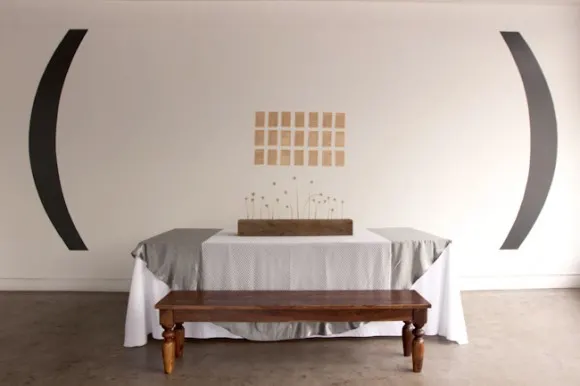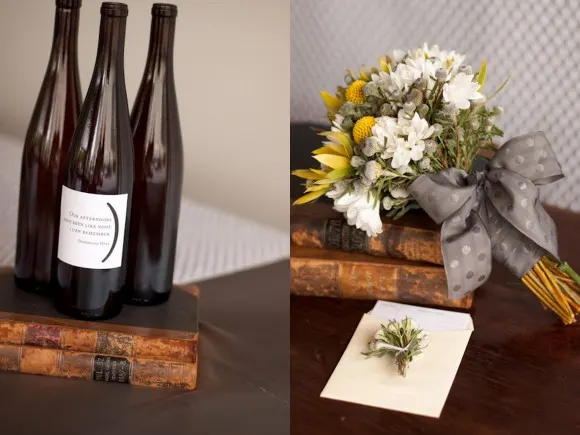 Vendors:
Kim and Bonnie from Punch
Kathy from The Party Place
Sara from Sara Gray Photography
A HUGE thank you to all of the immensely talented wedding professionals who participated in the contest. We were blown away by your creativity, your passion and your unique ideas. Truly. I'm still in complete awe and can't wait for the next contest! Winners, hang tight – Ami and I will be emailing you before the weekend to discuss your prizes and look forward to chatting with all of you.
Have a great idea for the next Inspired Creations Contest? Let us know! We'd love to hear from you.