by Kelly Lanza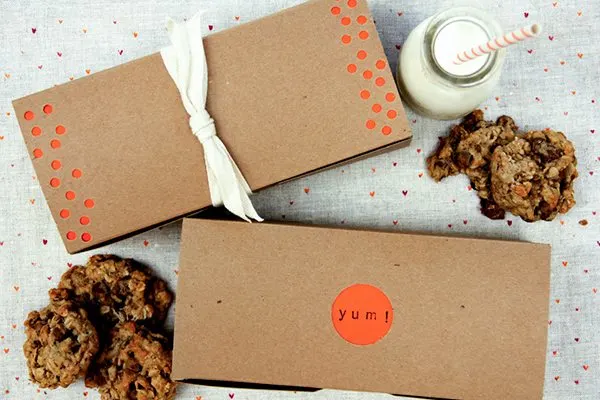 Has anyone else noticed that everyone seems to be moving!? I suppose summer is the season for that, after all! Knowing how tough moving can be, I always think it's a nice little touch to greet new neighbors with some homemade, sugar-filled unpacking motivation. Am I right? So I whipped up these paper punched treat boxes that you can pack up a few sweet treats in and send on their way with a nice note to the neighborhood's newest additions. These would also make great hostess gifts for summer BBQs and dinner parties! You'll always be the favorite guest when you show up with cookies!
Supplies –
Kraft treat boxes (I got mine from Garnish)
Colored cardstock
Circle punch
Hole punch
Glue stick
Stamp set + ink (optional)
To make the circle punch treat boxes, slip your circle punch over the center of your boxes lid and punch through.
Cut a piece of colored cardstock the same size as the lid of your box and adhere it to the back of the lid with your glue stick. While the box is still unfolded, stamp a little message in the circle you created, and write a note on the inside of the box!
For the polka dot box, take your hole punch and go crazy punching holes all along the edge of the box lid. Just as before, cut a piece of cardstock the same size as your box's lid and adhere it to the back. Write your note and you're done!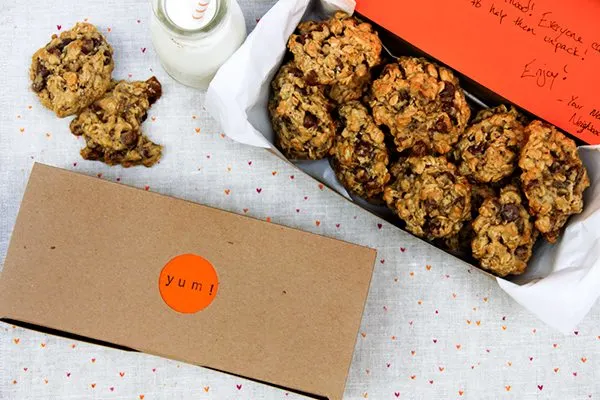 Line the box with parchment paper, fill it up with some homemade treats and win over your new neighbors, or your party host, instantly!

[Photos by Studio DIY for The Sweetest Occasion.]
Garnish is one of our beloved sponsors. Read more about our editorial policies.
The fine print: Please link with love! As with all of our posts, DIY projects featured on The Sweetest Occasion may not be copied, distributed or reproduced without express written permission. Love and links are always appreciated! If you'd like to share this post, please link to this post directly for the DIY tutorial and do not include the instructions in your own post. Thanks so much! xoxo