I'm sure you guys know Maddy Hague of Confetti Pop, but if by chance you don't, today is your lucky day! Maddy is a blogger and designer with an incredible eye for those little details that make a celebration one of a kind. She and her partner-in-crafting-crime Shauna are always dreaming up with the best DIY projects for parties and weddings. And today, Maddy is sharing her picks for Halloween entertaining essentials! Specifically, a graphic and ghoulish Halloween party in elegant yet spooky shades of black and white.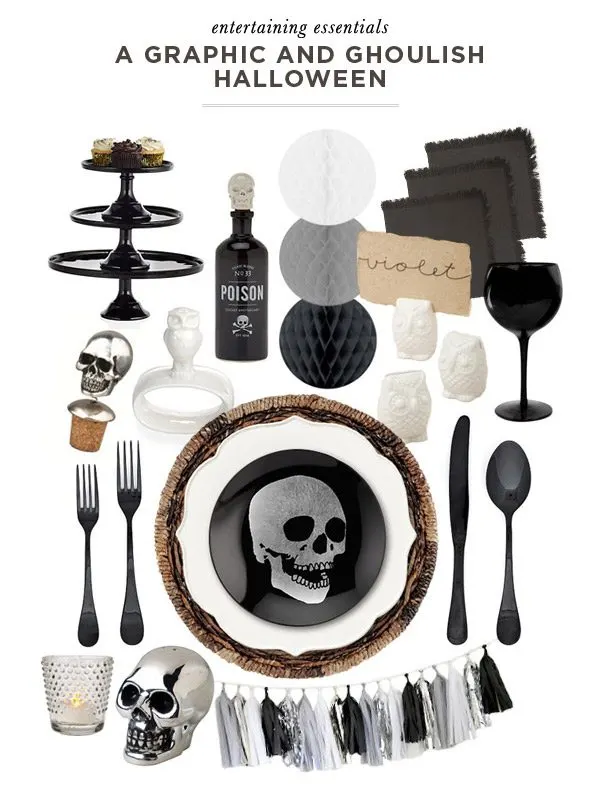 The key to creating this tabletop is loads of black and white with touches of silver and the occasional spooky details that make the most of the Halloween vibe. Like the skull appetizer plates or the slightly-creepy skull salt and pepper shakers. Then dim the lights, light a bunch of candles and you're ready for a chic and modern monster bash!

[Shop: Black glass cake stands | Poison skull bottles | Honeycomb tissue balls | Black fringed napkins | Owl place card holders | Midnight black balloon glasses | Onyx flatware | Round madras chargers | Dinner plates | Skull appetizer plates | Tassel garland | Skull salt and pepper shakers | Hobnail glass candle holders | Skull bottle stopper | Owl napkin rings.]
This post includes affiliate links. Read more about our editorial policies.