by Caitlin, Marla and Manda of The Merrythought
You guys have heard me rave about the crazy talented ladies of The Merrythought before. From head to toe, I love everything about their gorgeous blog. (Remember this end of summer s'mores party they shared?) Today I'm excited to be sharing the first of four holiday posts that we've teamed up to bring you, just in time for plotting your Thanksgiving festivities. They've created a really pretty DIY leaf garland with golden leaves all decked out with notes of thanks. Isn't that the sweetest? Without further ado, I'll let Caitlin, Manda and Marla take it away!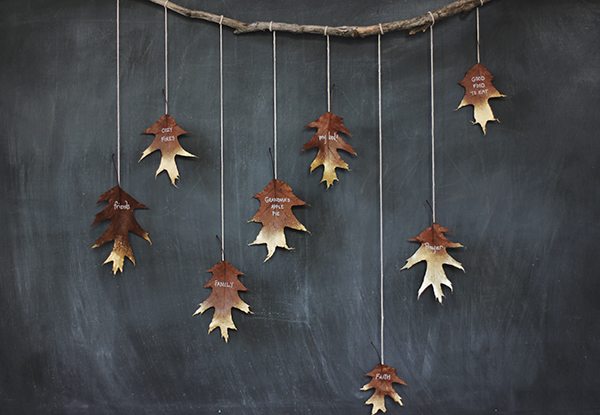 Around here we're trying to get some projects done for Thanksgiving so that we have enough time to actually enjoy them before another holiday flies past! This project is perfect to add a little something extra to your wall decor and it's also a great way to reflect on all the things you're thankful for! You can do this project with your kids, by yourself, or set out a pile of leaves at your family get together and have everyone write down something they're thankful for and hang it on the wall afterwards!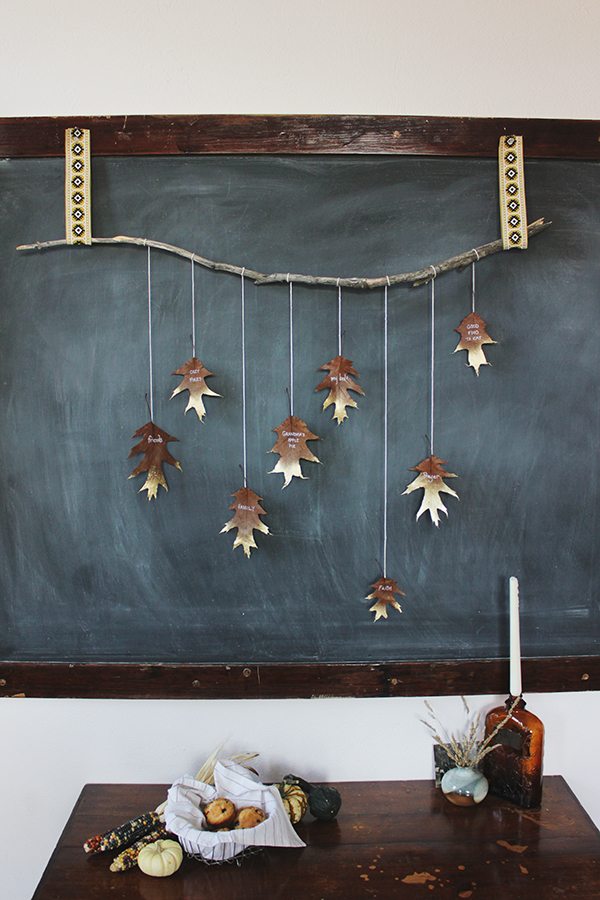 Supplies –
Leaves
Gold Spray Paint
White Sharpie paint marker
Branch
String
Ribbon
Tacks
Tape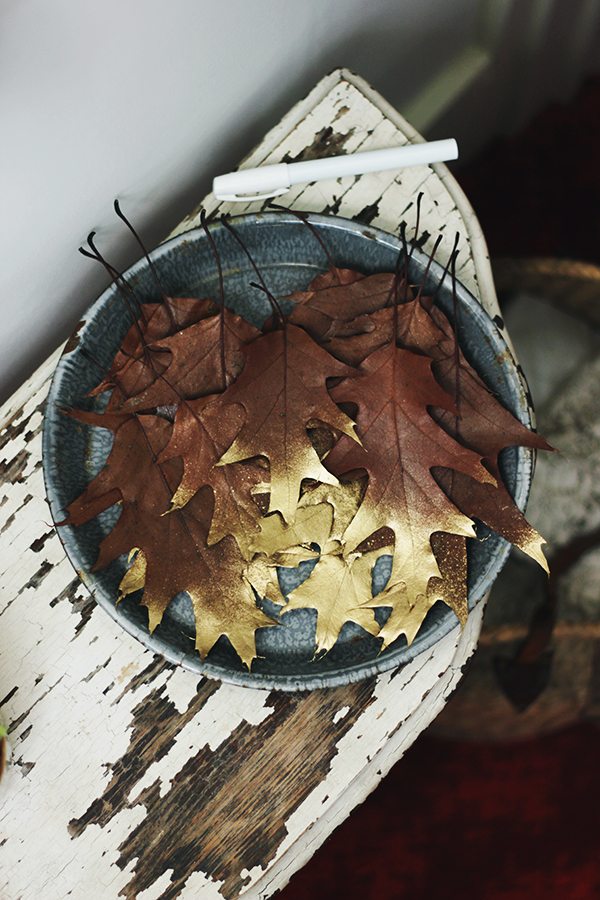 Begin by collecting a bunch of fallen leaves that aren't too curled up already and press them in a book for a few days. Next up, grab your gold spray paint and carefully spray paint the end/tips of the leaves and let them dry completely.
Using your white paint marker, write something you're thankful for across the leaves. If you're doing this at a party or Thanksgiving celebration, pile the leaves up in a bowl and ask guests to take a moment to pen what they're thankful for, too!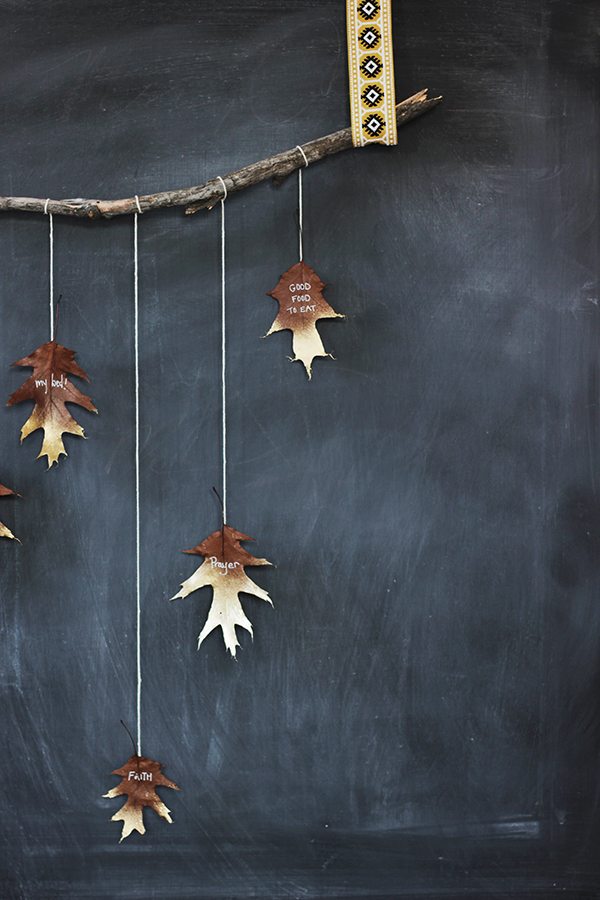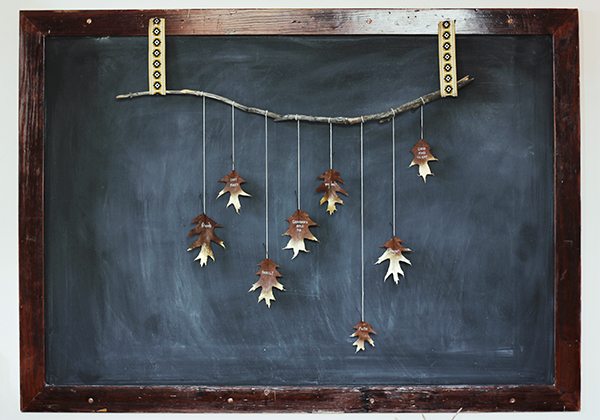 Tie strings of various lengths to a long (but not very heavy) branch. Then, cut two equal lengths of ribbon, fold them in half to make loops and nail or push pin them to the wall a little closer together than the length of the branch. Finally, slip the ends of the branch though each of the loops and then attach the leaves to the strings with a little piece of tape or a dab of hot glue or just tie the string around the stem.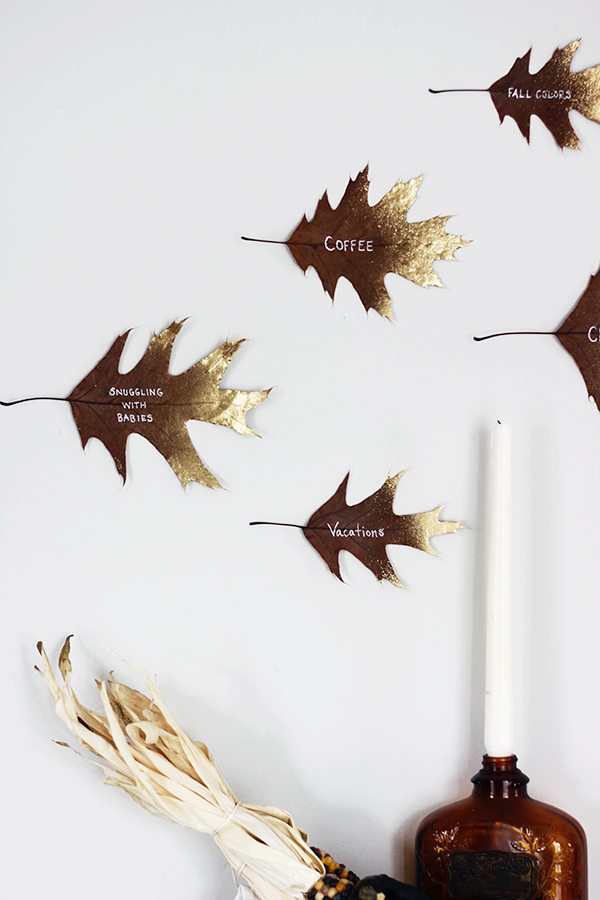 You could also go for a more simple display and tape the leaves to the wall with double sided tape or a fun washi tape across the stem. Let's see what you come up with!

[Photos by The Merrythought for The Sweetest Occasion.]
The fine print: Please link with love! As with all of our posts, DIY projects featured on The Sweetest Occasion may not be copied, distributed or reproduced without express written permission. Love and links are always appreciated! If you'd like to share this post, please link to this post directly for the DIY tutorial and do not include the instructions in your own post. Thanks so much! xoxo