This post was sponsored by Keep. Thank you for supporting the sponsors that so generously help The Sweetest Occasion keep on rockin'!
I wanted to share a quick little update today on our progress in the boys' room! (You can check out the empty space in this apartment tour post.) My goal for the room has always been to make it a super cool space that the little guys love to call their own. But we're talking pre-teens here, so if you go too youthful things start to feel baby-like really quickly and no rough and tumble football-playing little dudes are down with that. So first, I came up with a plan. It involved each of their favorite colors (blue and orange) while trying to avoid an athletic team vibe.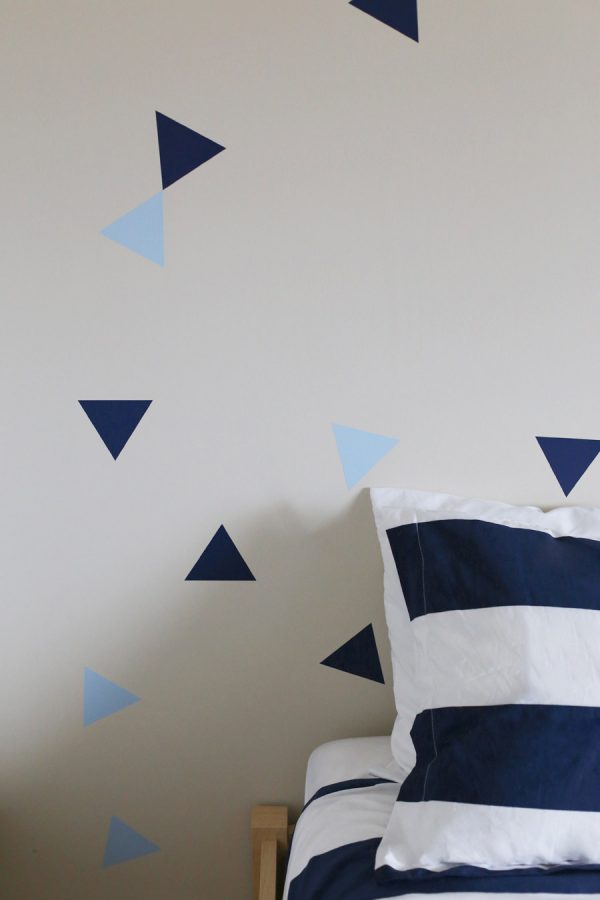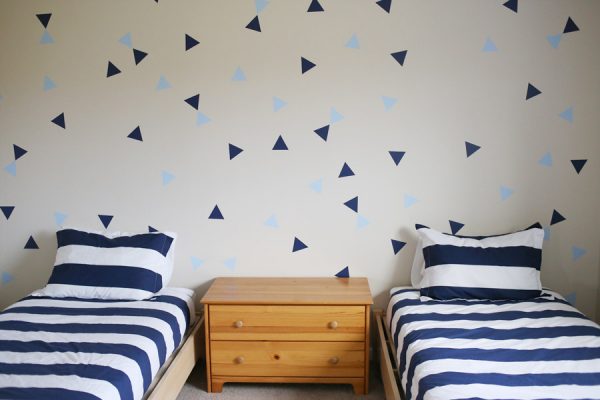 I found really cool, modern low bed frames in a blonde wood that I just love. With a room that has to fit two of everything, the low profile visually keeps the space more open and avoids things feeling cramped. These beds are perfect in there! The bedding is bold rugby stripes in deep navy blue…because you know I love my stripes. But today we're talking about the wall behind the beds, which I've always envisioned to be a really cool feature wall. Enter these graphic triangle wall decals from Urban Walls. I went with a mix of baby blue and dark blue and after spending way too long debating between a scattered layout or a strict grid, this past week N and I tackled the task of getting them up onto the wall. It was super simple, took us just a couple of hours and I love how it turned out. Or really I should say we love how it turned out, because I'm happy to report the boys are totally digging their wall o' triangles.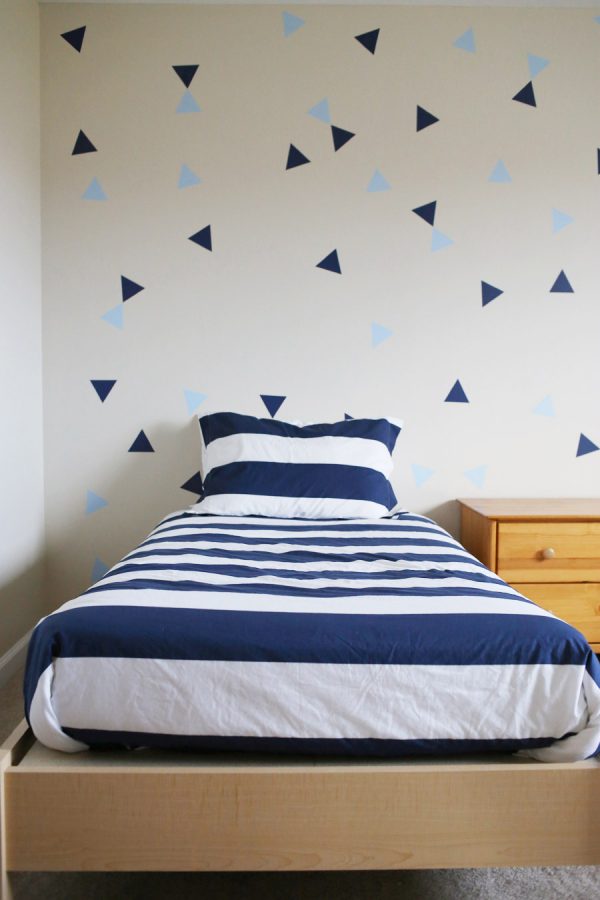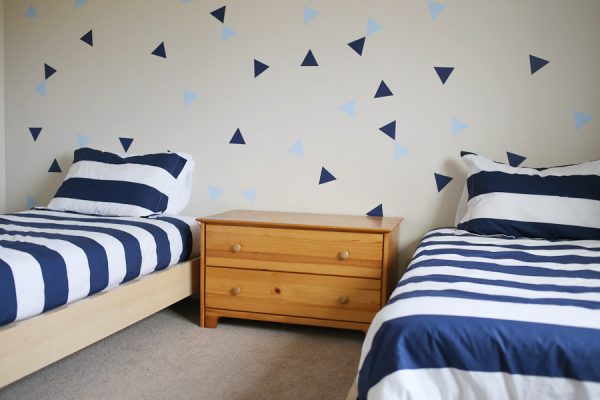 Next on my list is to hang the DIY giant fringe monograms I made to go over each of the beds. (Which explains why over the beds we have a few more holes in the triangle pattern – no sense in losing them behind the monogram letters!) I'm also planning to paint the low dresser that serves as a shared nightstand and add a cool lamp there. Then it's onto to finishing up art on the walls (much of which I already have) and this room will officially be done. Stay tuned for more updates from the home front!

[Photos by Cyd Converse for The Sweetest Occasion.]
Sources –
Duvet covers and shams from Pottery Barn Kids
Beds from Walmart (yes, Walmart…can you believe it?)
Wall decals c/o Urban Walls
This post was sponsored by Keep. Read more about our editorial policies.