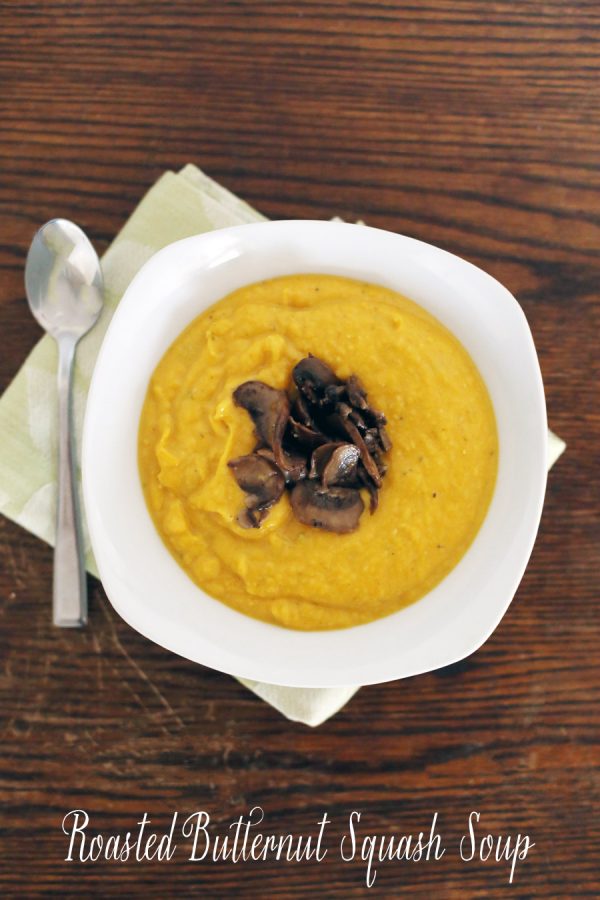 A few years ago I started making butternut squash soup and I have to say, there's been no looking back. It's definitely a cold weather dinner staple 'round these parts, because it's delicious and takes the chill right out of your bones. Also, it's deceivingly simple to make and can be switched up with whatever herbs or spices you love best or feel like indulging in at the moment. If you can chop up a squash, you can make this soup! We had it earlier this week for dinner for the first time since the air has gone chilly so I decided it was high time I share the recipe. The other night we chose to top ours with sauteed portobello mushrooms, but have fun and mix it up however you like.

1 large butternut squash
2 Tbsp olive oil
1/2 tsp crushed red pepper
1 medium red onion
5 garlic cloves
1 tsp flat parsley
1/2 tsp sea salt
1/2 tsp cracked black pepper
1/2 cup veggie stock
Begin by peeling and chopping one large butternut squash into roughly half inch cubes. (Oh, and don't forget to scrap out the seeds, too!) Toss the squash in a bowl. Peel the garlic cloves, chop your onion into big chunks and toss those into a bowl, too. Drizzle with the olive oil and add fresh cracked black pepper, sea salt, parsley and crushed red paper to taste. Toss to coat well. Dump the contents of the bowl into a glass baking dish lined with parchment paper and roast at 350° for about 45 minutes or until all the veggies are tender. Once done, transfer everything back into your bowl, add veggie stock and blend with an immersion blender until smooth. For a thicker soup, scale back on the veggie stock or add more for a thinner soup. You can also use milk and a touch of sour cream to make the soup a bit richer if you'd like. It's delicious either way! Serve it up topped with sauteed portobello mushrooms if you like (I definitely suggest it) and be blown away by your yummy soup creation.

[Photo by Cyd Converse for The Sweetest Occasion.]