This post is a tale about a girl and her itch to find more room to store her craft supplies and styling props. Heading into 2014, I couldn't stop thinking about finding a dedicated studio space to call home. Last fall, I mentioned that I was planning to move into a storefront office that my cousin (and ultimate partner in crime) had scouted out as the headquarters for her new business, which remained my intention up until the holidays. At that point, I got so caught up in work and projects and crafting that I quickly realized I was probably best suited to have a space of my own. A space where I could spread out, store and organize all my stuff, and fling glitter around at will. Kelly mentioned it just recently, too, but working from home has become increasingly difficult as The Sweetest Occasion has grown. Sure, I love being able to wear yoga pants all day long and not do my hair if I so choose, but the endless tripping over boxes and bins of supplies and half-finished projects has gotten entirely old. In a nutshell, I've overrun our home and it has made it increasingly difficult to enjoy our home for what it is supposed to be.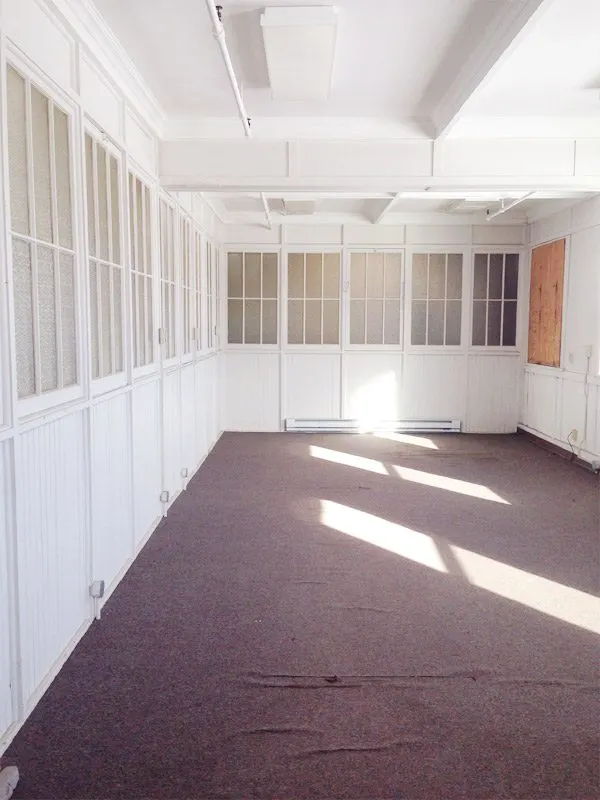 Right after the holidays, I had some time to start analyzing things for real. As in, not just in the heat of the moment when I was frustrated because our dining room table was yet again buried in supplies and scraps. I have a few big huge life-changing goals in the works this year and I realized that having a dedicated studio space could very well make the difference in my success in achieving those goals. (I swear I'm not trying to be all annoyingly vague on you, I'm just not the type who likes to count my chickens before they hatch!) So January came and with it the constant nagging in the back of my brain that the time was now to pack up The Sweetest Occasion and move her into a home of her own.
My parents' business has been located in a cool old industrial building that's part of a former manufacturing facility for the better part of 16 years. As I started to actually think about finding a space, I obviously turned to my parents for their thoughts. (They've been in business for over 33 years so their advice is typically no joke.) One conversation lead to another and as luck would have it, the next building over from theirs is currently in the midst of being gutted down to the beautiful old bones and converted over into office/studio spaces. And that's where I found it! My dream studio space. Seen in the top photo above, my dream space isn't available to be rented out quite yet. (There's some sort of approval process that the non-profit who runs the buildings has to go through before that can happen.) So in the meantime, I've set my sights on a smaller space that will serve to get me out of the house and also gives me first dibs on my dream space as soon as it's approved to be rented. Which is the part where I tell you that yesterday I received a copy of the lease to review and hopefully I'll be signing and making it official sometime next week!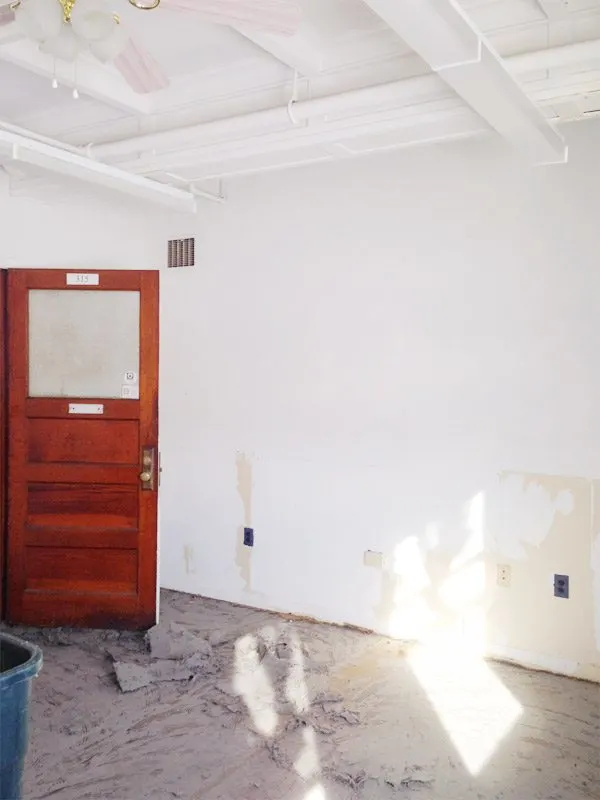 To tell you that this move in and of itself is a dream come true is the understatement of the decade. I've dreamed of my very own white-washed industrial studio space for so long I can't even tell you. I'm crazy about the wood beams and exposed electrical and ductwork of the ceilings. I'm wild about the quirky charm of the building itself. I have fingers crossed the original wood floors can be salvaged enough to be deemed usable. (Otherwise I'm thinking a cool paint treatment?) The best part is, my parents are close by so I can wander over to have lunch with them during the day and the studio is less than a five minute drive from home. There's a few weeks of construction involved before I can move in (namely working on those aforementioned floors, doing some work to the walls and get everything freshly painted), but by March 1st it looks like it should be official and I'll no longer be a work-from-home kind of gal. Somebody please pinch me now, ok?
I'll be updating you as things move along over the next few weeks, but definitely stay tuned on Instagram in the meantime! Oh, and if I haven't said it recently, thank you all for being amazing and sharing in this crazy journey with me. You're the best a girl could ask for. xoxo

[Photos by Cyd Converse for The Sweetest Occasion.]