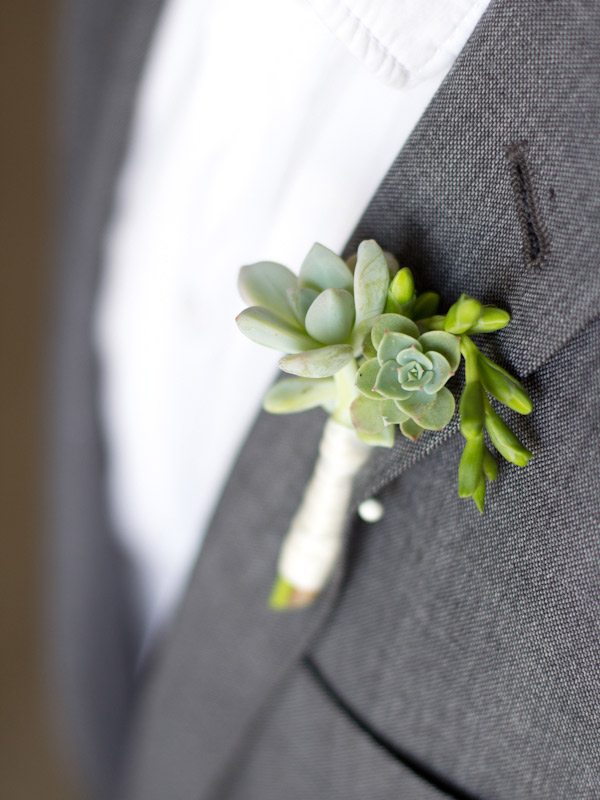 Happy Valentine season, lovebirds! Are you celebrating this year? We've put together a quick and simple little floral project for you, perfect for whipping up if you've got a special date or just want to be a little extra festive. And of course we know that boutonnieres are for fellas, but I wouldn't hesitate to wear this on my own sweater, scarf, or just my bag. These little DIY succulent boutonnieres are fast and easy, so let's do it.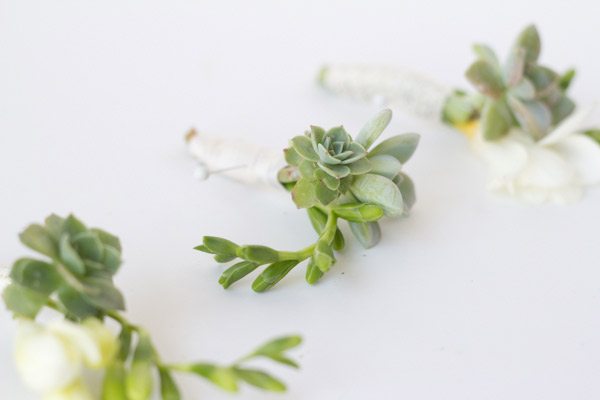 Supplies –
small succulent cuttings
complementary filler florals (freesia goes beautifully with succulents!)
scissors
floral tape
twine or ribbon
glue gun
straight pin
Begin by trimming the succulent cuttings and freesia stems so that they're about 3 inches long, with no greenery along the bottom of the stem.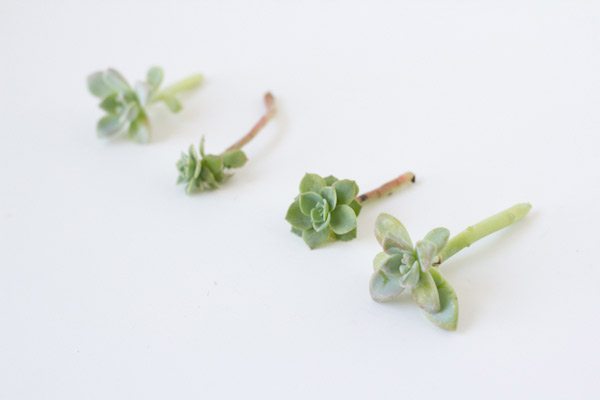 Choose a succulent and pair it with one or two other stems – maybe another succulent, or some pieces of freesia that frame it nicely. Be creative! Bundle them together and arrange them to your liking; then, wrap the stems together tightly with floral tape. Trim the ends of the stems so that they're all even and have a fresh cut.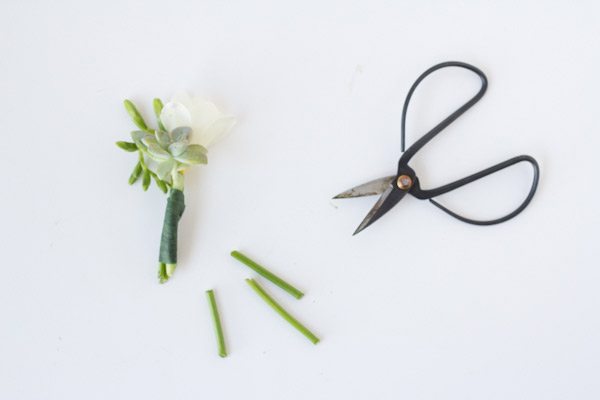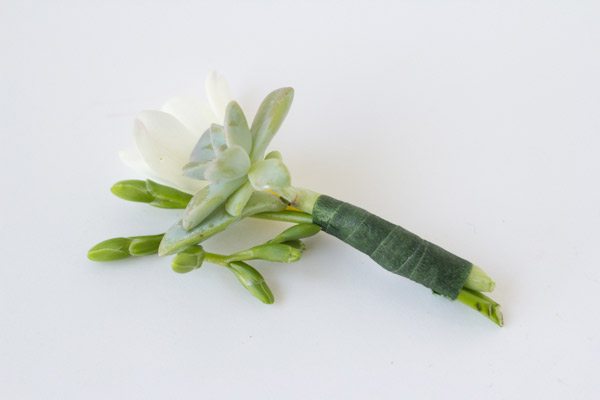 Over the floral tape, wrap twine or ribbon so that it hides the tape. Start at the top end, wrapping around itself so that the top end is held in place.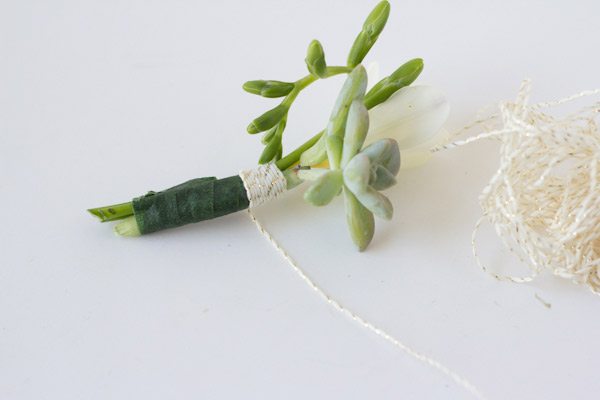 Continue wrapping all the way to the bottom of the stems. Hide a tiny dot of hot glue on the back of the wrapped stems and sink the tail of the twine or ribbon into the glue. Trim the end.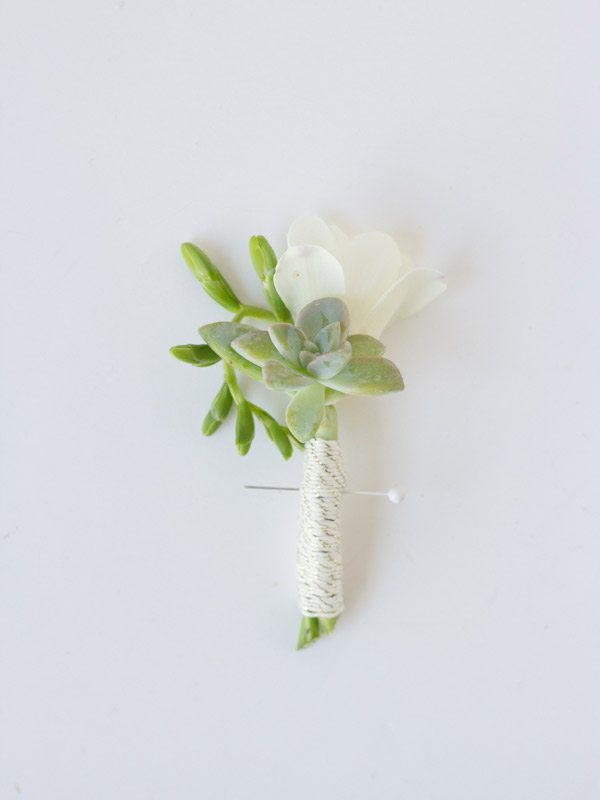 Attach the boutonniere to a lapel, sweater, or scarf with a straight pin and go out to celebrate! Wishing you lots of love this Valentine's Day! xoxo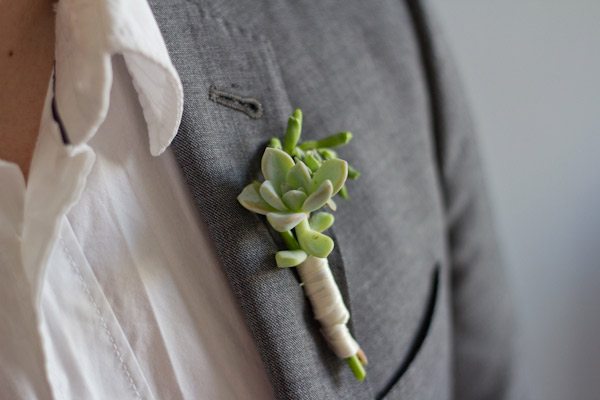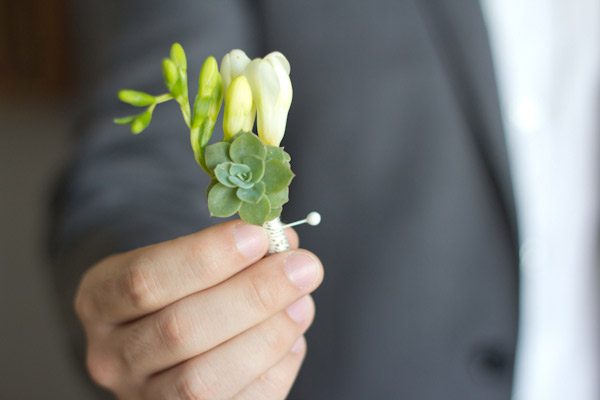 [Photos by Lovely Indeed for The Sweetest Occasion.]
Sources –
Scissors from Pearl River Mart
Twine from Knot and Bow
The fine print: Please link with love! As with all of our posts, DIY projects featured on The Sweetest Occasion may not be copied, distributed or reproduced without permission. Love and links are always appreciated! If you'd like to share this post, please link to this post directly for the DIY tutorial and do not include the instructions in your own post. Thanks so much! xoxo