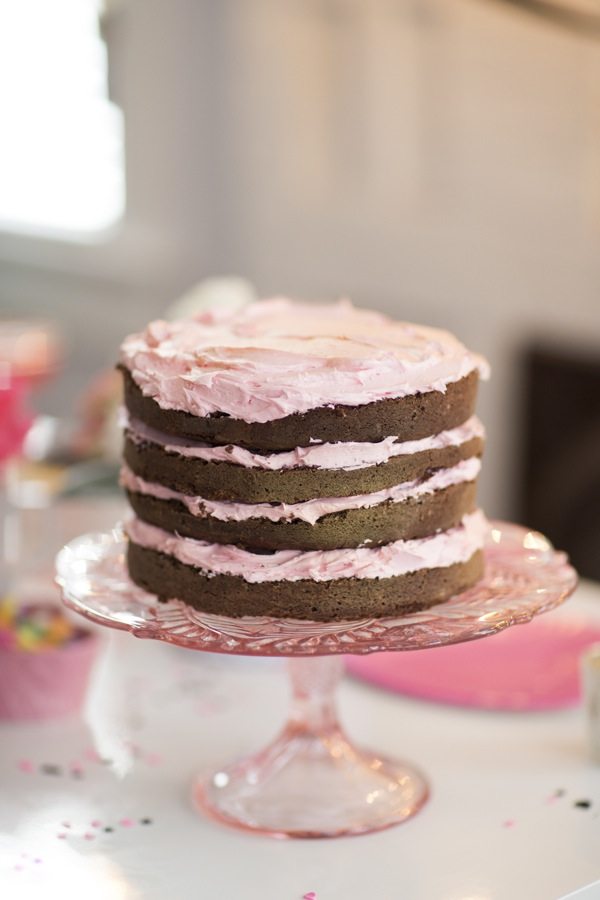 Yesterday's Valentine's Day girl's night is just my kind of party. We're talking the prettiest blood orange cocktail, fabulous stationery, the perfect flurry of confetti and pink, and this. A stacked chocolate cake loaded with rose buttercream frosting. Delicious! Luckily for all of us, Samantha is sharing the recipe so we can all make our own and gobble up every last bite with our gaggle of girls!

Chocolate Cake
4 ounces unsweetened chocolate, chopped
1/4 cup lightly packed unsweetened dutch processed cocoa powder
3/4 cup boiling water
3/4 cup sour cream
1 tablespoon vanilla
2 cups all purpose flour
3/4 teaspoon baking soda
1 teaspoon sea salt
1/2 cup unsalted butter, at room temperature
1 cup packed light brown sugar
3/4 cup granulated sugar
1/2 cup canola oil
3 egg yolks at room temperature
Center the oven rack and preheat the oven to 350 degrees.
Put the unsweetened chocolate and the cocoa in to a small bowl. Pour the boiling water over the chocolate and let sit for about a minute. Stir until completely melted and combined. Whisk in the sour cream and vanilla, set aside. Sift together flour, baking soda, and salt in a bowl. In the bowl of a stand mixer fitted with the paddle attachment, cream the butter and both sugars on medium-high speed until light, about 3 minutes. On a low speed, drizzle the oil into the mixture until blended. Turn the mixer to medium-high again and bet until the batter is fluffy, about 3 more minutes. Blend in the eggs and egg yolks one at a time, adding the next as soon as the previous is mixed in. With the mixer on a low speed, add the flour mixture in 3 parts, alternating with the chocolate mixture. Stop the mixer before the last of the flour has been incorporated and compile the mixing by hand so you don't over mix. Divide the batter between 3 8″ cake pans that have been rubbed with butter and sprinkled with flour. Once poured, smooth out the top of the batter and bang the cake pans a couple of times to get out the air bubbles. Bake for about 20-25 minutes, or until set in the center.
Rose Buttercream
1lb unsalted butter
3 cups powdered sugar
1 teaspoon rose water (add more to taste)
Cream the butter in a stand mixer using the whisk attachment. Add sugar one cup at a time, start on a low speed and gradually get up to high, allowing the sugar to be whipped completely into the butter. Add the rose water, and maybe some pink food coloring.

[Recipe: Samantha Sanford | Styling: Gray Harper Event Maker | Photos: Jade + Matthew Take Pictures.]