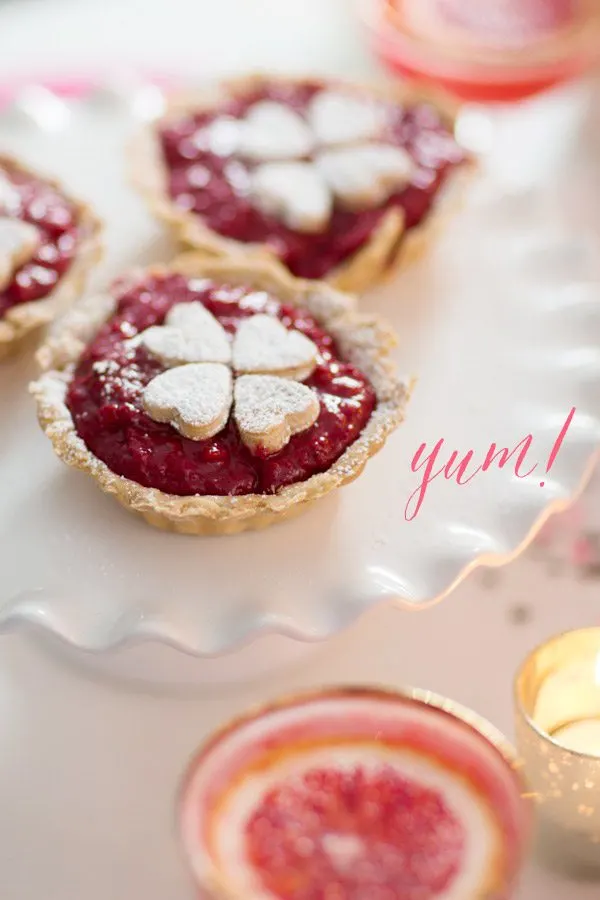 We have one final recipe today from the festive pink party that was yesterday's Valentine's Day girl's night bash. We're talking raspberry rose tarts that would be darling to serve up on Valentine's Day whether to your kiddos for an after lunch treat or to your better half alongside a glass of bubbly. (Or your girlfriends, of course.) Samantha is sharing the recipe, but I'm the one chomping at the bit to give these a try!

Tart Crust
250 g all purpose flour
80 g powdered sugar
120 g butter at room temperature
2 egg yolks
Zest of one lemon
Pinch of salt
Mix flour and butter with your hands until combined, it should look like little crumbles. Create a hole in the center and add the sugar, egg yolks, zest, and salt. Using your hands, mix all the ingredients together. Shape into a ball, place in cling wrap and chill in the fridge for about an hour.
Raspberry Tart Filling
500 g frozen raspberries
2 tablespoons lemon juice
2 tablespoons of rose water
25 g corn starch
110 g granulated sugar
4 egg yolks
50 g butter
Preheat oven to 250 degrees. Roll out the dough on a clean surface press it into the corners of the pie pan. YOu can make one large tart, or if you have an individual mini pie pan, use that! Place parchment paper over the dough, with some hanging over the sides and pour pie weights or dry beans in the middle, bake for 25 minutes. Remove parchment and weights, and continue cooking the dough 15 minutes or until it's golden. Meanwhile, place the raspberries in a pot and bring to a boil along with rose water, starch, and 80ml of water. Once it's boiling, add the lemon juice and sugar, turn to low and cook for about 4 minutes or until the mixture is smooth. Temper the egg yolks with about a tablespoon of the hot raspberry mixture before adding them to the boil. Add the butter and melt, then remove from the stove and let cool completely before spooning the mixture over your pre-baked pie crust.

[Recipe: Samantha Sanford | Styling: Gray Harper Event Maker | Photos: Jade + Matthew Take Pictures.]