Sooo over the weekend something pretty exciting happened. With the help of B, my dad and some friends, we moved everything into the new studio! Because my lease doesn't officially start until tomorrow (which also happens to be my birthday) I won't be in there getting settled until a little later in the week, but I couldn't resist sharing another batch of photos showing off the blank space now that it's finished. (You can see all the very frightening before photos here and here.) I'm so thrilled with how it turned out. Although I did some debating about color, I'm glad I stuck with my gut and went with a clean, blank canvas all the way around. It's going to make the perfect backdrop for working and creating.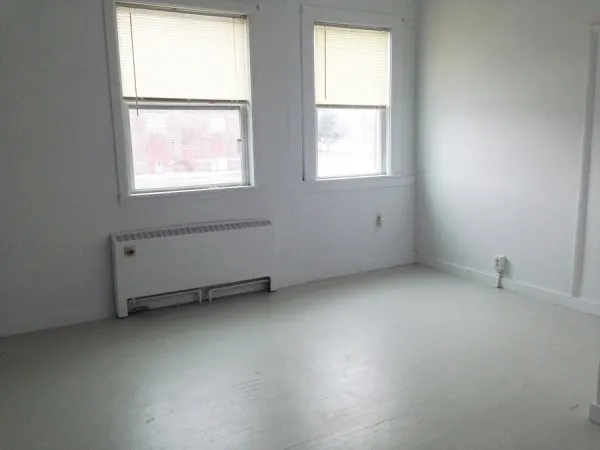 To refresh your memory, after much ado I went with Designer White from Clark + Kensington for the walls. This was the first time I used the Clark + Kensington line so I was excited to check it out. They have some seriously lovely shades and this white feels just right in the space.
For the floors, which to remind you were beyond refinishing, I went with one of my favorite go-to gray colors. It's Stonington Gray by Benjamin Moore, kind of a perfect soft gray in my opinion. It's not too light as to be confused with white but it's not too contrasty against the white walls. Overall I was going for something that was subtle, muted and would allow me to brighten things up with a big area rug and accessories over time. Seriously. It's a pretty far cry from how it was looking a month or so ago!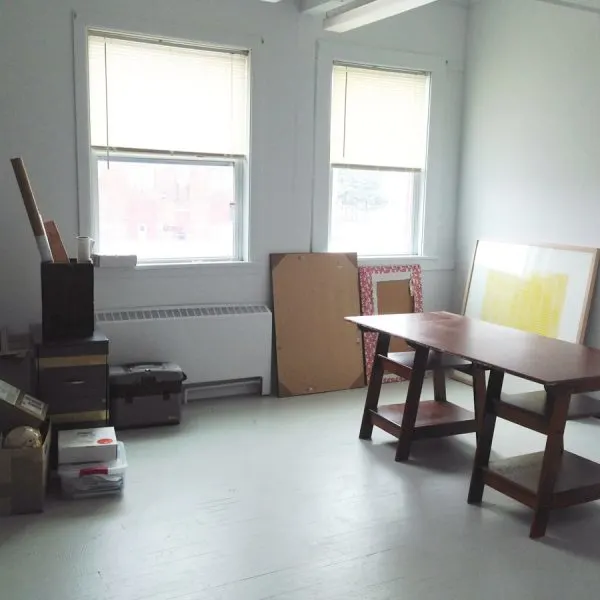 Here's where we're at as of Saturday when we finished loading everything inside. Off the the left of this photo the whole wall is literally stacked full of boxes. DIY supplies, bins full of fabric, ribbon, stacks of paper, boxes of office supplies, and crates of glassware. Eventually I'd like to get a cozy arm chair for a corner of the room for those times I feel like writing from a comfy perch instead of at my desk. I've still got to pick up things like a mini fridge so I can bring lunches and snacks to the studio with me and keep everything cold. Those old blinds will probably get swapped out for something else at some point, too. Overall there's a lot to do but I'm excited to get started!

[Photos by Cyd Converse for The Sweetest Occasion.]