The summer months have been crazy busy for us and with that craziness many (ok, most) of the projects on our home centric to-do list have been pushed to the back burner. By far the room that has been most neglected is our dining room. It's a big room with loads of natural light and it's also the first room you enter when you walk in our front door so having it look a fright still stacked high with boxes is unacceptable. All of that said, I've committed to knocking this room out and completing it's makeover over the course of the next few weeks. Want to see what I'm planning? It's going to be good!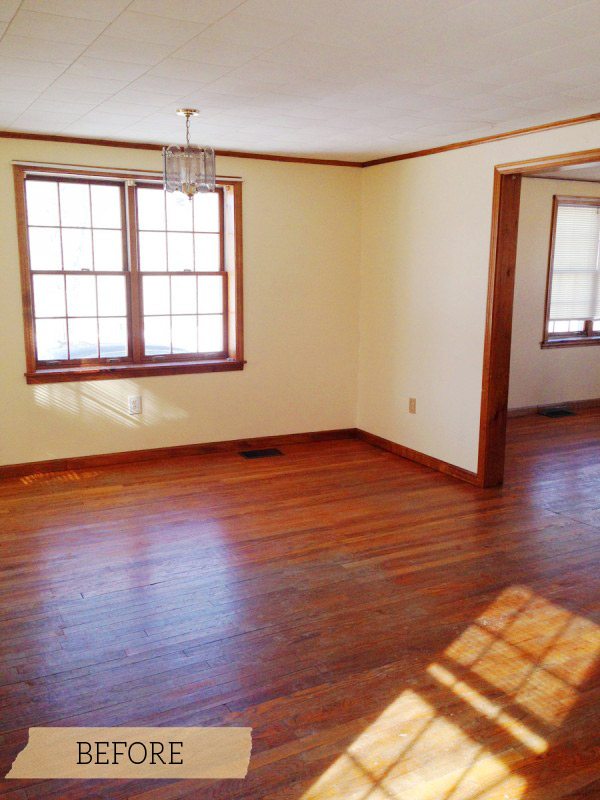 First, a glimpse above at the "before" state of our dining room from right before we moved in. The large doorway to the right opens onto the living room and the front door to our house is to the left. So far we've painted out everything and ditched the cheap yellow oak trim and the ghastly yellow walls. The walls are now Sherwin-Williams Aloof Gray and the trim is crisp and bright, painted out in Sherwin-Williams Pure White. That alone has completely transformed the room! (I'll be sharing progress photos soon, I promise.) My go-to style is a mix of vintage, classic, boho and New England prep, and I think my inspiration for our dining room makeover is a perfect example of my rather eclectic style. Modern and colorful mixed with loads of neutrals and a few traditional elements thrown in the mix.

I've been scouring Craigslist for weeks (possibly months) and I think I've finally found the perfect vintage farmhouse table. (Fingers crossed!) I love our current table, but it's undersized for the space and we need something larger for big family dinners, too. The table I'm hoping to bring home this week is very similar in style to this table from Pottery Barn, but with a price tag about 1/10 of the size. No matter what happens with the table, we'll be keeping our existing chairs, which are a classic Windsor style. I scored ours on Craigslist a few years back (of course), but they're similar to these chairs from Crate & Barrel.
Another major upgrade is the lighting! We've already ditched the dated 80s train wreck of a chandelier and swapped it out with this gorgeous pendant light from Kenroy Homes. It's the perfect mix of modern and timeless, and I love how it looks. Underfoot I opted for an area rug from Flor in their Remembrance pattern in the teal color. It has the feel of a distressed Turkish rug that I think is utterly gorgeous. I'm hoping to get it assembled and in place this week once I sort out whether or not we're bringing home a new table. Right now I'm leaning toward long, simple white drapes, but I'm still playing with the idea of DIY shibori curtains, too. Our large oversized art print from Minted will be taking center stage in the wall decor department, but I'll also be hanging the Pottery Barn pillar candle sconces I've had for years. (They're most similar to these.) Other than that, it will just be little details like hints of metallic gold here and there, and finding a way to display some of my favorite glassware.
Updates to come soon! I cant' wait to get this space finished and show it off to you guys. It's long past time that we make this house feel like a real home and I'm excited to see it all come together. Stay tuned!

[1: Sherwin-Williams Aloof Gray | 2: Abstract Herringbone art print from Minted | 3: Nate Berkus window sheers | 4: Farmhouse table | 5: Pottery Barn wall sconces | 6: Flor Remembrance in Teal | 7: West Elm gold flatware | 8: Crate & Barrel windsor chairs | 9: Kenroy Home Sanborn pendant light.]