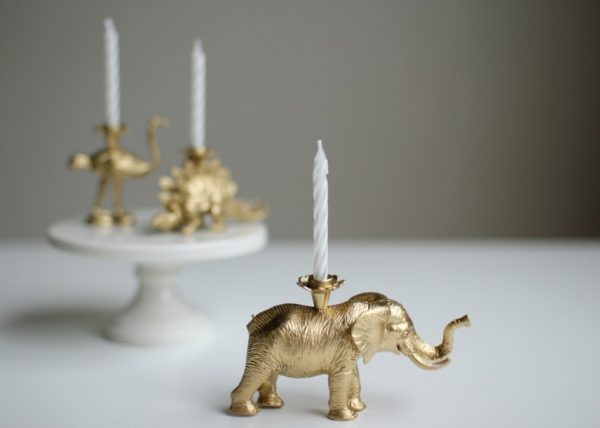 [Tutorial + photo by Hank + Hunt for The Sweetest Occasion.]
It was just shy of three years ago that Jenny brilliantly crafted these DIY party animal candles and with them took the internet by storm. Truth be told, all these months later, that tutorial stands strong as one of our most popular posts to date! I have no problem crediting her with the veritable golden menagerie that has become Pinterest over the last few years. Who knew little tiny gold animals would make people so damn happy? Turns out, they do! The coolest thing about that project? The countless ways it has been reinvented and reimagined, to the point where DIY gold animals pop up just about everywhere these days. Today I'm sharing six of my favorite ways that other crafty types have reinvented our now famous party animal candles. All you need is a bit of gold spray paint and you're on your way!

From gilded bookends to playful wedding cake toppers, I'm still totally in love with gold animals. If you're craving a little golden zoo for your own home, check out Jenny's original tutorial and send me a photo via Twitter or Instagram so I can see what you dream up!

[1: DIY gold animal figurines | 2: DIY gold animal cake toppers | 3: DIY animal jars | 4: DIY gold animal straws | 5: DIY animal memo holders | 6: DIY gold animal bookends.]