A couple of weeks ago I shared 6 ways to cozy up for fall and now, wham! It's October. Needless to say, I don't quite know where the months have gone. Don't we all feel that way when the last months of the year hit? Before you know it we're all going to be making wrapping holiday gifts and pondering New Year's resolutions and I'm just not ready to go there yet. I am, however, ready to soak up every last bit of fall that I possibly can, because I truly love this time of year. It's my favorite time of year to try a new recipe or craft up a new project for the house. Here are 6 of my fall favorites of late! Is there anything fun you're loving right now?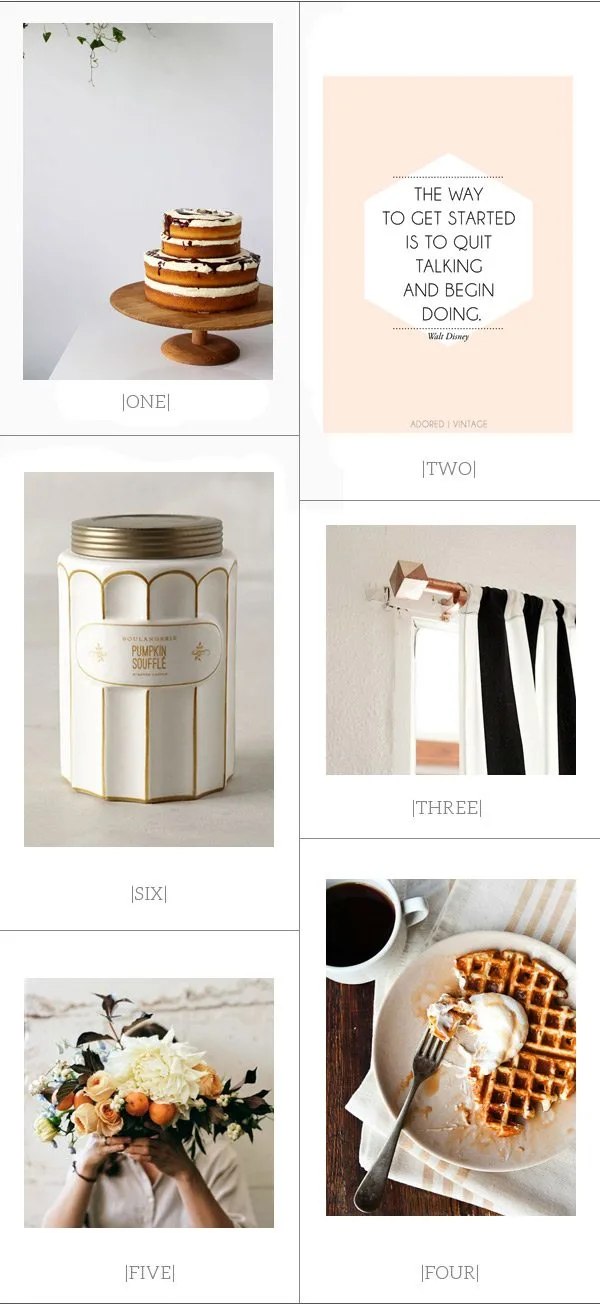 ONE If I were planning a fall wedding or a particularly festive shindig, I'd be all over this orange and chocolate cake. The simple, rustic look makes it so perfect for the season. Also, orange and chocolate. And cake. Those are all good reasons to love it in my book.
TWO I always feel really inspired to kick it up a notch organizationally come fall. Right now I'm plotting ahead for a lot of big changes for the site (both in terms of design and content) for 2015 and this Walt Disney quote from Adore Vintage is my muse at the moment.
THREE The arrival of fall always gives me the nesting bug. I like to scrub the house, swap out a few textiles, bring in new candles and maybe take on a little project or two. At the moment I'm really digging this DIY copper curtain rod with the pretty finials.
FOUR It's no joke that I am obsessing over waffles currently. While I haven't busted it out just yet the season, I have a feeling our Belgian waffle iron is about to move into high rotation. These waffles with salted caramel sauce are topping the must-make recipe list!
FIVE I'm pretty sure this gorgeous fall-inspired floral arrangement is about as lovely as it gets. Designed by Erba Floral Studio, I love the pairing of dahlias and persimmons similar to this DIY arrangement from last week.
SIX I've officially started the transition to banish all of my favorite fresh summery scents from the house and move in all the warm, toasty fall fragrances. This Boulangerie Pumpkin Souffle candle is a favorite of mine and the packaging just makes it so pretty.