When I got a peek at the new fall Target Threshold collection a few weeks ago, I went a little crazy on the inside. Then, as soon as it hit stores I was busting through the door at my local store to snag one of the gorgeous brass task lamps for the studio. It's incredibly beautiful in person, the size is perfect for my desk and the price is pretty amazing. (And, it's even currently on sale, making it even more awesome!) I swear Target never disappoints, but I'm particularly in love with this season's collection, pairing loads of metallics with textured pillows, patterned rugs and great ceramic and wood accessories that are just pitch perfect. These are a few of my favorites, but the bottom line is, if you have a room that needs a little something-something, get yourself to Target. You can thank me later!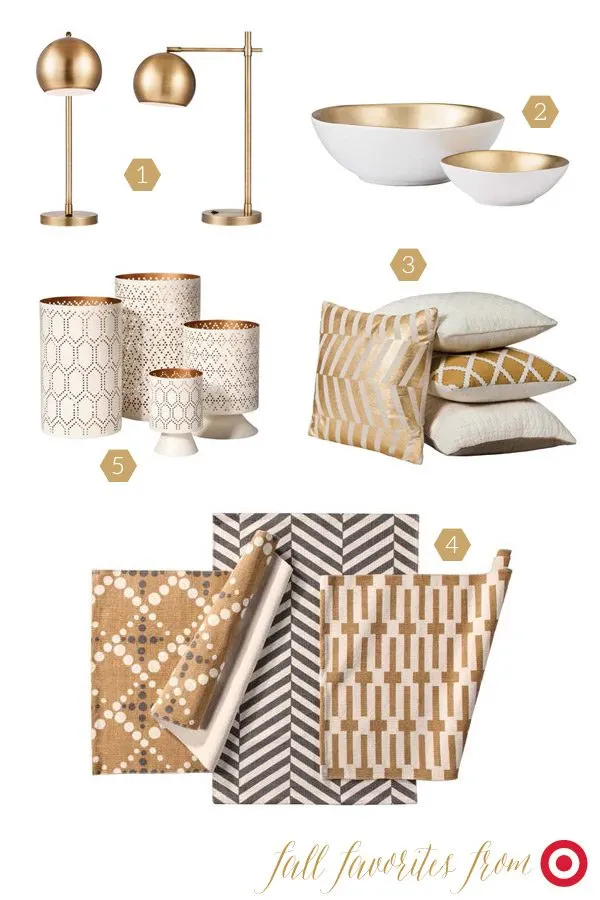 [Shop | 1: Brass task lamp | 2: Gold and white bowls | 3: Patterned pillows | 4: Patterned Threshold rugs | 5: Pierced metal hurricanes.]
This post contains affiliate links. Read more about our editorial policies.