Not surprisingly, I'm not alone in my love for yesterday's harvest feast. It's just so gorgeous and at the end of the day it's a surprisingly simple look to pull off on your own at home. Perhaps that's why I love it so much? With that in mind, today I'm bringing you the goods so you can style the look on your own. These aren't the same exact pieces, but they have the same overall vibe so you should absolutely first look to your own cabinets to see what you can use to recreate a similar look at your own harvest feast or Thanksgiving dinner. I always preach that you can't go wrong with buying a set of simple white dinnerware because it's perfect for weeknight dinners as well as for entertaining. Paired with inexpensive gold chargers, those basic white plates take on a whole new look! Stay tuned later in the week for even more from this harvest feast, because the photos are just too gorgeous and I can't resist.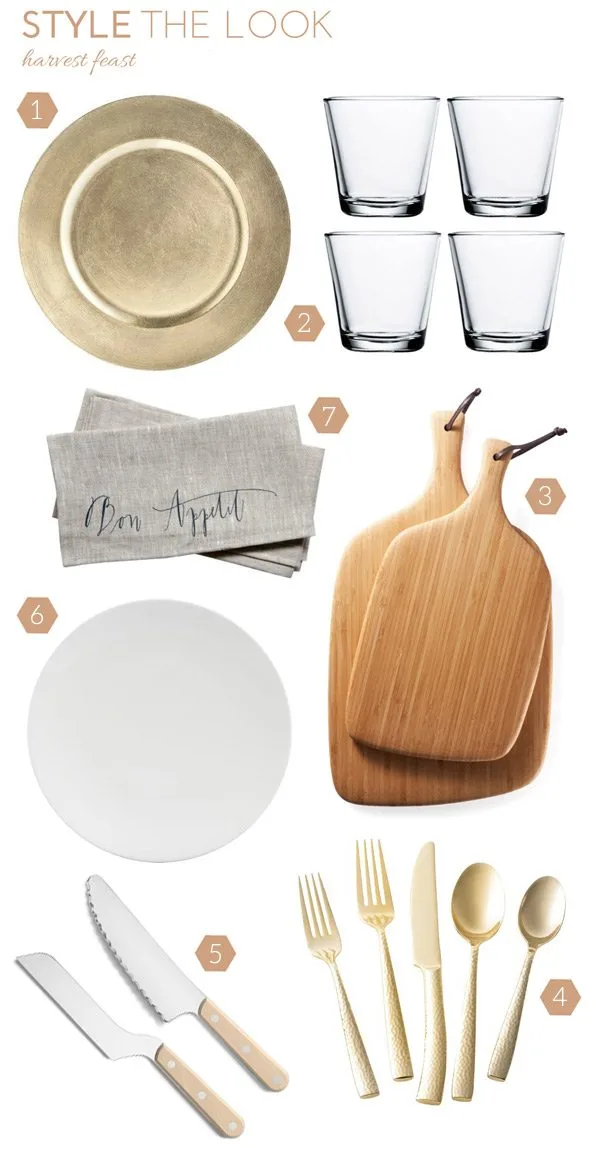 [Style the Look | 1: Gold chargers | 2: Glass tumblers | 3: Wood cutting boards | 4: Gold flatware | 5: Cheese knife set | 6: White dinnerware | 7: Gray linen napkins.]
This post contains affiliate links. Read more about our editorial policies.