This post was sponsored by Valspar. Thank you for supporting the
sponsors that help make The Sweetest Occasion possible!
If ever there were a project I was excited to tackle, this one was it, friends! Between cooking and crafting up cocktails, we use a crazy quantity of fresh herbs during the summer months so we always love to plant a bunch once the weather warms up. Especially basil! We use a lot of basil. This year there's a chance we're moving (more on that soon) so I wanted to come up with a renter-friendly way of planting herbs that would also be easily transported should a move end up happening. Enter the DIY trellis herb garden! Add a pop of color with Valspar's ultra-durable Aspire Exterior paint in Tropical Paradise and we're in business.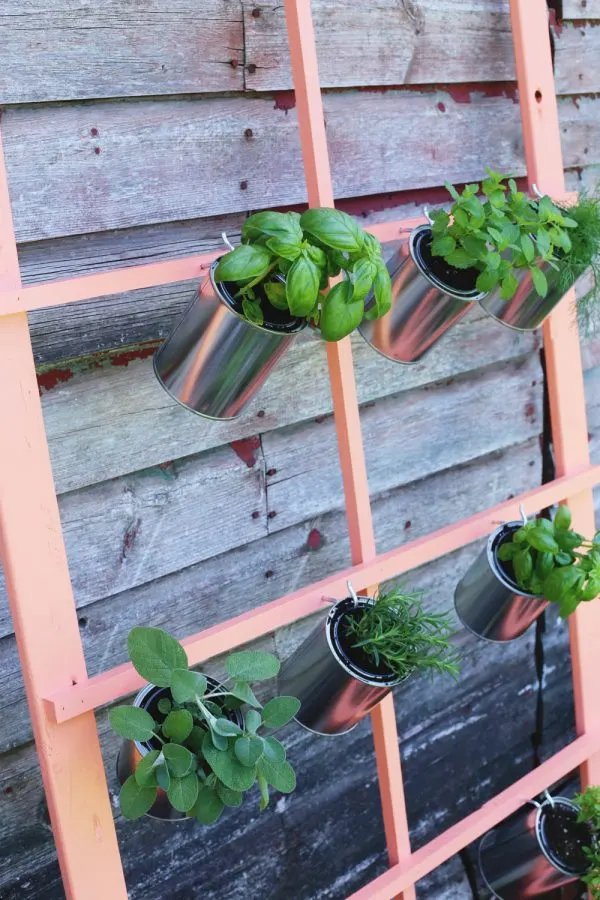 Wanting to keep things fairly inexpensive, I made use of some old scrap wood my dad had lying around his garage, but I made sure to detail out what we used so you could easily swing by your local home improvement or hardware store and grab the same lumber. Keep in mind, a lot of places will cut wood to size for you free of charge these days! Then we just nailed everything together using a finish nailer, sanded it lightly and gave it two good coats of the prettiest coral paint color you ever did see. The Valspar Aspire paint (which you can pick up at your local Ace Hardware) is perfect for this project because it's super durable and weather resistant, plus the coverage is really fantastic. All in all, with B helping me out, construction, painting and dry time took approximately three hours.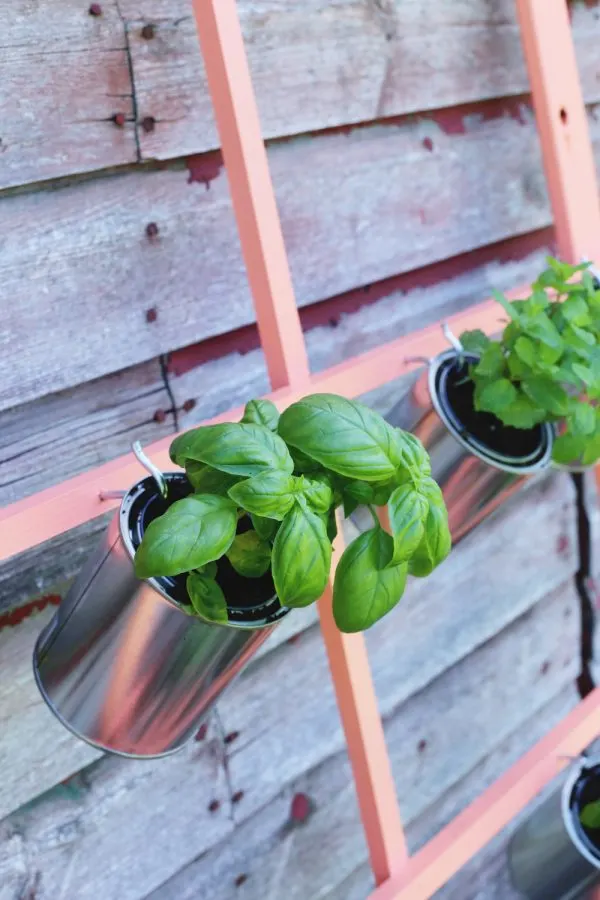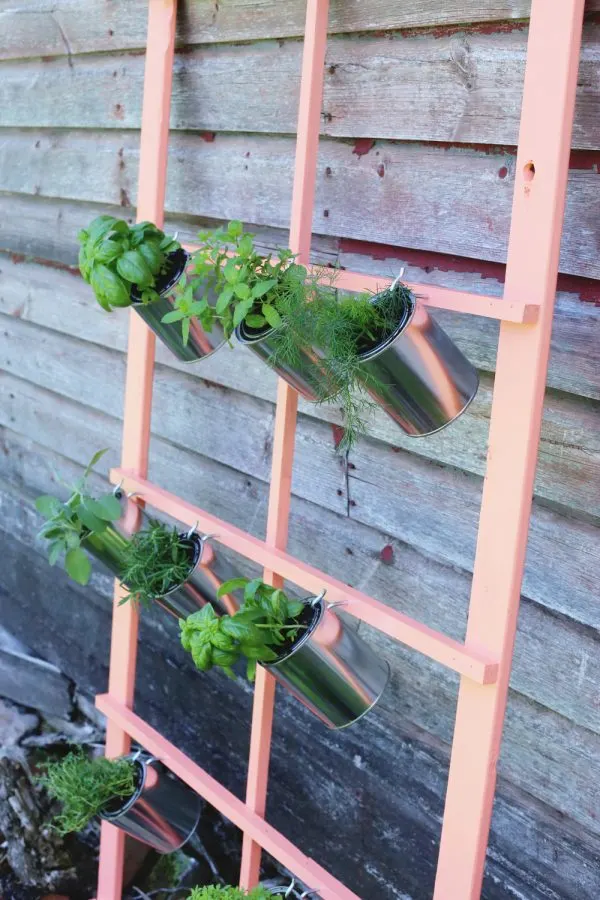 Valspar Aspire Exterior Paint (semi-gloss) from Ace Hardware in Tropical Paradise
(2) 1×3 pieces cut to 64″
(2) 1×3 pieces cut to 36″
(1) 1×1 piece cut to 64″
(3) 1×1 pieces cut to 36″
Tape measure
Finish nailer or heavy duty staple gun
Drill with multi-purpose bit for wood and/or metal
Mini paint pots or other small pots
Screw-in hooks rated for at least 10lbs
220 sandpaper
Paint brush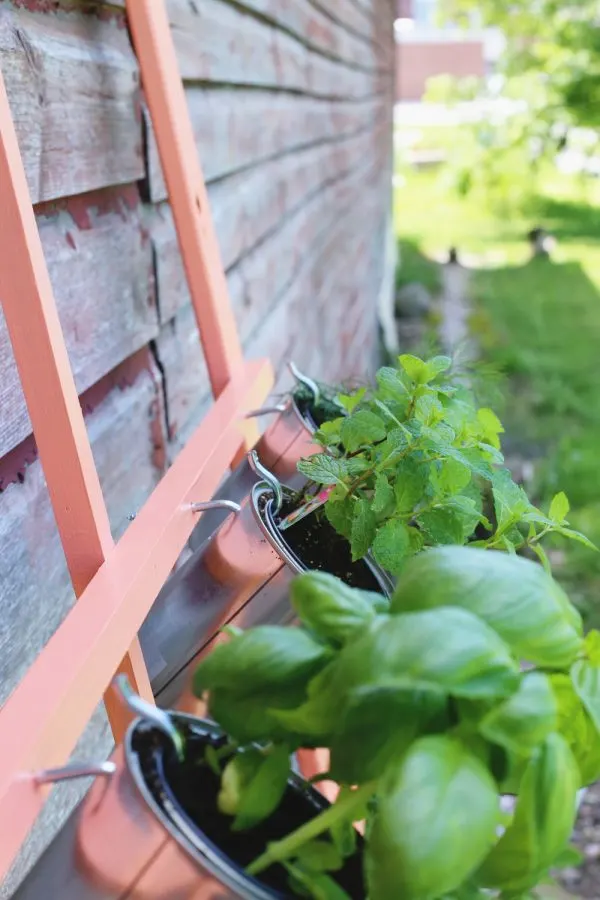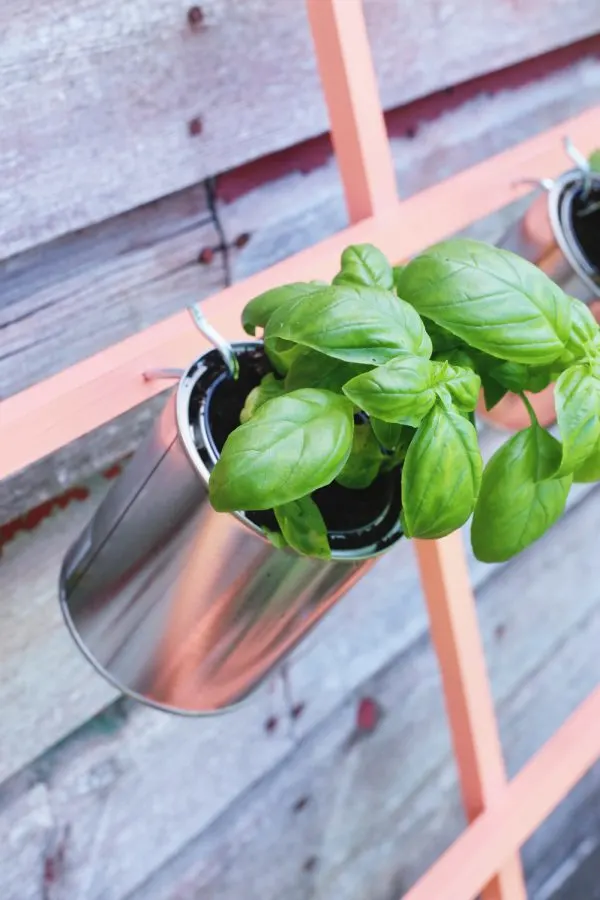 The construction of this is pretty easy! We cut (2) 64″ lengths of 1×3 for the tall vertical supports and attached 36″ sections of 1×3 along the top and bottom to form the frame. We then added a 64″ length of 1×1 down the center for additional support. Next, we finished up the trellis by adding the 36″ lengths of 1×1 at even intervals. We then pre-drilled holes for the screw hooks, spacing them somewhat randomly across the trellis. There's even room to add more plants later if we want to do so! For potting the plants we used the same mini paint pots as in this project, simply drilling a couple of holes in the bottom of each for drainage and one in the back for the screw hook to fit through. Keep in mind that the edges of the metal may be a bit sharp after drilling the holes so a light sanding is a good idea as is wearing gloves! I went with the Tropical Paradise color because I loved how the fun, peppy coral shade looks paired with the greenery of the herbs. I also considered a bright yellow or a bold magenta, but in the end, coral owned my heart with this one. I think it was a pretty great choice!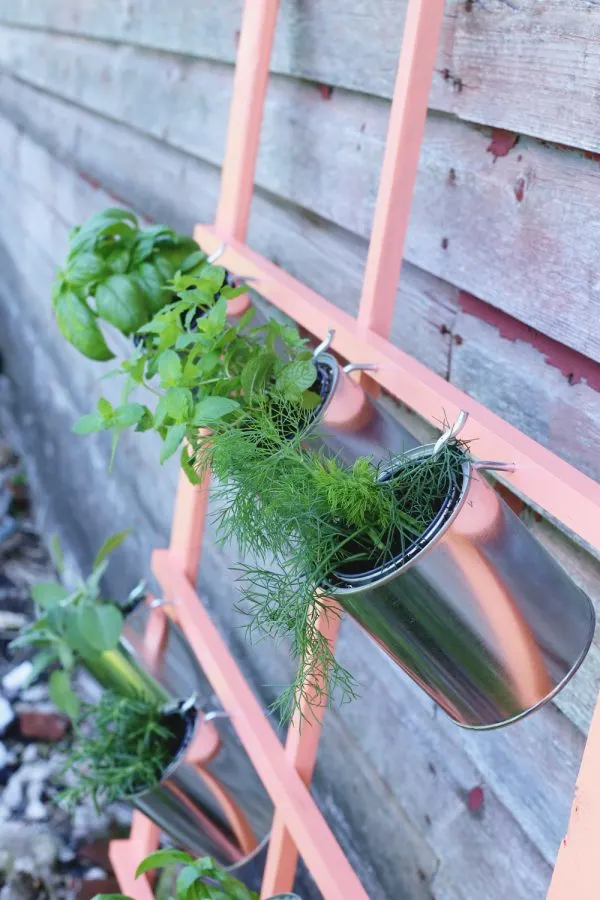 That's it, friends! Then all you have to do is quickly plant the herbs or plants of your choice and you have a really awesome garden that's perfect for renters and home owners alike. I recommend lots of basil for making fresh caprese salad all summer long and mint for mojitos, of course!


[Photos by Cyd Converse for The Sweetest Occasion.]