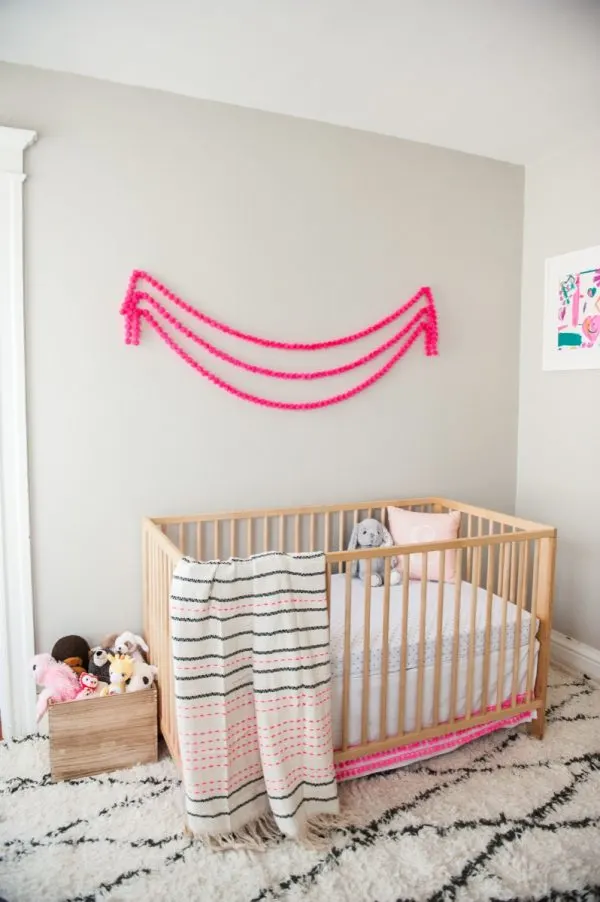 At long last, I am so excited to share our baby girl's nursery tour with you! I really wanted to create a special space for her, one that was modern but still super cozy. It was important to me that it feel playful and whimsical without screaming "baby" in the traditional sense. It took several months to come together and just a few short days before she was born, I finally finished getting the room painted, furnished and styled. I'll list and link as many sources as possible at the bottom of the post so you can see where I found everything, plus you can catch even more photos and a little interview with me over at The Glitter Guide today, too! As always, thanks to Alice who came over to capture these gorgeous photos. I am so happy to have them to share with Emerson one day!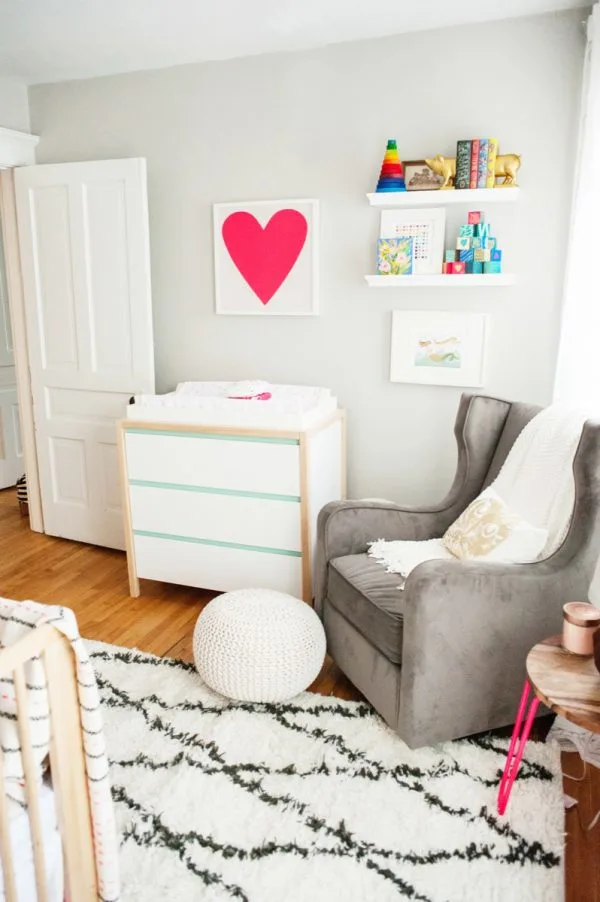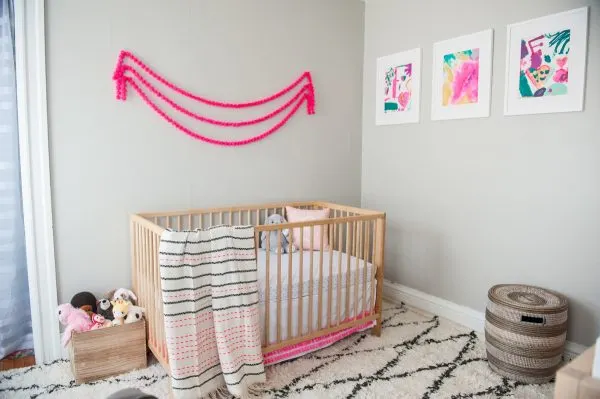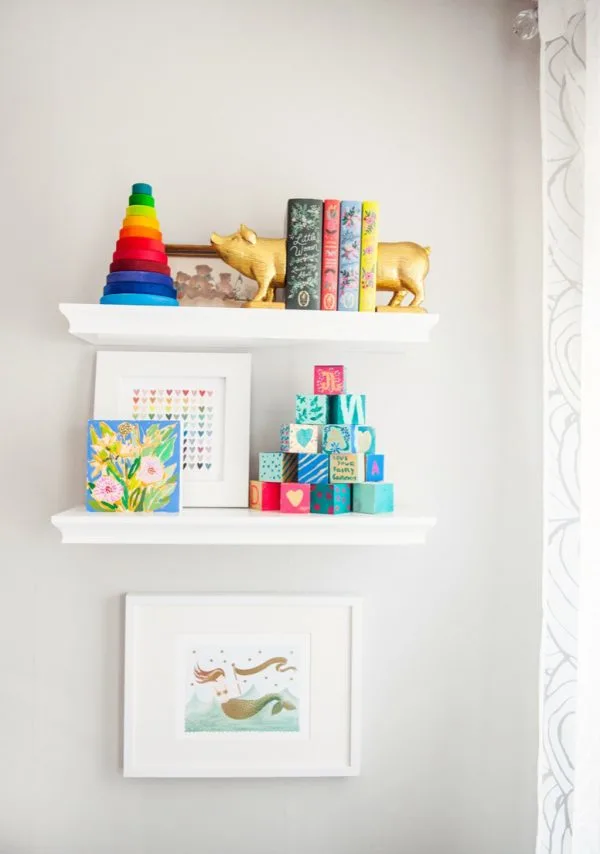 I knew from the beginning that I wanted to stick to a largely neutral color palette with lots of texture so the room felt really warm. The wall color, Moon Shot VR095D by Valspar, was the perfect starting point. Once I knew we were having a girl, I picked up the neon pink heart screenprint from Gus & Ruby Letterpress. It's the perfect burst of bright, happy color! The moroccan inspired shag rug from RugsUSA and the bedding from Land of Nod are so fun together and I love the neon pink pom poms along the crib skirt. I was also really picky about a glider! I wanted something upholstered with clean, modern lines and something that wasn't stereotypical baby so it could be used in another room later on if we wanted. I finally found this one at Target and it's completely perfect and very comfy.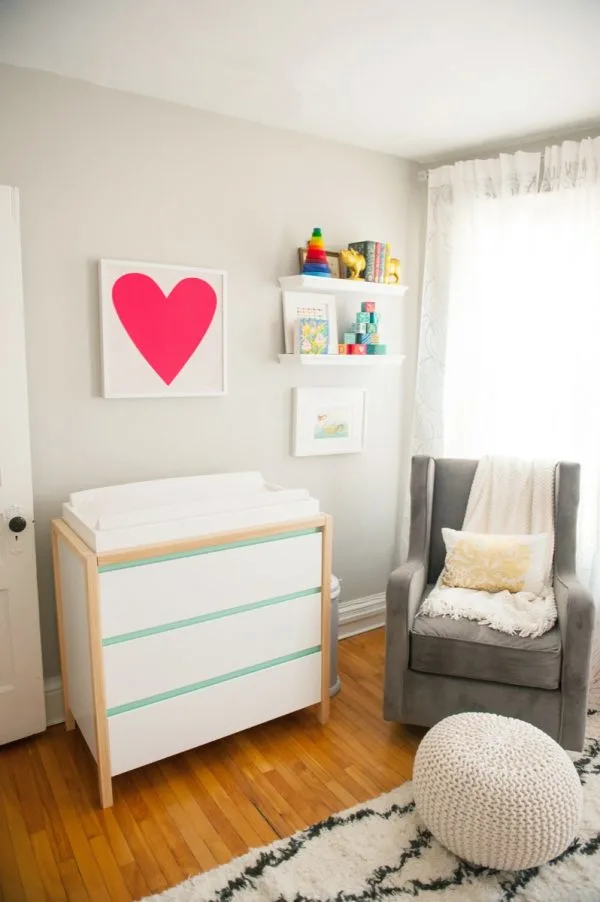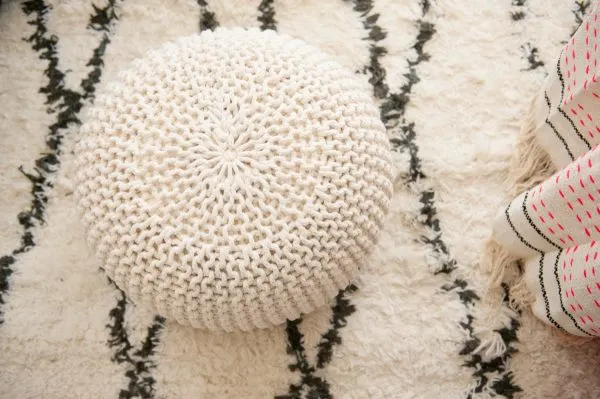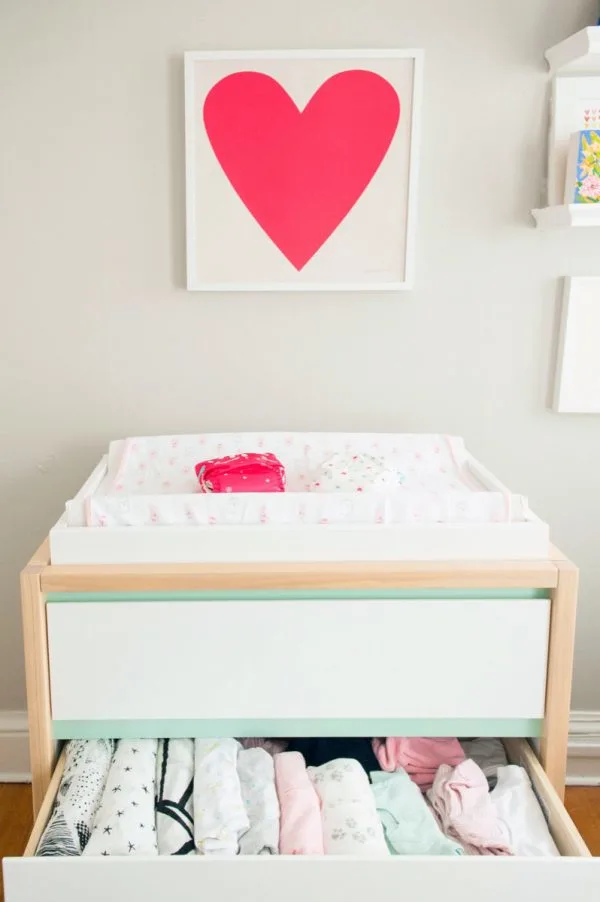 While the room has gorgeous natural light, huge windows, tall ceilings and original hardwood floors, it's honestly a pretty small space overall. The IKEA Gulliver crib has super simple lines and a shorter profile that is perfect in the room. (Also, it's so inexpensive for such a great piece!) To save space, I decided I wanted a rather petite dresser with a changing pad on top that could later be removed so this one from Babyletto (with the adorable mint green accent) fit perfectly. From there it was all about books and art! Lots and lots of books and art. We've already logged a lot of hours in the glider rocking, feeding and reading books, which is exactly what I envisioned when I thought about a nursery and how we would spend our time.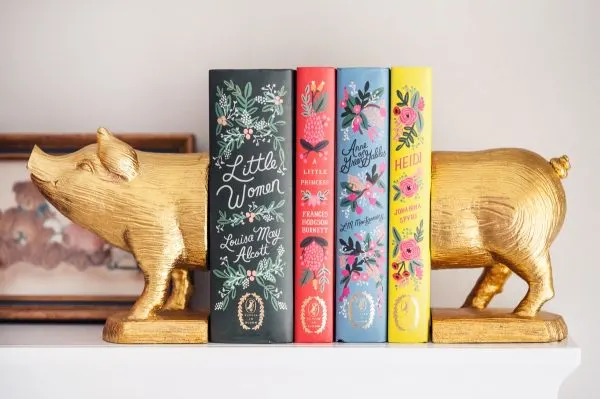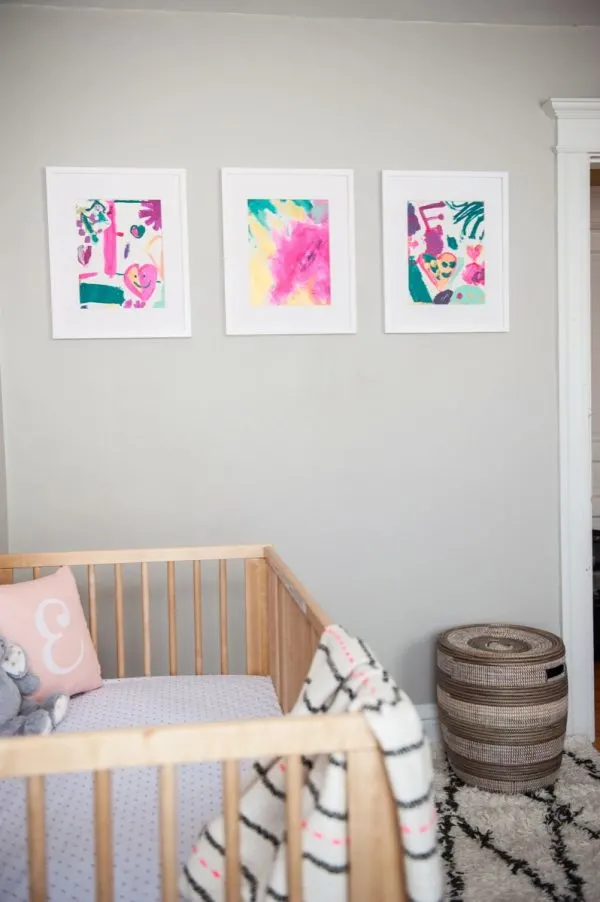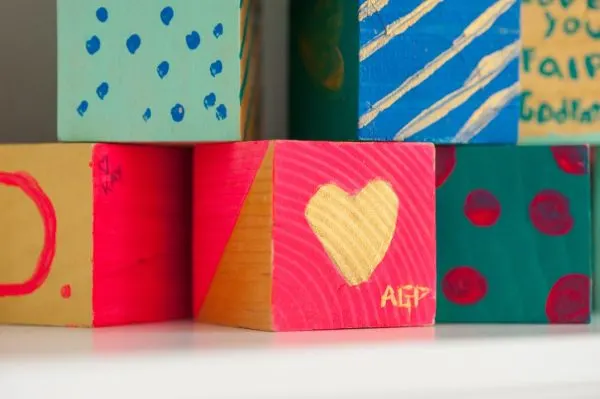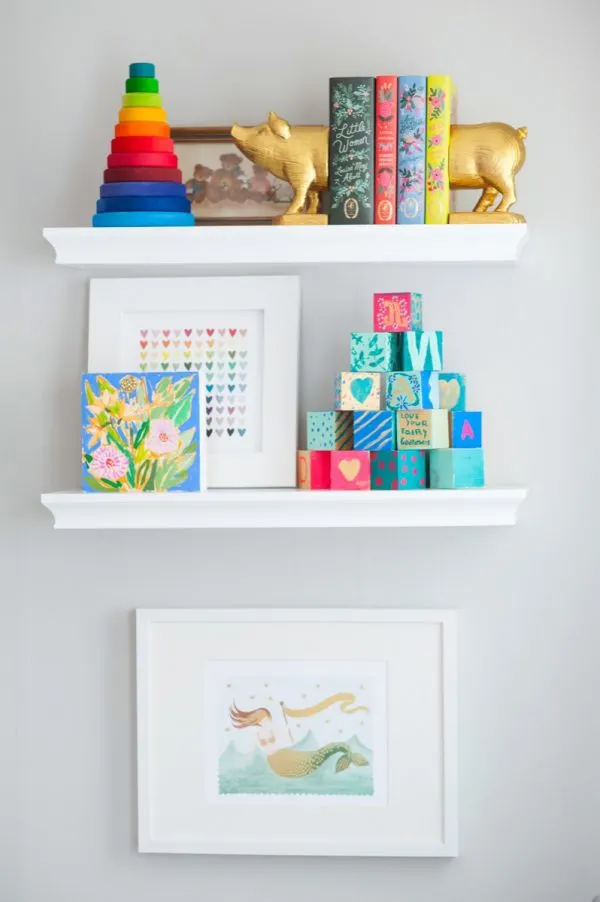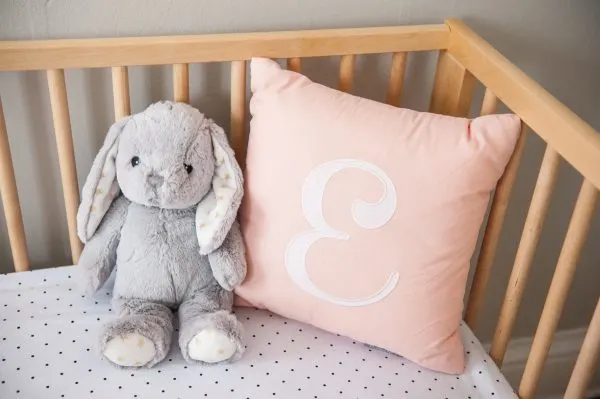 The trio of abstract paintings on the wall were created by Emerson's big sisters and her big cousin. I set the three of them up in our drop cloth covered dining room and let them loose with paints, brushes and poster board. To keep it cohesive, I limited their paint options to the same colors our guests used to decorate the wooden baby blocks at our baby shower. When they were done, I trimmed each of their pieces down to fit simple white matted frames, which I picked up at Target. They had so much fun doing it and it was a really sweet to include them in preparing for the baby. Whenever any of the three of them walk into her room they get so excited to see their art hanging up! I love that we'll have them forever (they're signed and dated on the back) and that they're so special and one of a kind.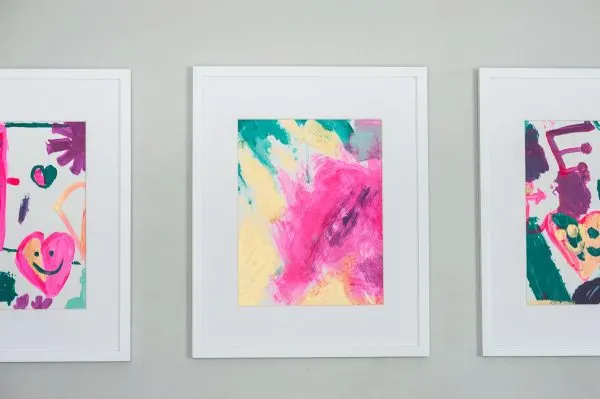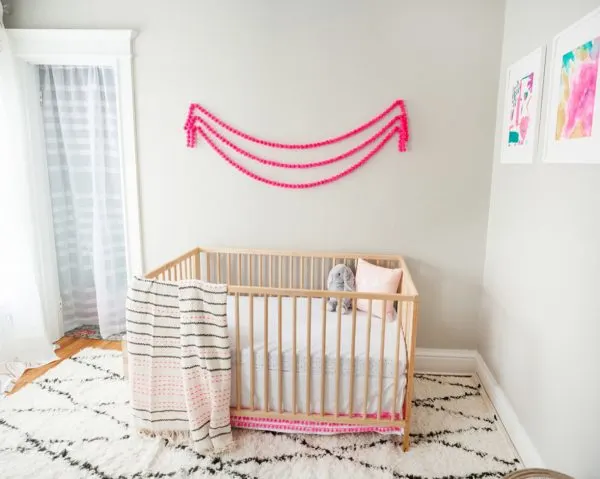 Now that our little girl is starting to get bigger and I know her days of actively playing are close on the horizon, I am even more excited about her nursery and all the memories we'll make here in the coming months. That wool shag rug? I see some serious tummy time going on. In the meantime, stay tuned! I have a couple of awesome giveaways coming up over the next several days to help you with your nursery nesting, too. Hip hip hooray!

[Photos by Alice G. Patterson for The Sweetest Occasion.]
Sources –
Paint color: Moon Shot VR095D by Valspar | Rug: c/o RugsUSA | Crib blanket + crib skirt: c/o Land of Nod | Glider: Target | Crib: IKEA |Crib sheet: Target | Dresser/changing table: c/o Babyletto | Curtains: IKEA | Book ledges: c/o Land of Nod | Floating shelves: Target | Hamper: c/o Land of Nod | Heart screenprint: Banquet Atelier & Workshop from Gus & Ruby Letterpress | Gray stuffed bunny: Target | Lamp: c/o Land of Nod | Owl pillow: Target | Throw blanket: Target | Side table: c/o Land of Nod | Mermaid art print: Rifle Paper Co. | Wooden toy crate: Target | Flower painting: Lulie Wallace | Diaper pail: Target | Pouf: Amazon | Elephant art print: c/o Land of Nod | Rainbow heart print: c/o Minted | Rainbow stacker: c/o Land of Nod | Curtain rods: Target | 'E' throw pillow: c/o Land of Nod | Gold pig bookends: CB2