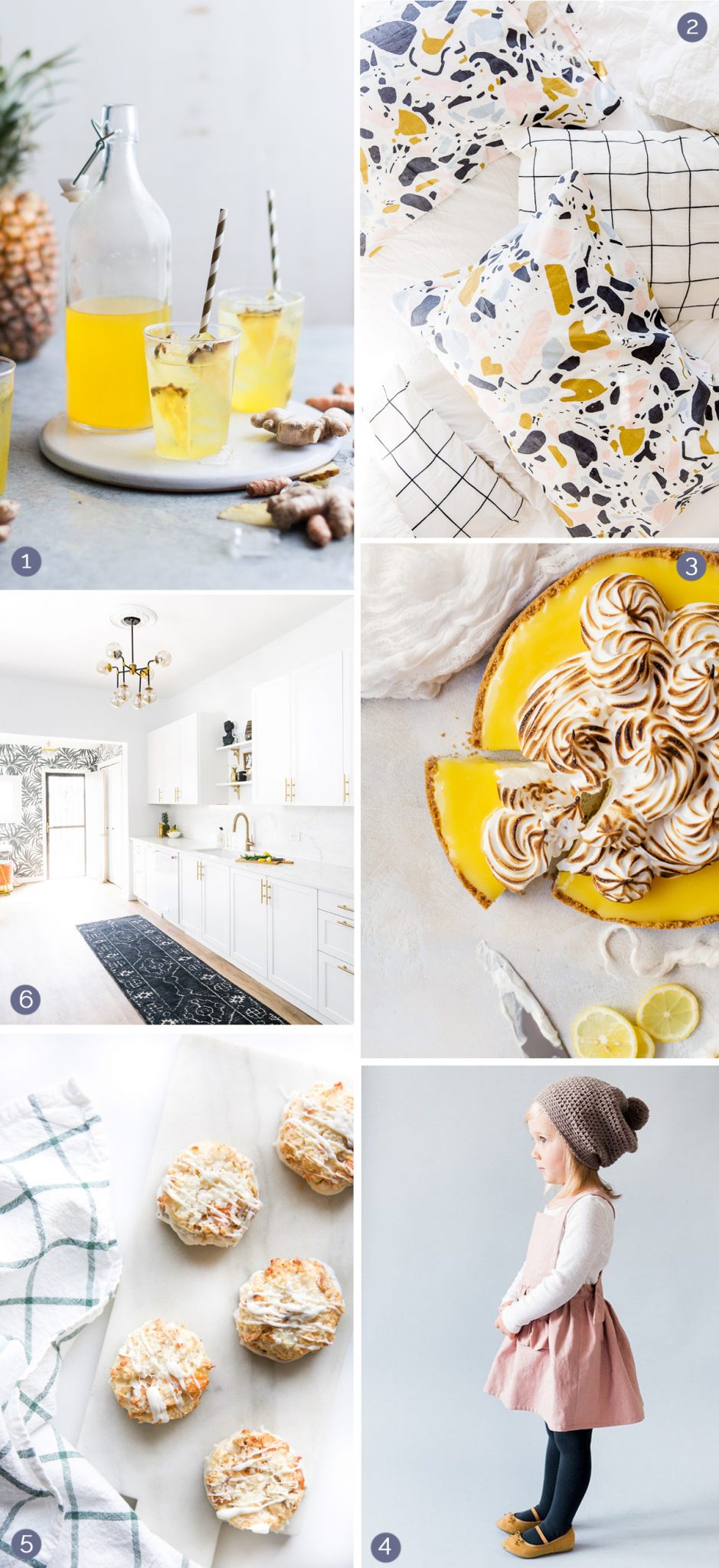 At long last it's finally really feeling like the start to summer here this week and I have been loving the sunshine the last few days. Has anyone else had a spring that has been endlessly rainy and chilly? All of this to say, I have about zero plans this weekend that don't revolve around spending some time outside, most likely working in the yard and planting some herbs. In the meantime I rounded up a few of the things that caught my eye this week! Usually I assemble these posts pulling from the things I saw and pinned on Pinterest so be sure to follow me there if you're not already so you can check out more of what I'm seeing and feeling inspired by on the daily.
1 | Pineapple ginger iced tea
I love fresh ginger basically always and forever, but especially this time of year it is just so completely refreshing. I have to give this iced tea recipe a try!
2 | Brittni's homemade pillowcases
Guys, whhhhhy have I been dragging my heels on the whole learning how to sew thing? I love the idea of being able to freshen up the bedrooms with custom linens on a whim!
3 | Lemon meringue cheesecake
I love lemon in seemingly every shape and form, so this lemon meringue cheesecake is looking like a recipe I need to give a whirl! I'm always down for a modern twist on a good ol' classic.
4 | Totally cute toddler duds
Not on accident, Emerson is one of the most fashionable kids I know. (Even if I do say so myself.) I am adoring the cute stuff from this sweet Etsy shop, Blythe and Reese.
5 | Mango and pineapple white chocolate macaroons
These tropical flavors just scream summer so these macaroons look like such a sweet little treat to me. I'm thinking I might make these for my sister's baby shower next month!
6 | A Parisian townhouse kitchen
When you're 5 weeks into a "mini" renovation of your kitchen, a bright white Parisian kitchen makes all the effort (and dust) seem worth the hassle. Fingers crossed anyway. Ha!