These strawberry cheesecake pudding shots are a delicious boozy dessert perfect for parties and special occasions. They're easy to make and always a crowd favorite!
The first time I had pudding shots at a friend's party I knew I was going to be making them. A lot.
It turns out they're really simple to make! And you can customize them in so many ways. This recipe for strawberry cheesecake pudding shots is one of my favorites.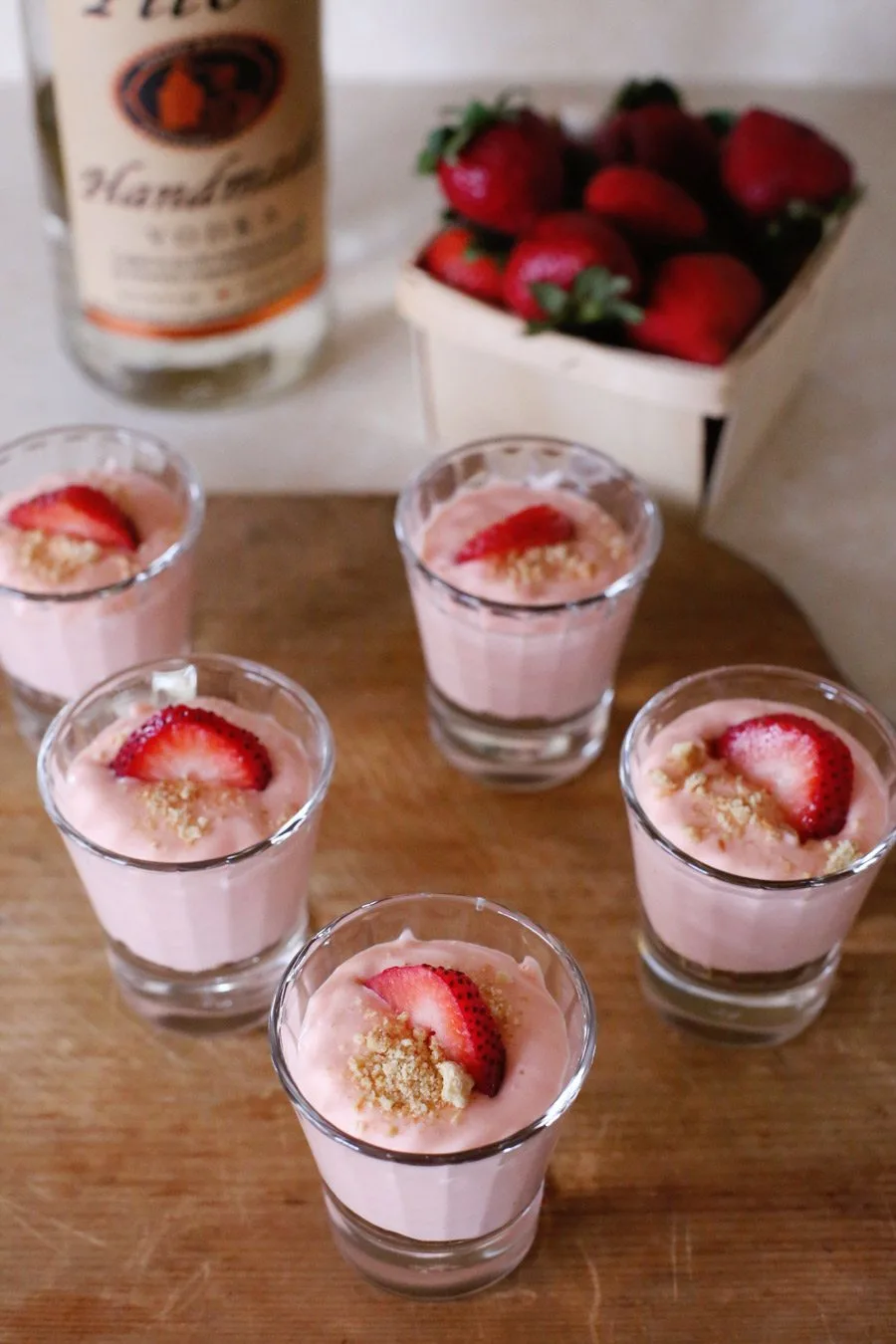 What are pudding shots?
I like to think of pudding shots as the slightly more sophisticated cousin of the Jell-O shot. Made with instant pudding and various toppings, they're like a tiny little dessert…with booze.
These cheesecake pudding shots feature a sprinkle of graham cracker crumbs at the bottom and fresh fruit to mimic a teensy little cheesecake.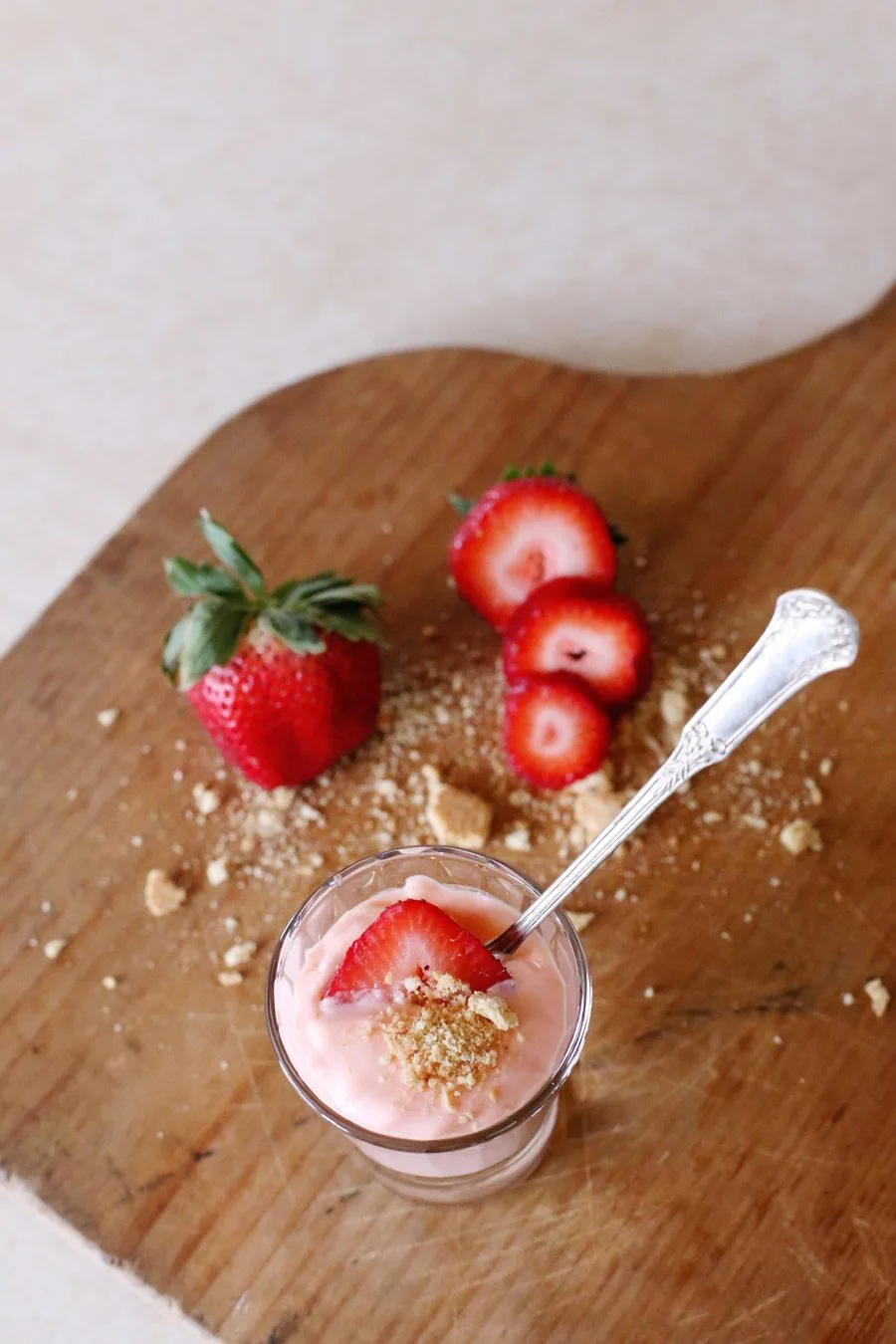 It's strawberry season! It's officially summer! All good reasons to make these immediately. Have you ever had pudding shots? They're kind of like dessert and a mini cocktail all in one. Also known as utter perfection. Even if I do say so myself.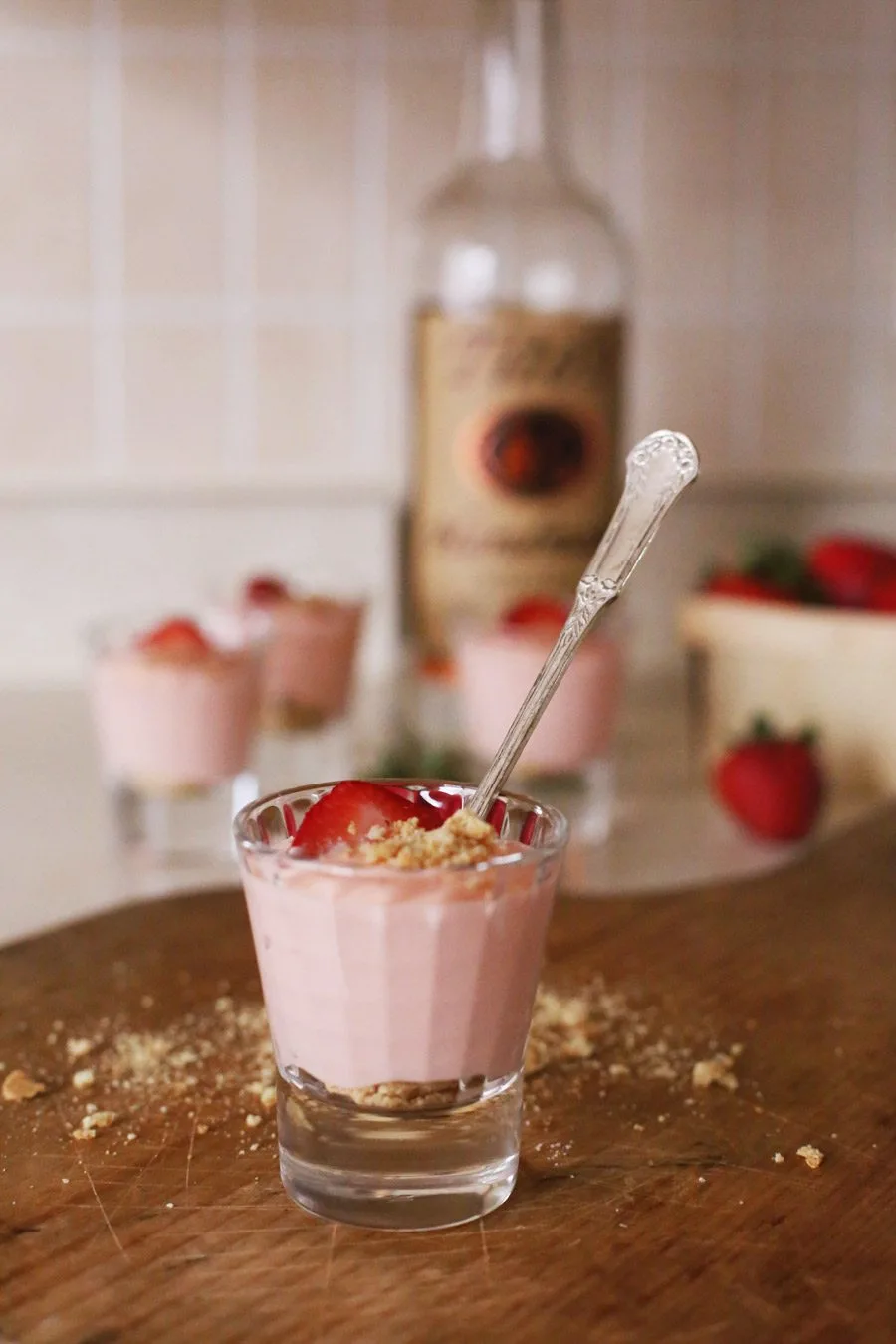 How to Make Cheesecake Pudding Shots
Scroll down for the printable cheesecake pudding shot recipe.
Mix together the pudding mix per the package instructions, using milk, vodka and strawberry syrup.
Allow the pudding to set until thick, then fold in whipped topping.
Place in the freezer and allow to chill for 30+ minutes.
Sprinkle crushed graham crackers into the bottom of a large shot glass.
Top with pudding mixture, sprinkle with more graham cracker crumbs and garnish with a slice of strawberry.
You'll want to make pudding shots earlier in the day or the day before you want to serve them since they're best served thick!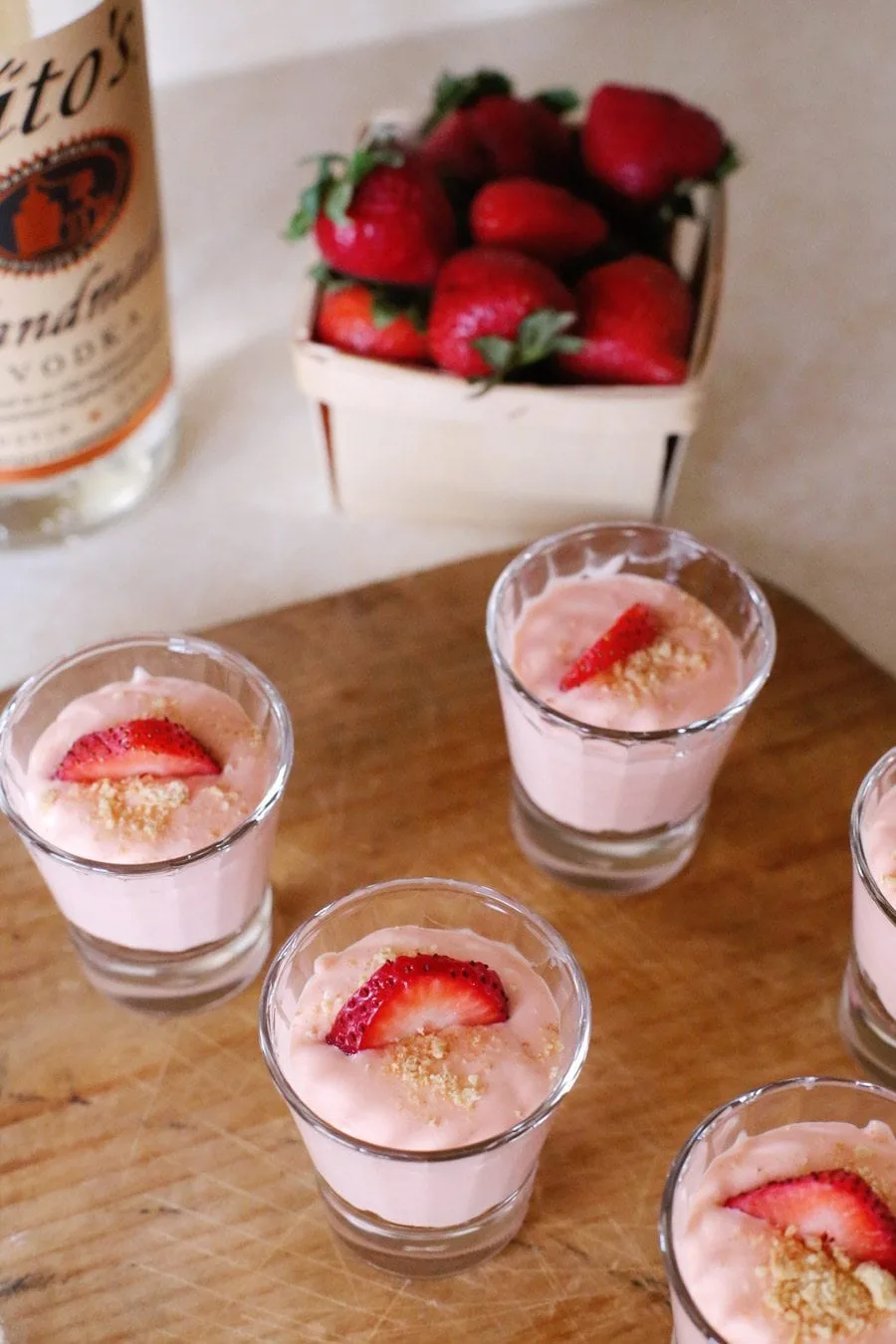 What ingredients do you need for pudding shots?
The basis of any good pudding shot recipes is three key ingredients. Luckily, they're easy to find at any and super inexpensive.
Instant pudding mix -Do not use the cook and serve kind! (For cheesecake pudding shots you'll use cheesecake pudding mix.)
Whipped topping – You want to use the kind that comes in a tub. There's no need for real whipped cream here, which is basically the only time you'll ever hear me say that.
Spirits – I often make my pudding shots, especially cheesecake pudding shots, with vodka. You could also use things like bourbon, rum or amaretto.
To make your pudding shots, I suggest using a set of *pretty shot glasses or even little *mason jar shot glasses with lids.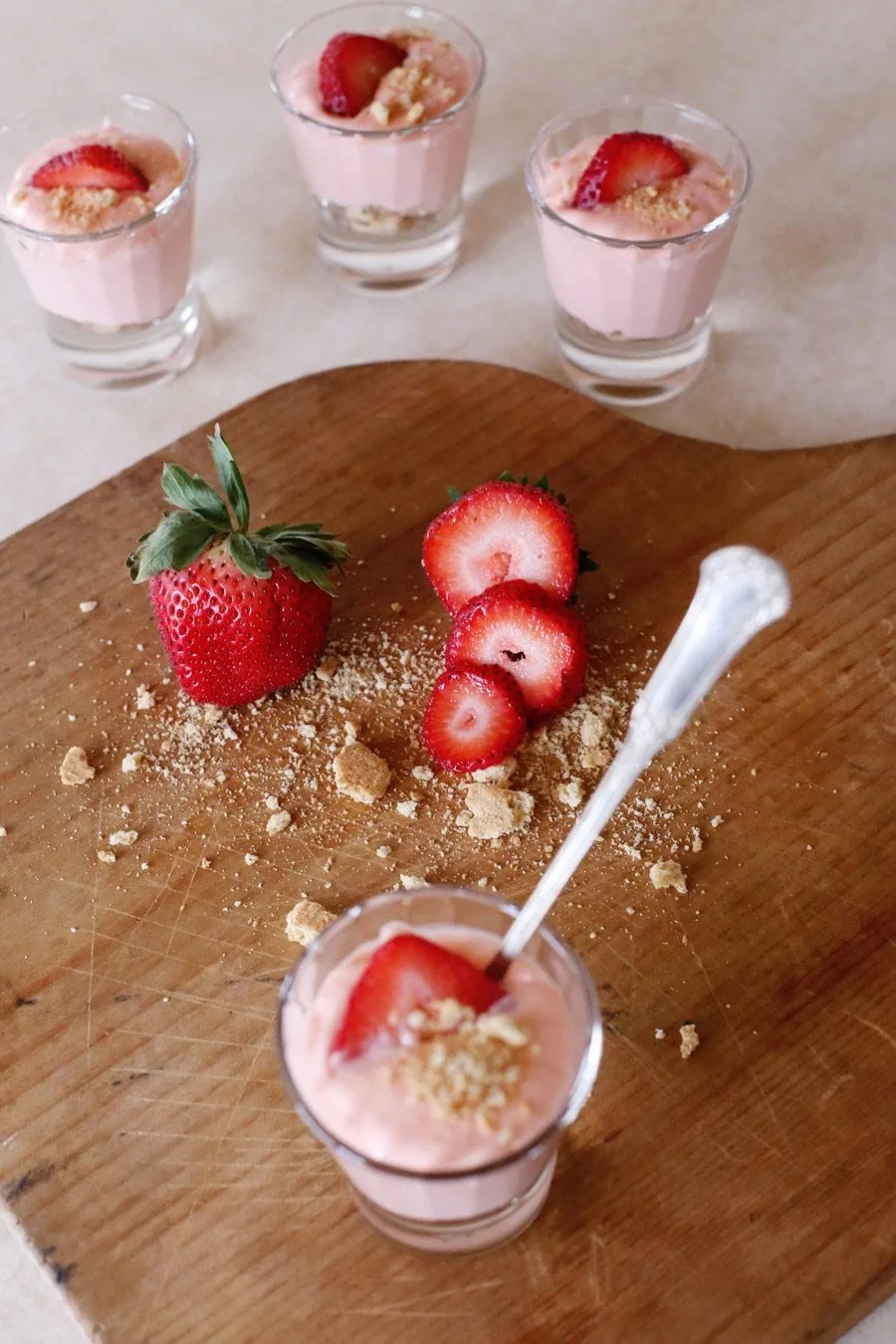 Pudding shots are such a novelty at parties and they're really easy to make. They aren't as boozy as their Jell-O shot counterparts and they're far yummier if you ask me.
With these strawberry cheesecake pudding shots, the fresh strawberries are the perfect finishing touch!
Can you freeze pudding shots?
Yup! I get asked this question a lot. If you make too many or just want to stock up the freezer, these freeze really well.
You can make spoon the pudding shot mixture into little *plastic cups with the lids and enjoy them whenever you feel like having something a little sweet.
They transport really well that way, too, if you're bringing them to a party to share. You'll be the talk of the town!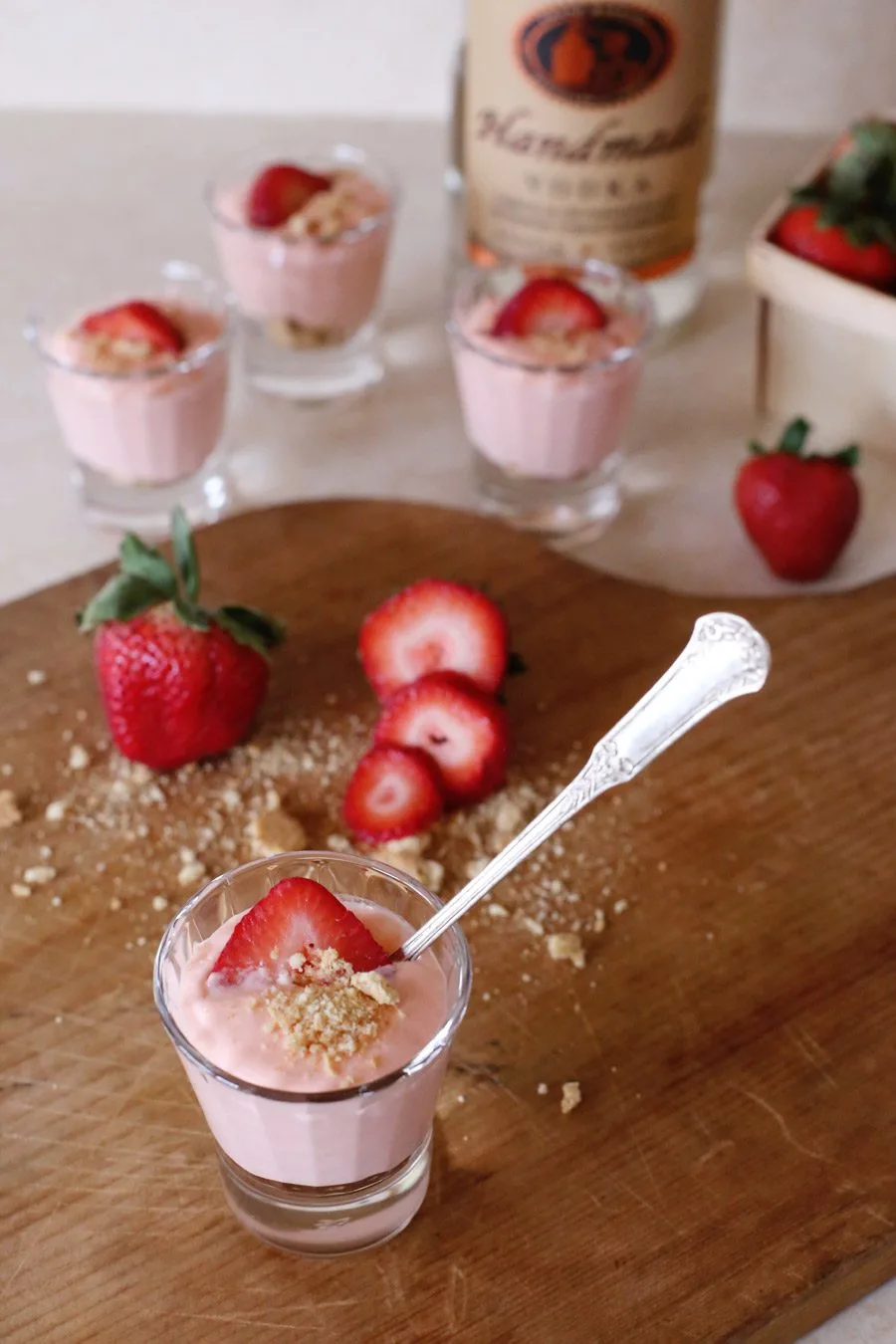 Pudding Shot Variations
Once I started making pudding shots, I kind of couldn't stop! After these cheesecake pudding shots, myr recipe for lemon drop pudding shots is my favorite.
For a fun grown-up take on the campfire classic, I always suggest my s'mores pudding shots. The tiny toasted marshmallow on top is key.
In the fall I'm a big fan of butterscotch spice pudding shots. They have a warm spiced flavor perfect for the cooler months.
[Recipe + photos by Cyd Converse for The Sweetest Occasion.]
*Indicated links are affiliate links. The Sweetest Occasion earns a small commission when certain items are purchased, at no additional cost to you. The Sweetest Occasion is a participant in the Amazon Services LLC Associates Program, an affiliate advertising program designed to provide a means for sites to earn advertising fees by advertising and linking to amazon.com.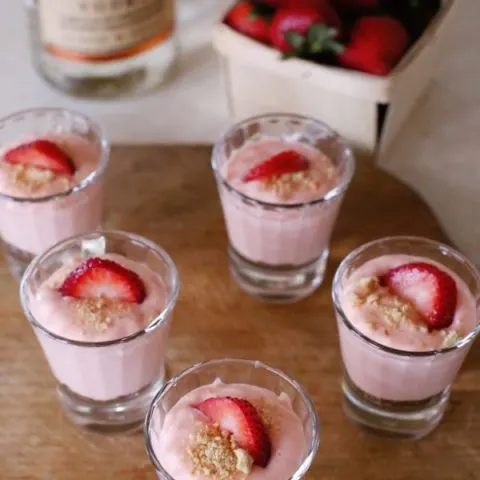 Strawberry Cheesecake Pudding Shots
Additional Time:
30 minutes
Get my tips for how to make cheesecake pudding shots! Pudding shot recipes are great for parties because they're a boozy treat and dessert all in one. Yum!
Ingredients
(1) 3 oz package of instant cheesecake pudding
(1) 8 oz tub of whipped topping
2/3 cup of milk
2/3 cup of vodka
1/3 cup of strawberry syrup
Graham crackers
Fresh strawberries
Instructions
In a medium mixing bowl, begin by mixing your pudding per the package's instructions, using the above combination of milk, vodka and strawberry syrup in lieu of the called for milk.
Allow the pudding to set until thick (usually about five minutes) and then fold in the whipped topping.
Place in the freezer and allow to chill for 30 minutes or until nice and thick.
In the meantime, crush up a couple of graham crackers and sprinkle a spoonful into the bottom of a large shot glass or any small glass you might have.
Top with pudding, sprinkle with more graham cracker crumbs and garnish with a slice of strawberry.