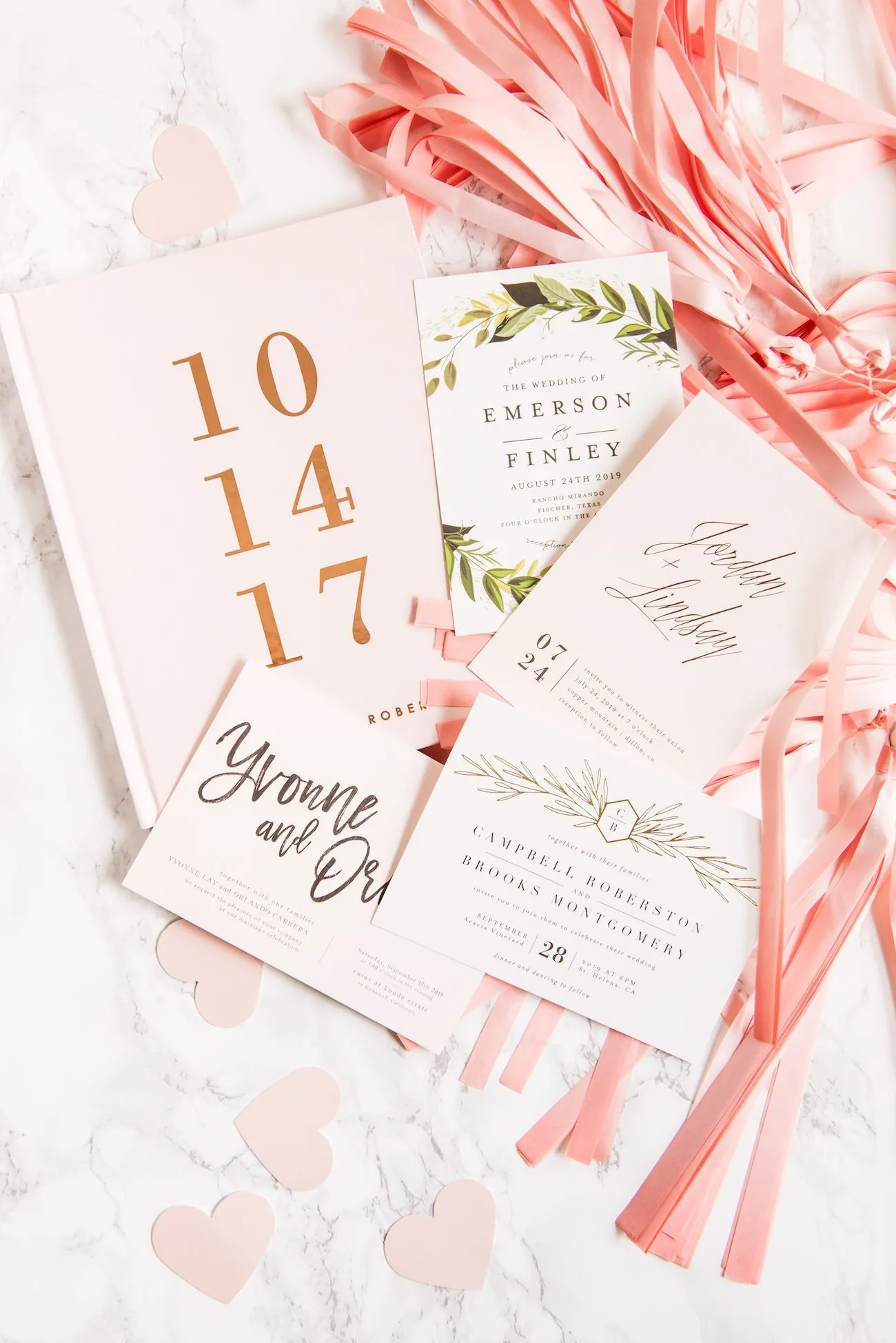 Way back at the beginning of the year when I announced that we're getting married, we had these grand plans for a backyard wedding and a cool brunch reception. Fast forward seven months or so and all of our plans have changed approximately twelve or thirteen times. Now we're just a little over a week out from making it official over here (!!!) and I wanted to pause and fill you in our plans, how they've changed and share with you some of the things I've been buying to bring my vision to life on this whole shindig. Some elements haven't changed at all! We're still getting married in our backyard, the original color palette has stayed the same, etc. Beyond that we've shaken things up quite a bit. In fact, we're not even having a traditional reception! There are no table numbers, no seating arrangements, no carved beef. We still aren't really having an official wedding party, we never had bachelorette or bachelor parties and we opted for a casual backyard dinner party sans gifts with some of our closest friends in lieu of any kind of shower. I am pretty sure we're going to have one of the coolest weddings ever though, even if I do say so myself. Read on for the details!
The Plans
Between my years as an event designer/planner and the countless other weddings I've been in as a bridesmaid or maid of honor, I'm pretty sure our wedding marks something like my 120th wedding where I've played the majority planner/coordinator/traffic director role. It's safe to say that I love weddings. It's also safe to say that I am completely over weddings. At least the kind that leave the couple feeling broke, stressed, emotional and exhausted. Which, frankly, is a lot of them. So when we entered into the process of deciding how we wanted to get married and what that looked and felt like, it was priority number one for me that we come away from it not feeling as though we'd just put our lives through a wood chipper for the last six months. One thing throughout this process that has stayed effectively stationary is our shared gut feeling that we needed to be married in our backyard. Our dear friend and neighbor, James, got ordained and will be performing our ceremony. Our twelve year old neighbor, Jillian, is a tremendous ukulele prodigy and she's going to be playing as part of our ceremony as well. The ladies of the neighborhood are going to be acting as the official welcoming committee for the day. When we bought our house, we actually bought an entire second family and we are so grateful for all of these amazing people in our lives that we really wanted our wedding day to feel like our entire neighborhood coming together to throw this incredible party.
Following our backyard ceremony, it's cocktail time! We're throwing an over the top cocktail party on our back patio complete with loads of hors d'oeuvres including an epic cheese board and a tater tot bar. (Yup, a tater tot bar.) Oh and for those curious, yes. We are self catering this bash on our own so I'll share how we do that and my tips and planning tricks to help you recreate a killer cocktail party for 115 of your nearest and dearest. Ha! After a few hours of toasts, cocktails and lawn games we're skipping the traditional sit-down-for-dinner thing and going on a pub crawl! As in, bar hopping. But classier, because we're calling it a pub crawl. See what we did there? At each stop we'll have different fun little scavenger hunt type activities set up and at the last stop they're going to put out big trays of chicken wings and bar snacks for everyone. Sound fun, right? Exactly! Fun is the name of the game here. I was getting hives thinking about hours of formal dances and cake cutting and seating charts. Even though I love all of those things. They just really really didn't feel right for us, so we sort of threw tradition to the wind on this one and decided to come up with something that felt like us, something that felt like one giant happy party, because that's what we both wanted and felt was appropriate.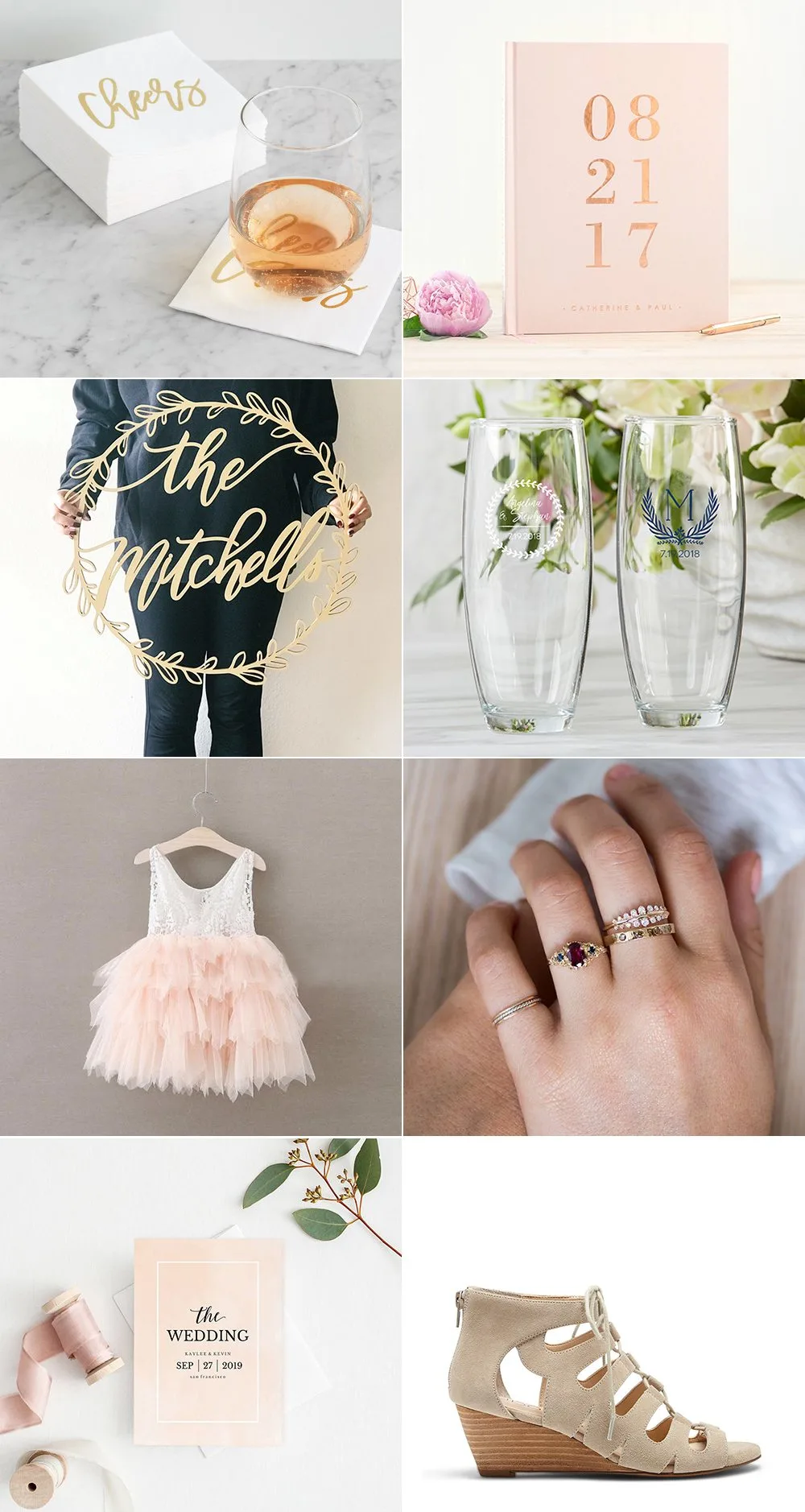 The Details
So now onto the fun stuff – all the things I've been buying and selecting for the wedding! Lest we have thrown you off with the pub crawl bit, the look and feel of the day is designed to be pretty formal with the focus being on a super lush and romantic vibe. With any luck, my bouquet is going to be the stuff of dreams, which was one of my few real requirements in this whole affair. We are draping all of the high top cocktail party tables in the most incredible blush velvet and I've got an insane number of really unique furniture pieces coming from an amazing local vintage and speciality rentals boutique. (I'm intentionally being a little vague here since I don't want to spoil some of the surprises for our guests!) The collage above features just a handful of the actual items we'll be incorporating throughout the day, including Baby Em's perfectly poufy little dress and a sneak peek at my wedding band! Again everything is intended to be really soft and romantic with some boho details creeping in here and there, too, like the flowers I'll be wearing in my hair and the cool macrame hanging that will hang from the arbor where we'll say our vows. This is such an expression of my overall personal style with a bit of an exaggeration on the girly part, but effectively blending the feminine, boho, preppy and modern sides of my style and I'm excited to see it all come together. Stay tuned for more! I'll be blowing up Instagram Stories next week with loads of sneak peeks as we're prepping food and pulling things together.
[Top photo by Alice G. Patterson for The Sweetest Occasion.]
Shopping Guide –
Some of these links include affiliate links
Cheers cocktail napkins from Minted | Foil pressed guest book from Starboard Press | Wreath name sign from Letters to You | Personalized champagne flutes from Kate Aspen | Mia dress from Little Trendsetters | Double diamond tapering ring from Audry Rose | Blush wedding programs from Smitten Paper Props | Freyaa wedges from Sole Society