This fall, perhaps more than any other, I find myself with a serious itch to spend time decorating and sprucing up things at home. I've been working hard to finish the organizing and decorating we set out to do when we moved in (um, yeah, six months ago) so I've been on the hunt for the last few furniture pieces and accessories we need to really bring things together. I've been using Keep to bookmark all my potential purchases (and just those things on my wish list I not-so secretly would love for Santa to bring me in a couple months) and I've been noticing a trend. More than ever before, I'm finding myself drawn to wood grain, brass finishes, shades of black and smokey gray. I'm guessing it's probably the season, don't you agree?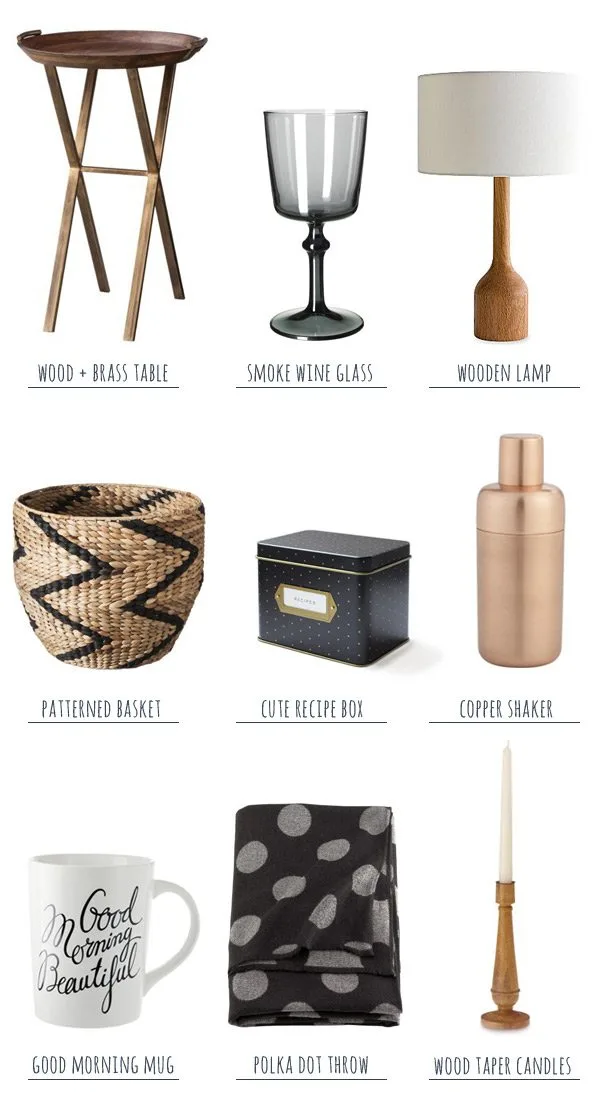 Still topping my must-buy for the home list are great end tables for the master bedroom and new lamps for both our room and the living room. I also have copious amounts of art work that needs to get hung, but I keep finding myself waffling on where things should go. That said, with the holidays coming I want to get everything squared away this month so we're organized and feeling cozy by the time all the holiday entertaining begins. Oh, and so I can finally share the home tour with you that I promised eons ago. So in the meantime, I'm dreaming about these lamps for our bedroom. What do you think?

[Shop: Tray table | Smoke gray wine glasses | Wooden lamp | Basket | Recipe box | Copper cocktail shaker | Mug | Polka dot throw | Wood taper candlesticks.]
Keep is a sponsor of The Sweetest Occasion, but this is not a sponsored post. (I just really love Keep.) Read more about our editorial policies.