Hey guys! I'm back with the second edition of The Weekly Dozen. I'll be honest, this week I dropped the ball a bit. In between shooting for posts (like this one and this one) and a really hectic week in general, wandering around shooting photos didn't happen very often. Then count in forgetting my camera at home when we took off for the lake last weekend (blasphemy, I know), and what remains is a whole bunch of random shots. I guess this is why the challenge is good! I know this week I'll definitely be toting around my camera a lot more.
We're still overloaded with fruit and berries here so I made up a big fruit salad yesterday for B and I to munch on throughout the week. Blueberries, cherries, grapes and strawberries. Yum!
B and I wandered into a little mini flea market this weekend and scored a whole bunch of finds for my prop closet. This vintage Thermos is one of my favorites – and it only cost $0.75!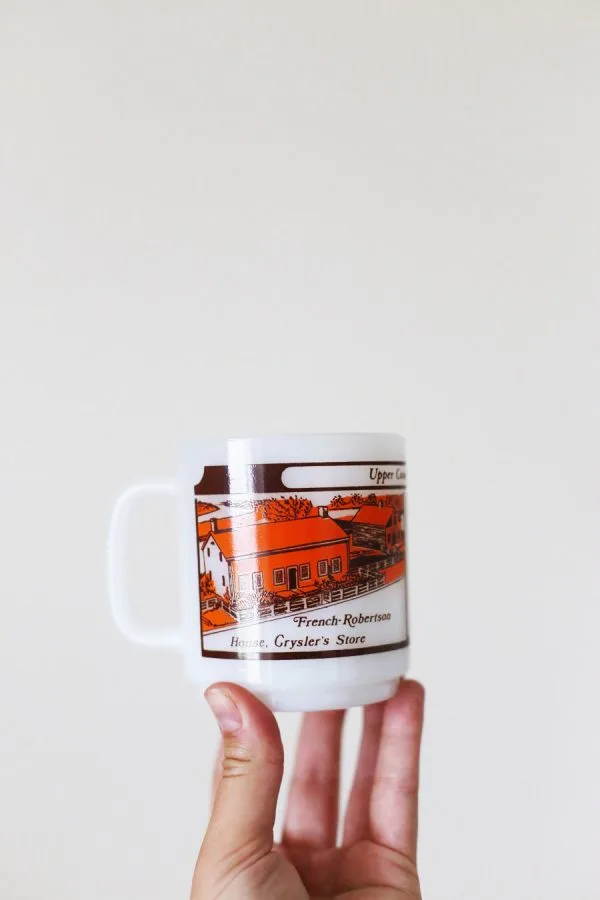 We both love random, quirky mugs and collect them just about everywhere we go. This Upper Canada Village mug was $0.25 and we absolutely had to drag it home with us.
When we made it back from our flea marketing adventures, my mother literally wanted to arm wrestle me for this amazing vintage cookie holder. (It's not really a jar, is it?) I couldn't part with it though because I have every intention of turning it into an ice bucket!
The last of our finds was this killer cheese dome. Ahhh! I love it. This with all the other goodies only cost a grand total of $9. Such a great stash for the prop closet and they were so cheap they basically felt free. Love that!
We're still working on getting everything settled and photo-ready around our apartment so I can share a home tour. (Soon, I promise!) In the meantime, here's a little corner of our television console. I love this tiny little succulent and the bright red vase, which I picked up a few years ago at Nahcotta on a trip to Portsmouth, New Hampshire.
Have you guys checked out my collection of stationery and party goods with Chromatic & Co. yet? There are more suites coming (and more photos and more details), but the Anchor Stripes suite is one of my favorites! You can get wedding invitations, party invitations, stationery, calling cards, cocktail napkins, serving trays and more all decked out in a preppy modern nautical design that I just love.

Want to join in on The Weekly Dozen photography challenge? You can jump in on the action at any time! And if you're already participating, don't forget to check in and let me know how you made out this week!
Keep your camera handy and aim to shoot as many photos as you can each week!
Share your 12 favorites (The Weekly Dozen) on your own blog or Facebook page
Once you've shared your dozen, send me a tweet using the hashtag #weeklydozen with a link to your weekly collection and I'll share images from each participant on The Sweetest Occasion's Facebook page with a link back to your post!
The challenge will run through September 15

[Photos by Cyd Converse for The Sweetest Occasion.]