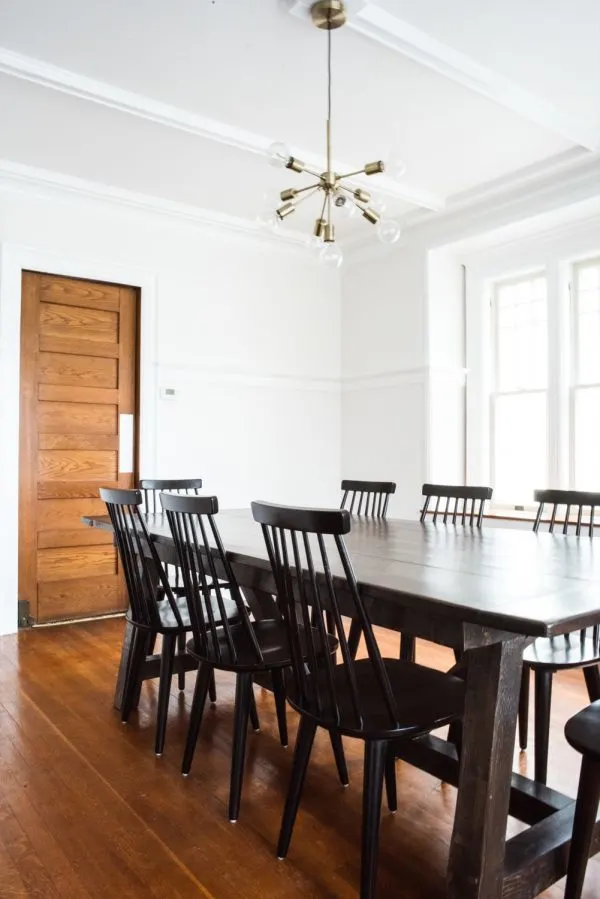 Today's post is long overdue, but no less exciting – the completed renovation of our dining room! Our dining room is easily one of my favorite rooms in our house and one where we spend a lot of time. Unlike a lot of people, a majority of our meals are actually eaten around our dining room table and we also play cards here a lot on the weekends. The kids can be playing a board game on one end while we're playing rummy at the other and it acts as the perfect hub for entertaining, eating, and lounging. Because I'm getting ready to make some final decisions in this space regarding curtains, a big area rug to anchor the room and art, it seemed like the perfect time to take a look back at what this room looked like when we closed on the house and what it looks like now.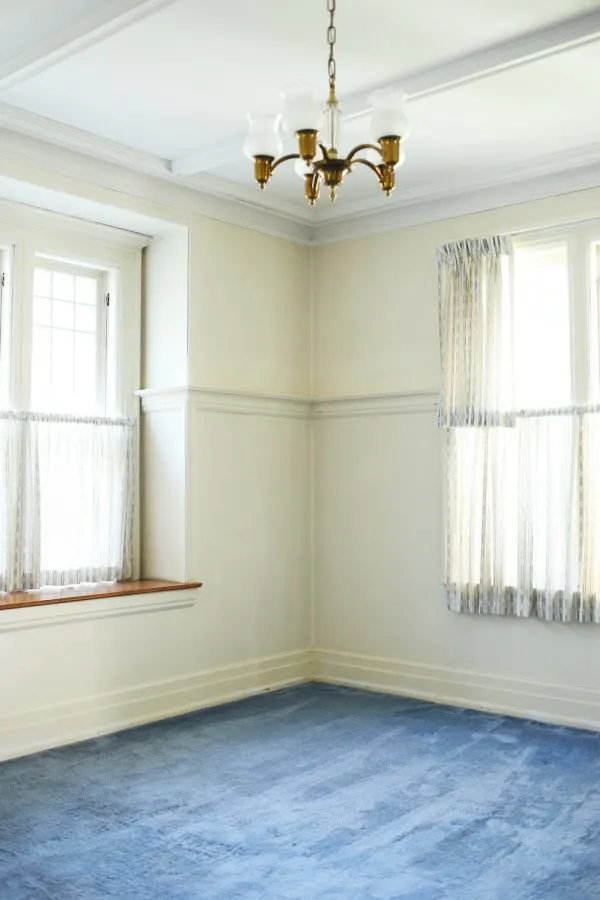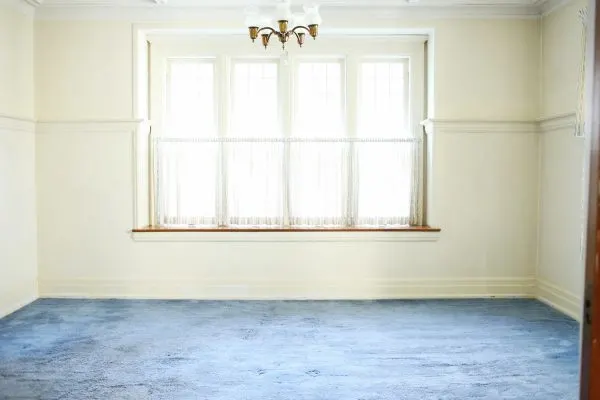 Believe it or not, with it's sad yellowing flat paint and completely worn and stained blue carpet, this room is one of the reasons I fell in love with our house when we first saw it about a year ago. I could see how beautiful the bones of this room were and knew paint would go a long long way toward bringing this room back to life. We ripped all the blue carpet up within a day or two of closing, which instantly changed things for the better. Then it was a process of fixing the plaster walls in a few areas (we had some minor cracking, which was mostly superficial), painting everything in sight and then swapping out the light fixture. (You can see the budget-friendly brass light fixtures that I rounded up at the time!) As with our living room renovation, the trim was painted in Valspar Ultra White 7006-24 in a semi-gloss finish with the ceilings painted flat in Valspar Bistro White 7006-4. The walls read white in a lot of lighting and in photos for the most part, but they're actually a super soft gray color, also by Valspar called Summer Gray 7006-17. The dining room doesn't get much morning light since it's in the northwest corner of the house so all of the soft, light colors keep it feeling really light and airy even when it doesn't get a lot of direct light until afternoon.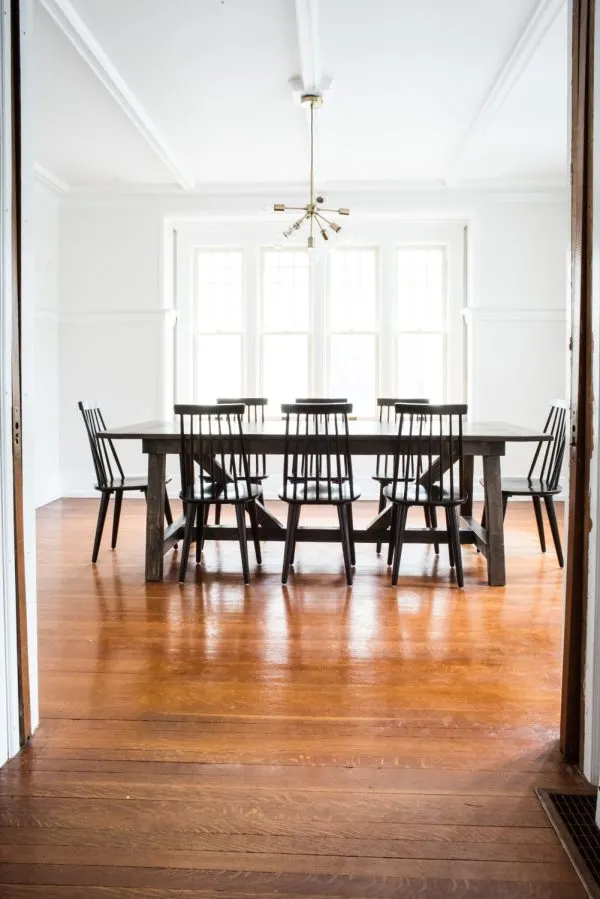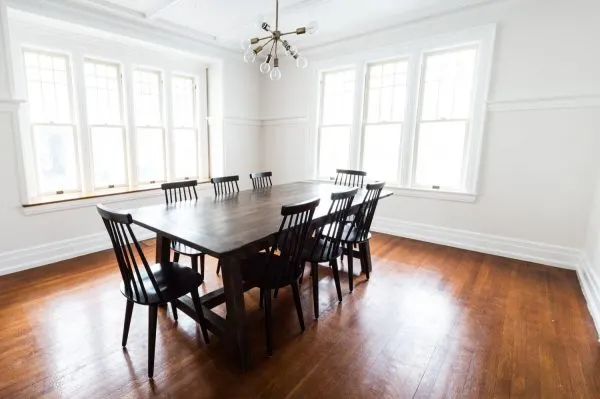 Until the week of Thanksgiving we still had our old, far too small dining table in here, which was dwarfed by the room and really didn't suit us anymore. (For starters, we couldn't fit our entire family at it to eat dinner so that was a big issue.) I had been in love with a table from Restoration Hardware for a couple of years that was just way more money than I was hoping to spend, but I hadn't found anything else I loved quite as much so while I was busy trying to find something I thought would work, Bob went behind my back and conspired with his brother, a crazy talented woodworker in his spare time, to have this table built custom for our dining room. It's nearly identical to the Restoration Hardware table of my dreams, with some modifications to the dimensions that work really for us. It's quite wide and over seven feet long and could easily seat 10 – 12 for larger functions although we have it set for 8 on a daily basis. Once the surprise was revealed to me, of course I went into chair shopping mode like a wild woman. I decided on the Safavieh Country Classic Dining Burris Side Chairs from Overstock, which had the perfect blend of modern, Scandinavian and farmhouse I was going for in this room. Our house is not rustic, nor is that my goal. It's actually a pretty formal feeling house with all the huge ceilings and intricate woodwork, but I try to keep it feeling really inviting with a mix of furniture, wood finishes and colors so these chairs ended up being perfect.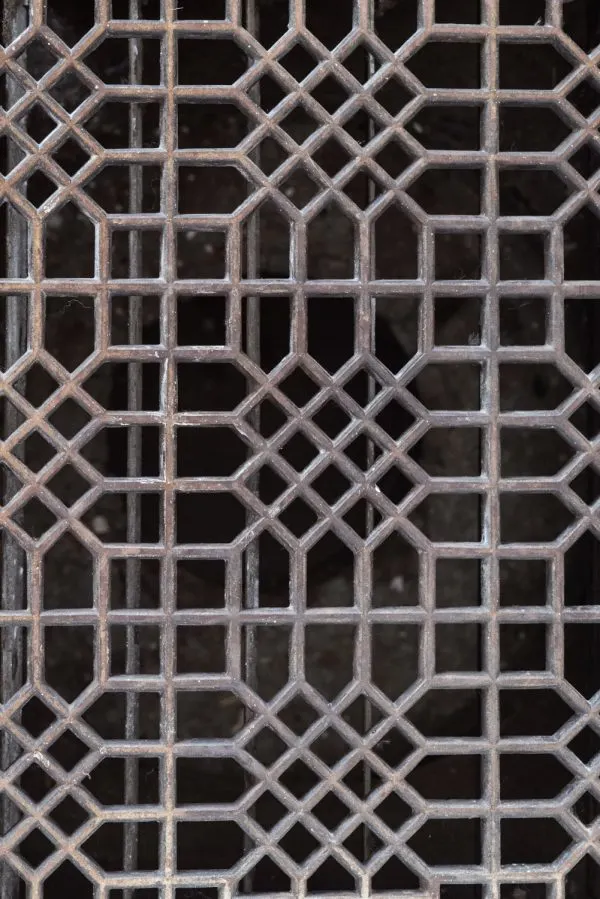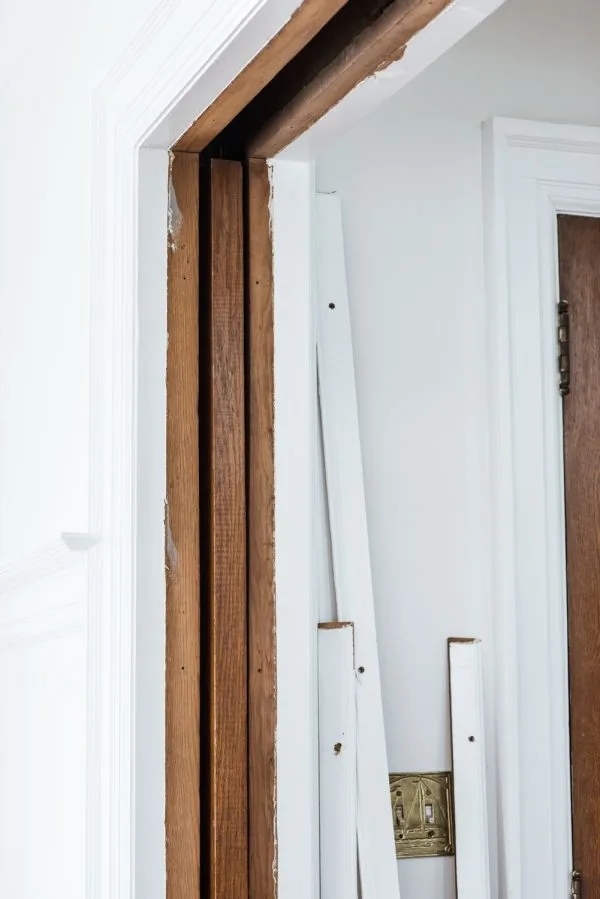 Next up in this space, we're working on fixing one of the big beautiful glass pocket doors that connect the dining room to the foyer. It was knocked off the track when the carpet was still down and when we pulled the door trim apart so we could get to the track hardware to rehang it, we realized the bottom track needs a little repair work itself. Problem is, there's a wall in between us and that hardware so it looks like it may require cutting into the wall to fix and I'm not sure how up for that I am at the moment, so we're taking some time to research and make a decision about what will be the best, least invasive approach so we aren't completely tearing the house apart all over again just to fix a door. In the meantime, we are otherwise just about done with the official dining room renovation so it's onto decorating! (We still need to paint the window sashes, but they need a little bit of love before we do that, so that might happen later this summer.) I have a rug on order and am working on making final decisions regarding curtains and that kind of thing so hopefully in the next month or so it will be looking much more finished.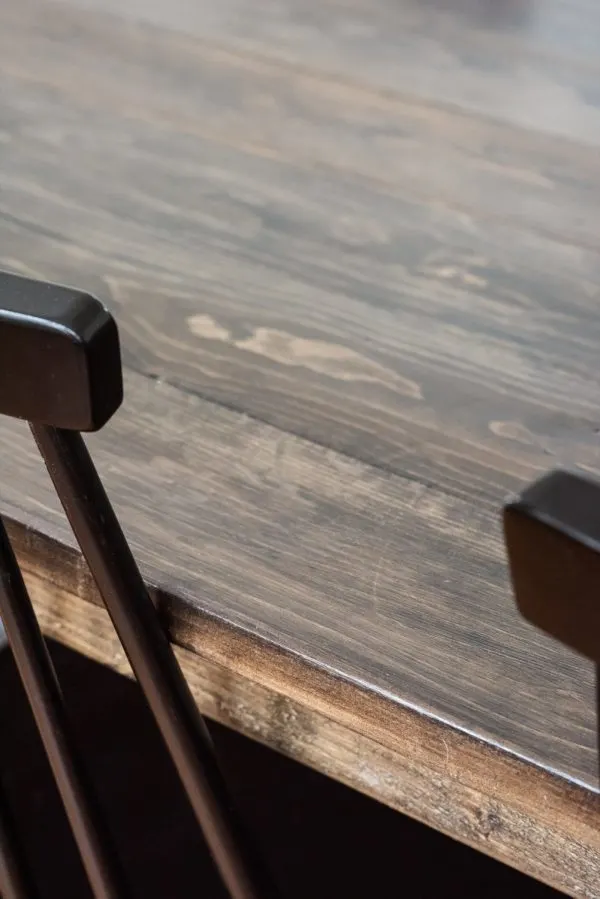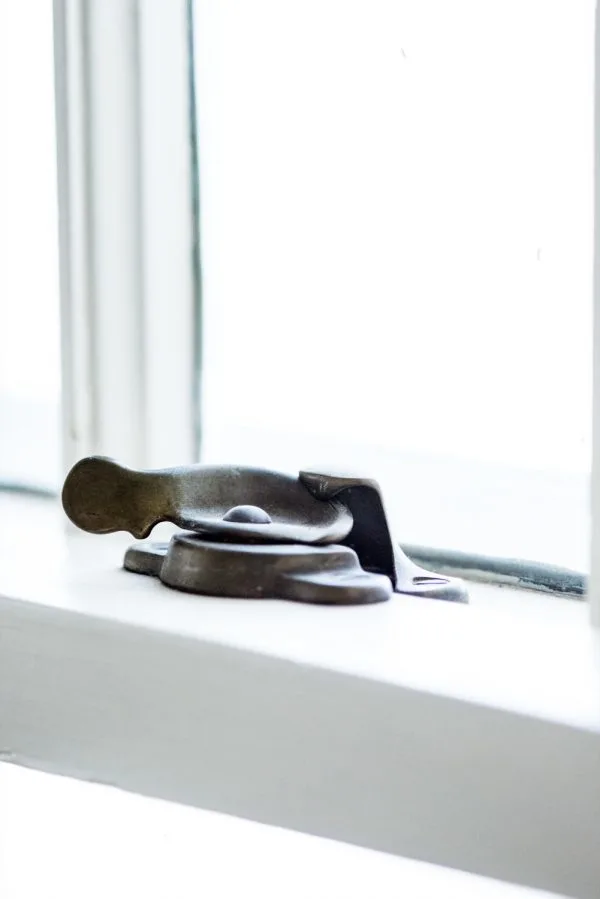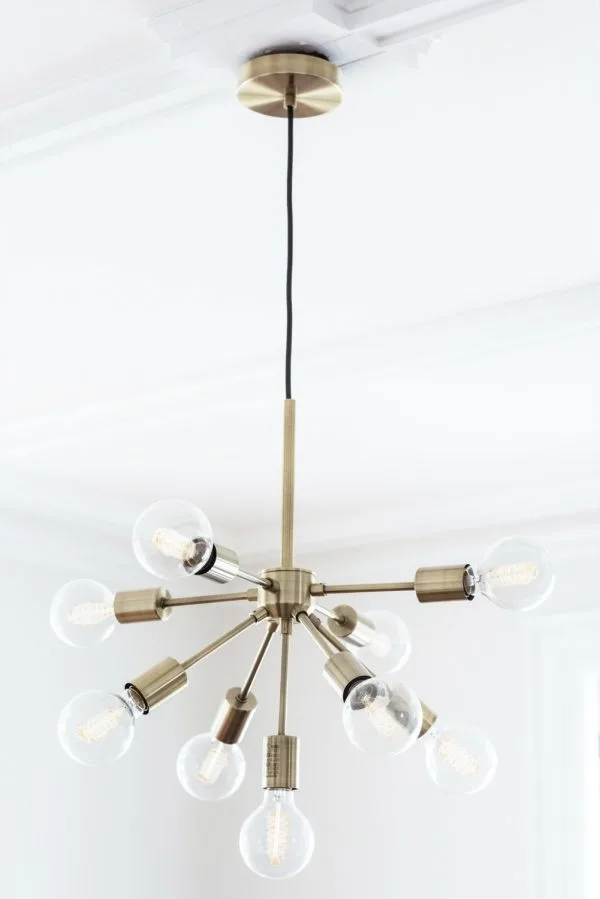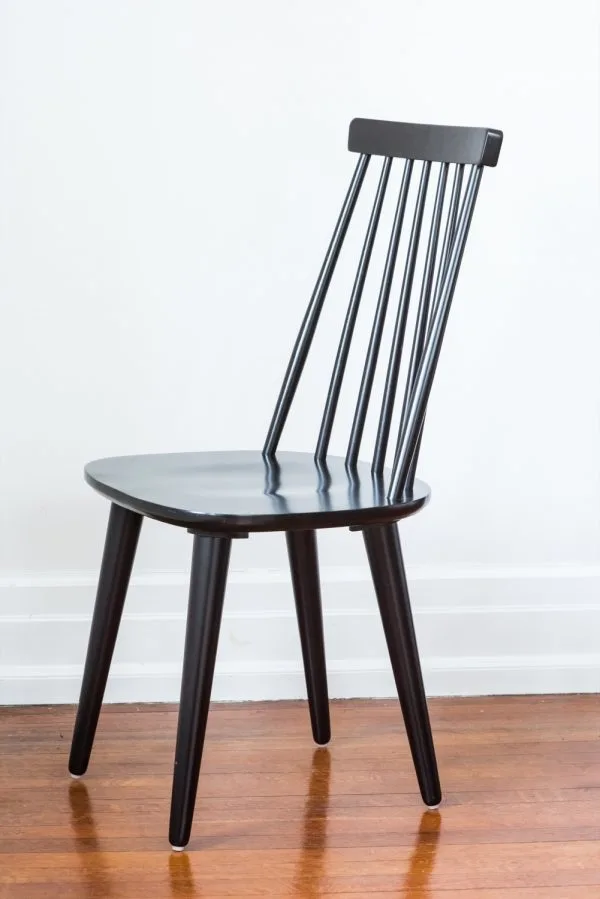 For more about our house, see the full "before" house tour and be sure to check out our living room renovation and the latest living room decor update, too! I've made some more changes in there that I'll be sharing soon, too, and of course I'll keep you posted as the dining room comes together. Stay tuned!
[After photos by Alice G. Patterson for The Sweetest Occasion.]